Snap polls: Biden's joint address left vast majority of viewers optimistic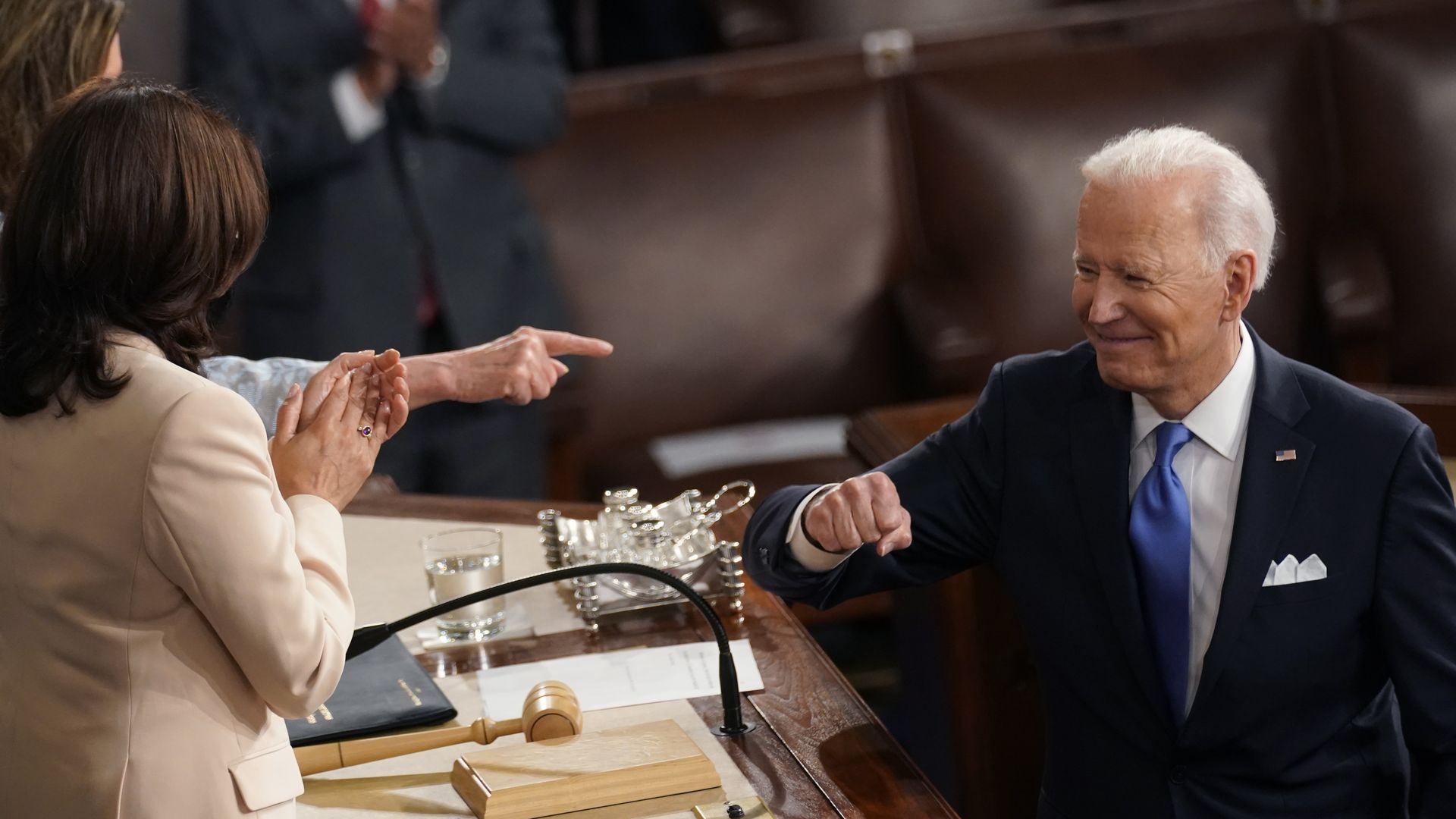 Most people who watched President Biden's maiden address to a joint session of Congress approved of the message and were left feeling optimistic, according to two polls taken immediately following the speech.
Why it matters: Those polled signaled they felt more optimistic about the country after watching the speech, during which Biden laid out a progressive vision for big government. Data in both polls suggest the speech had a more friendly, Democratic viewership.
By the numbers: 85% of those who watched the speech approved of it, while 15% disapproved, per a CBS News poll. 78% of viewers said they came away feeling more optimistic about the country.
74% of people in the poll said they believe the plans Biden laid out would help them, while 85% said they like his plan to create jobs.
A CNN Poll conducted by SSRS found that 51% of respondents said they had a very positive reaction to the speech, fewer than any other modern president in the same poll. But 71% in the poll said they felt more optimistic about the country after watching it.
73% said Biden's proposals would move the country in the right direction. The share of Republicans who agreed with the statement doubled after the speech, from 13% to 27%. Among independents, the number rose from 61% before the address to 73% after.
Some 7 in 10 viewers said the president's policies on the economy, guns and taxes were a step in the right direction. About 65% said the same about immigration, while 64% said Biden struck the right chord surrounding bipartisanship.
Yes, but: CNN's polling suggests the speech's viewers were about 13 points more Democratic than the general public, as is typical for these addresses. The CBS News poll indicates it was about 20% more Democratic.
Methodology:
CBS News survey is based on 943 interviews of adults who watched the President's address to Congress on Wednesday night. It has +/- 4.4 point margin of error.
The CNN/SRSS poll was conducted by text message with 589 U.S. adults. It has a +/- 5.4 point margin of error.
Go deeper