Rapid at-home COVID tests become available over the counter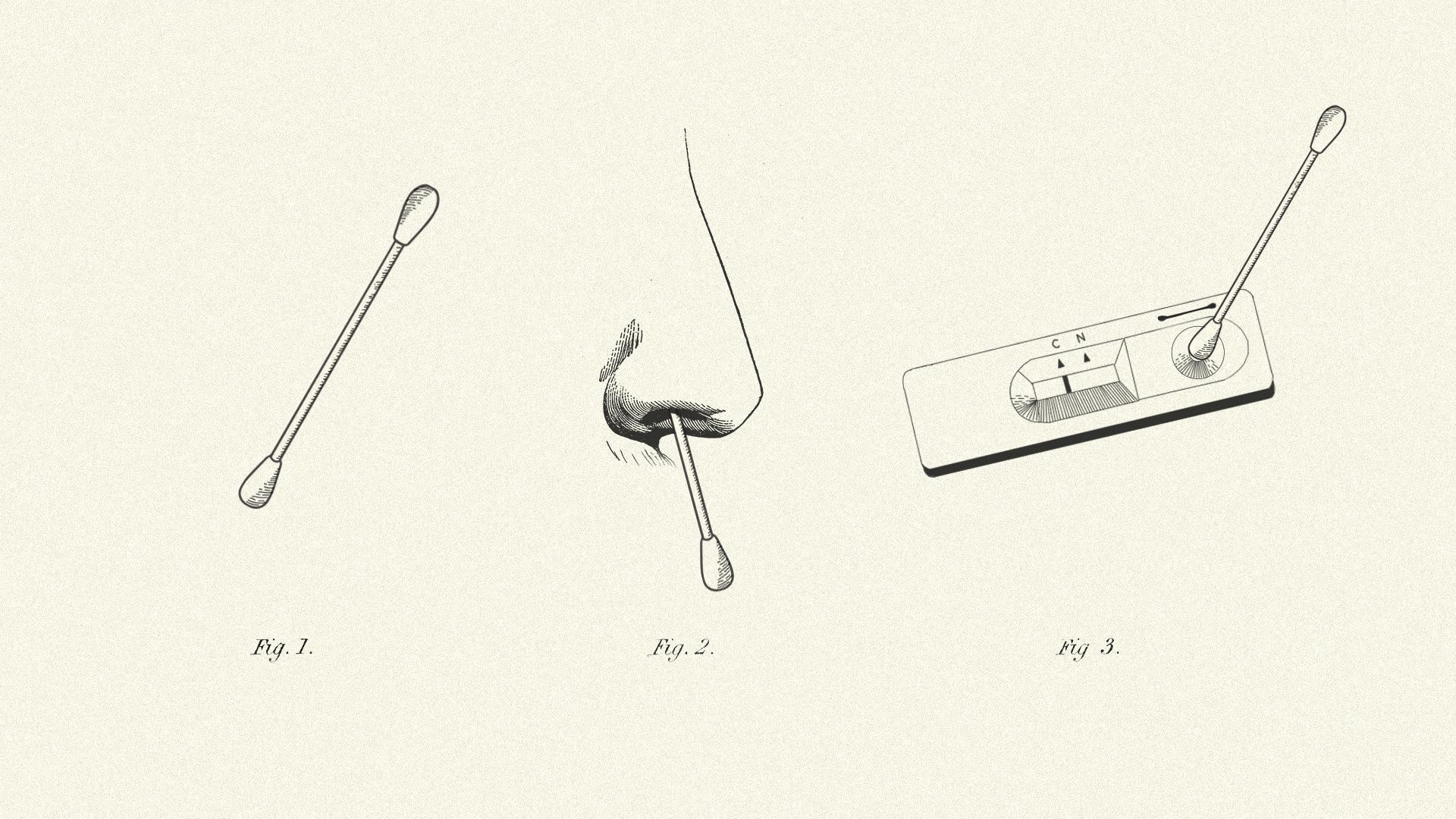 Multiple brands of rapid COVID-19 tests that can be taken at home without a doctor's prescription are finally available over the counter.
Why it matters: Rapid at-home COVID-19 tests put the power of diagnostics in the hands of individual consumers, allowing anyone to surveil themselves regularly for the coronavirus. But getting the most out of them requires a new paradigm around diagnostics — and ultimately, driving down the cost.
What's happening: Abbott's BinaxNow rapid test is available in retail pharmacy chains like Walgreens and CVS, as well as online, at a suggested price of $23.99 for a two-test kit.
Quidel's QuickVue rapid test also comes in a pack of two tests and is available online now for about $30.
Australia-based Ellume's rapid test will be available in stores and online by the end of May for $38.99.
Context: All of the rapid tests — which can deliver results in as little as 10 to 15 minutes — were developed months ago, but were only recently given emergency use authorization by the FDA.
How it works: Rapid tests work differently than PCR tests, which require visiting a clinic or testing site and giving a nasal swab that is then analyzed by a lab for the genetic material of the SARS-CoV-2 virus.
Rapid tests instead look for the presence of a viral antigen — a protein on the surface of the virus that elicits an immune response — that indicates an active infection.
What they're saying: "We see a transition to asymptomatic testing with these diagnostics to get people back to work and school," says Douglas Bryant, CEO of Quidel. "Studies demonstrate that if we can do these tests a couple of times a week, we won't have to go back into lockdown."
That means using the test more for what Bryant calls "serial testing" for regular self-surveillance and less as a one-off to identify a likely infection.
In the case of Abbott's BinaxNow, users remove a test card and place six drops of included chemical reagent in a slot on the card.
Users then self-collect a nasal sample with an included swab and insert the swab into another slot in the test card, where it is rotated three times to ensure it mixes with the chemical reagent.
The card is then sealed, and after 15 minutes, results will be ready, with two pink or purple lines indicating a positive result — meaning an active infection — and one line indicating a negative result.
The catch: A big obstacle for rapid antigen testing is cost: At a minimum of $25 per kit, the current generation of rapid tests is still too expensive for most people to test themselves on a regular basis, which is what needs to happen to get the most out of the new diagnostics.
Mass rapid at-home testing would likely require a dedicated government program. In England, everyone in the country is being given access to two tests a week as part of the government's $51 billion Test and Trace program.
What to watch: The CDC and NIH recently launched the first public health initiative in the U.S. to test the effectiveness of rapid at-home tests in curbing COVID-19 outbreaks.
The bottom line: Rapid at-home tests put the power of diagnosis and surveillance in the hands of ordinary Americans, but as with the vaccines, it will only work if we use them.
Go deeper