Pop in corn prices could signal more cost spikes ahead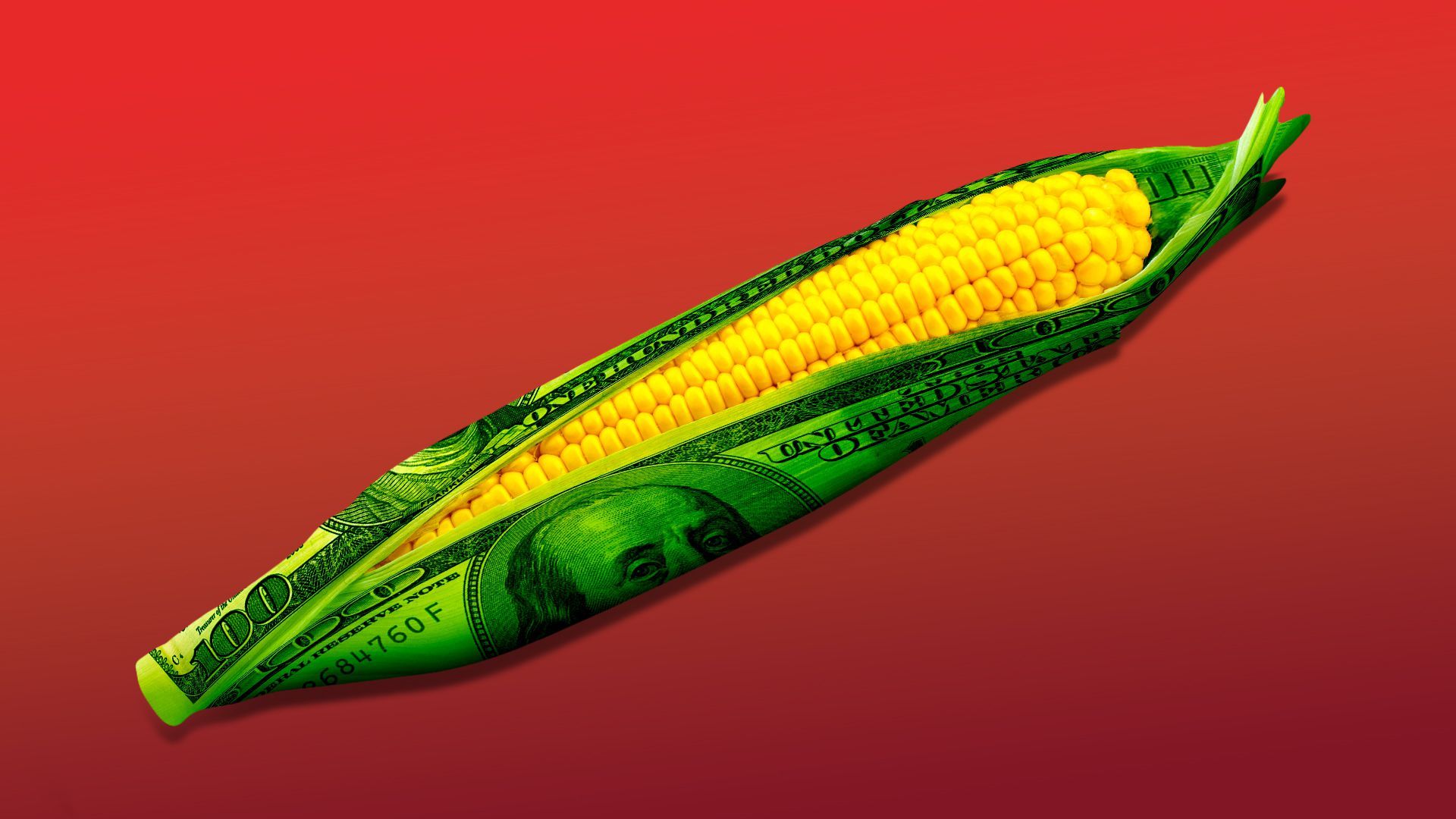 The price of corn is surging at a record pace. Prices have risen by 16% so far this month, the largest monthly gain since May 2019, and have risen every month since July, unleashing a 43.7% gain so far this year, per FactSet.
Why it matters: As commodities like lumber and copper see prices sky higher and global food prices continue to soar, the price of corn is especially important because it is a major input for everything from gasoline to meat to industrial products like wallboard and insulation used in houses.
What's happening: While economists aren't yet ready to declare an "agricultural supercycle," (akin to the commodities supercycle seen in the early 2000s) the huge gains in ag products are largely a result of unprecedented demand from China where pig herds have been decimated by an outbreak of swine fever.
Major corn and soy producers like Brazil and Argentina have been experiencing labor shortages as a result of the coronavirus pandemic and unseasonably bad weather has hurt crop yields, resulting in a shortage of supply at precisely the same time as the spike in demand.
The big picture: If American crops aren't able to fill the void, prices could well jump further out of control, Shelby Myers, an economist at the American Farm Bureau, tells Axios.
U.S. farmers are in a prime position to benefit from the situation but cold weather in the Midwest that has been followed by drought conditions is making planting an uncertain proposition.
Yes, but: "Right now what we're seeing is just a market reaction," Myers says.
"Farms are at the beginning of the cycle, so the further down you get through the food supply chain other parties will have to adjust... [Price increases are] not necessarily something that will be seen immediately."
Yes, but, but: The market is clearly reacting and so are consumers. Ten-year inflation expectations rose above 2.4% Tuesday, the highest since April 2013.
Treasury yields also rose across the curve, with the benchmark 10-year rate climbing to 1.63%, reversing a trend of consolidation seen in recent weeks.
Further, the list of companies that are raising prices as a result of higher commodity costs continues to grow.
Both Hasbro and Mattel warned Tuesday that they may raise prices for toys and games as a result of higher costs for resin packaging material plus increased ocean freight costs amid the global shipping bottleneck, as Axios' Kate Marino reported.
The bottom line: "In short," Myers says "there's just a lot of uncertainty and it's only April."
What to watch: Things also could improve for farmers despite the bad weather so far this year. As of this week, Myers says that only about 17% of this year's corn crop has been planted, 12% of the cotton crop, 8% of soybeans and 28% of spring wheat.
"The neat thing about our economic food system is we can shift and stabilize to prevent giant spikes in food prices," she says.
Go deeper