How Biden's speech will make history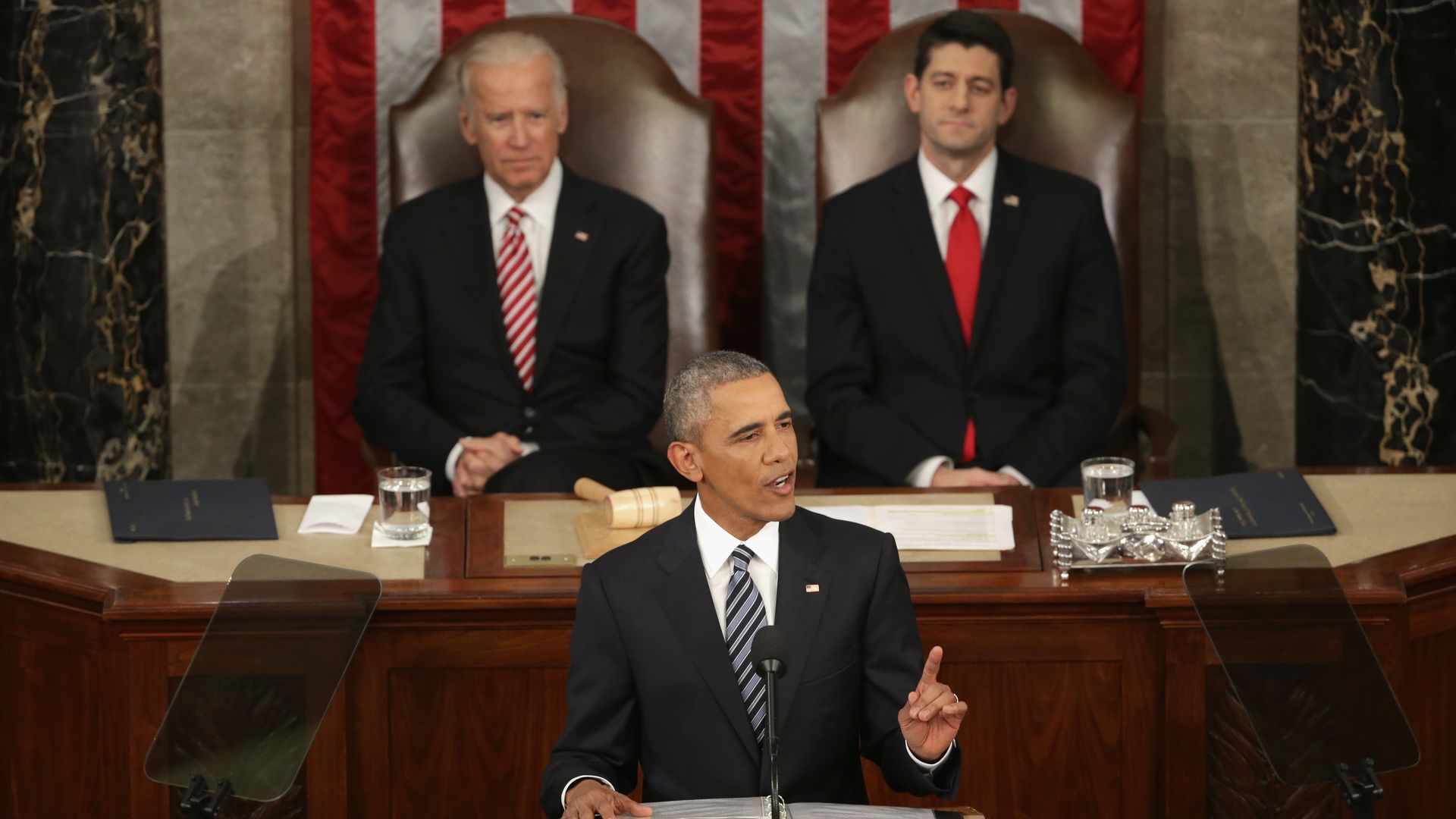 President Biden's address to a joint session of Congress on Wednesday will be noteworthy not because of the COVID-restricted audience but because he'll stand before two women in the House Chamber.
Why it matters: The joint address is not a State of the Union speech, though it will have the usual trappings: an announcement of the president's arrival, and clapping as he walks down the aisle. Almost everything else will be different.
There are 535 members of Congress and usually 1,600 people in the chamber. On Wednesday, the number will be capped at 200 — and no guests allowed.
Many House Republicans will be absent, in part because the House is in recess, in part because they're holding their annual retreat in Orlando, Florida.
The Senate is in session, and Sen. Lindsey Graham (R-S.C.) said he plans to be there. "I want to hear the president. I think we should go if we can, out of respect for the office and him," Graham said today.
The biggest visible visual difference will be apparent when the president steps up to the podium. Vice President Kamala Harris and House Speaker Nancy Pelosi will be seated in the two chairs behind him.
It will be a first for the nation: the No. 1 and No. 2 people in the line of presidential succession are both women.
By the numbers: A source familiar with the ticket distribution system told Axios all four caucuses were set to receive the same amount: Senate Republicans and Democrats, and House Republicans and Democrats. 
A separate source said the Senate received 58 seats, which were evenly divided between Republicans and Democrats.
Senate Democrats distributed their allotment through a lottery, according to a person familiar with the process.
The intrigue: Some decision-makers think the current climate of racial tension warranted chair members of the Congressional Black Caucus, Congressional Asian Pacific American Caucus and the Congressional Hispanic Caucus being prioritized as guests.
Others floated the idea of inviting only the freshman class, many of whom braved the Jan 6. attack but would likely be denied a seat at the most prominent congressional event of the year because of social distancing rules.
The event has been designated a National Special Security Event, under the supervision of the Secret Service. A Joint Threat Assessment has been performed and circulated to the FBI and other law enforcement agencies, a document reviewed by Axios shows.
What to watch: Some Republicans are furious about the skinny guest list. Rep. Lauren Boebert (R-Colo.) told Axios she will be in attendance anyway.
"I've requested an invitation and I haven't heard back," Boebert said last week. "I'm showing up."
Go deeper