Norway's prime minister on her country's love of EVs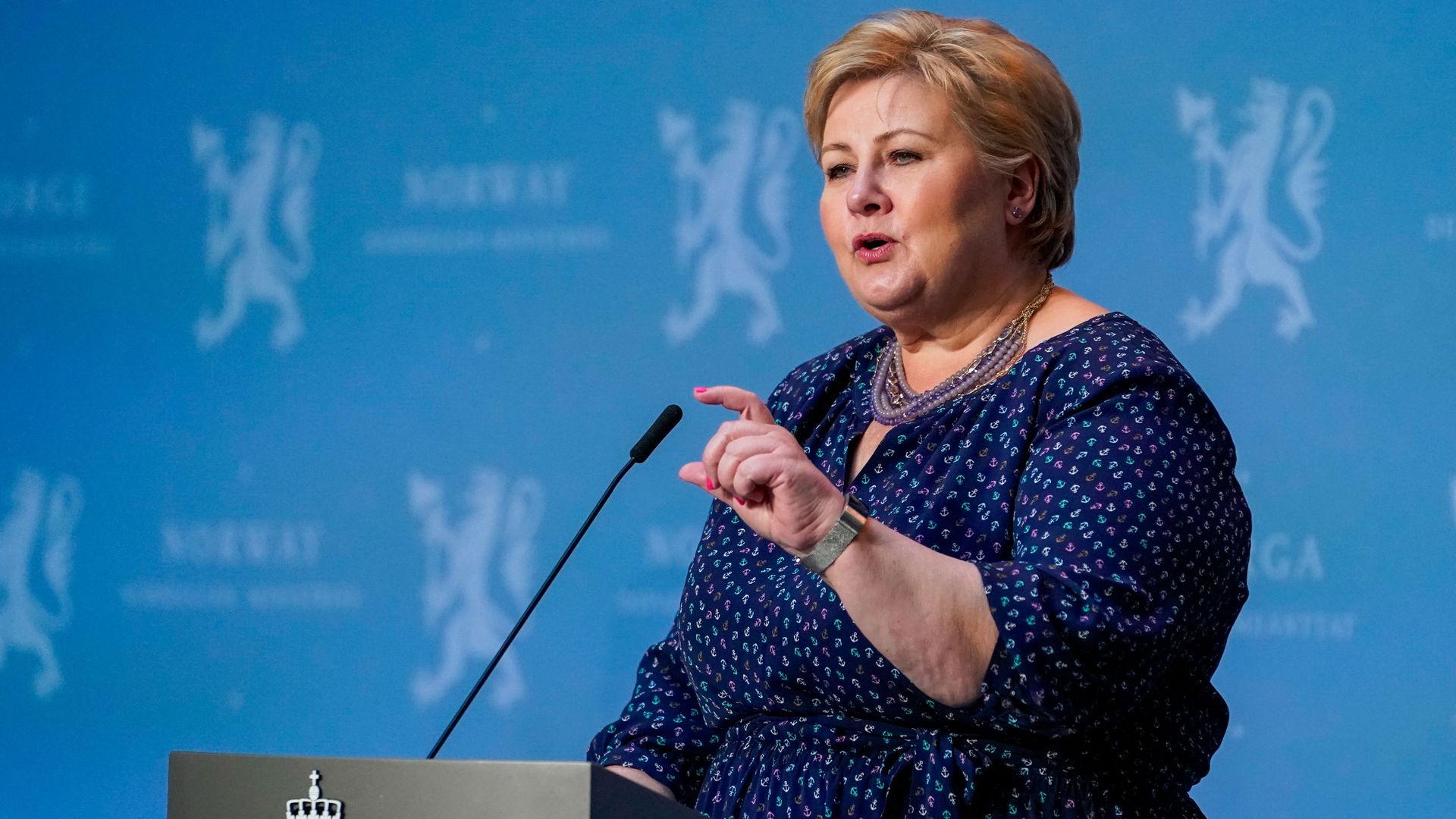 Norwegian Prime Minister Erna Solberg says electric vehicles have become a status symbol in her country, with widespread adoption spurred by government policies.
Why it matters: As shown in the viral Super Bowl commercials starring Will Ferrell, Norway is a potential model for implementing policy incentives that other countries might choose to follow to increase the adoption of electric vehicles.
Norway has the highest rate of EV adoption as a percentage of the auto market, with at least 54% of new cars sold being EVs.
The big picture: In a wide-ranging virtual interview with Axios on Thursday, Solberg said government policies have long treated cars as luxury items subject to certain taxes. But even before EVs were widely available, policymakers decided to provide subsidies by making them tax-exempt.
"It's of course huge incentives when you both take away value-added tax and the special car taxation, and you give them free entry on toll roads, which we have especially in the cities," Solberg said.
"What happened was that especially ... a family's number two car became electrical quite early because that would used to be used for going to work in a city and not for long-distance driving."
Catch up fast: Solbert said over the past five or six years, the country saw "basically a Tesla revolution in the beginning, because they were the first one with real cars, as some of my male friends would say — real cars, not just the small ones."
"When they came into the market, you suddenly could get a good, nice looking car with a longer range, which was a symbol, you know, a status symbol. And because of the tax exceptions we had, it became much cheaper than buying a comparable fossil fuel car," she said.
Solberg also touted the renewable power sources in Norway, mainly stemming from hydroelectric facilities, that make EVs cleaner there than other countries that generate more electricity from coal or gas-fired power plants.
The intrigue: As for those Super Bowl commercials, Solberg said Norwegians thought they were funny, and noted that it was a huge opportunity for publicity in the U.S.
"We know that the Super Bowl commercial is probably the time you meet the most Americans," she said.
Solberg, who has led Norway since 2013, also discussed how to strike a balance between the country's extensive fossil-fuel production activities and its ambitious climate targets.
On Thursday, for example, Norway announced it was joining a multinational initiative that will work with the private sector to reduce deforestation in tropical countries.
But Solberg said there are reasons to be wary of using such initiatives as carbon offsets, and that Norway has not been registering them as such. It has, however, been monitoring its projects using satellites, she said.
She noted that Norway had been supporting efforts to reduce rainforest destruction in Brazil, but stopped in 2019 in light of evidence that deforestation has increased there.
Between the lines: When it comes to U.S. credibility to lead on the climate issue, Solberg said she tries to look at the U.S. as a whole, rather than just Washington.
"I think for us it's extremely important to separate the U.S. from any administration," Solberg said. "Because what we really have seen is that the emissions went down even though the president was not in favor of the Paris agreement."
"We have always seen, especially, the innovative force in the U.S. as strong for implementing both new policies, but also new technologies."
Go deeper