Cadillac's electric shift begins with launch of 2023 Lyriq SUV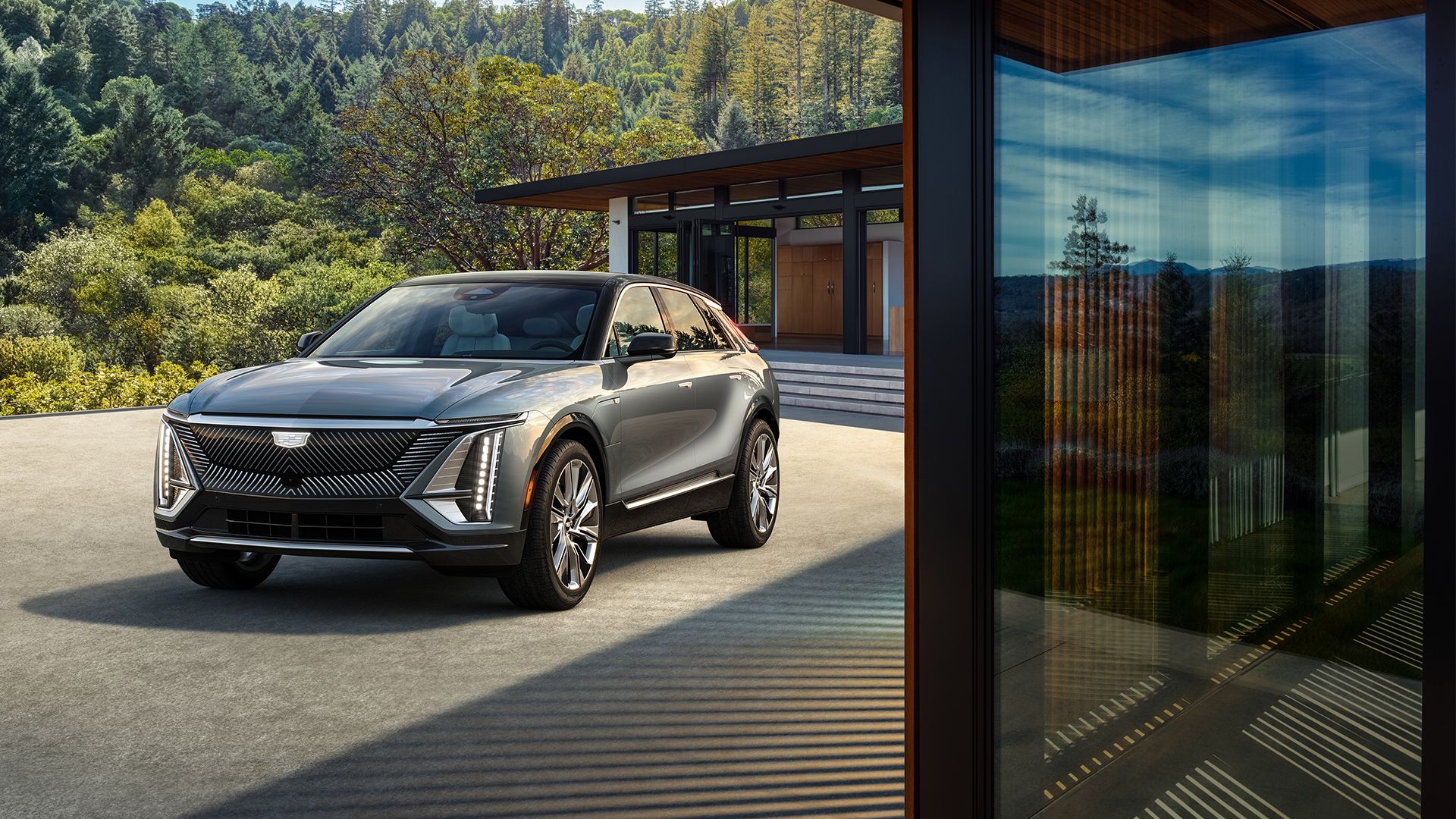 GM plans to start taking orders in September for the 2023 Cadillac Lyriq, a striking electric SUV coming early next year at a starting price of $59,900.
Why it matters: The production version of the Lyriq, which debuted Wednesday, marks the beginning of the luxury brand's phaseout of gasoline-powered vehicles by 2030.
The big picture: The Lyriq, which looks remarkably similar to a show car unveiled last year, features GM's new modular Ultium battery system.
Ultium will also power upcoming electric models like the GMC Hummer pickup and SUV, Chevrolet Silverado pickup and Cruise Origin robotaxi.
GM plans to launch 30 EVs globally by the end of 2025, two-thirds of which will be available in North America.
The company has committed $27 billion to develop electric and autonomous vehicles in the next five years, including construction of two giant battery factories in Ohio and Tennessee.
Details: The rear-wheel-drive Lyriq will launch with a 100 kilowatt-hour battery pack that will deliver an estimated 340 horsepower and more than 300 miles of driving range with a full charge, Cadillac said.
Officials said all-wheel-drive performance versions will come later.
The $59,900 price tag is substantially lower than other luxury EVs, including the $71,000 Jaguar iPace, $66,995 Audi e-Tron and $79,990 Tesla Model X. Tesla's smaller Model Y starts at $39,990.
Charging alternatives include fast charging at public stations (adding up to 76 miles of range in 10 minutes) and a 19.2 kW home charger (adding 52 miles of range per hour).
Yes, but: The Lyriq lacks at least one convenience found in a Tesla, the leading purveyor of electric cars.
Tesla has its own proprietary high-speed Supercharger network. Just plug in and the car is recognized, so payment is automatically billed to the owner.
While the Caddy can be charged at a variety of non-Tesla public charging networks such as EVGo, Chargepoint or Electrify America, owners need to pre-register with each network and maintain an assortment of swipe cards, RFID fobs or phone apps for payment purposes.
What to watch: Cadillac officials say they intend to bring Tesla-like automated payment through a new Plug and Charge protocol already in use across EV charging networks in Europe.
It's a mundane but important convenience: the technology identifies an EV to a charging network, which then validates the car and provides automated billing information to begin charging.
What's next: A new ad campaign featuring the 2023 Cadillac Lyriq debuts April 25, during the Oscars broadcast.
Editor's note: This story has been corrected to reflect that the Lyriq has an estimated 340 horsepower, not 240.
Go deeper