Exclusive: Koch Network, Bush Center team up on immigration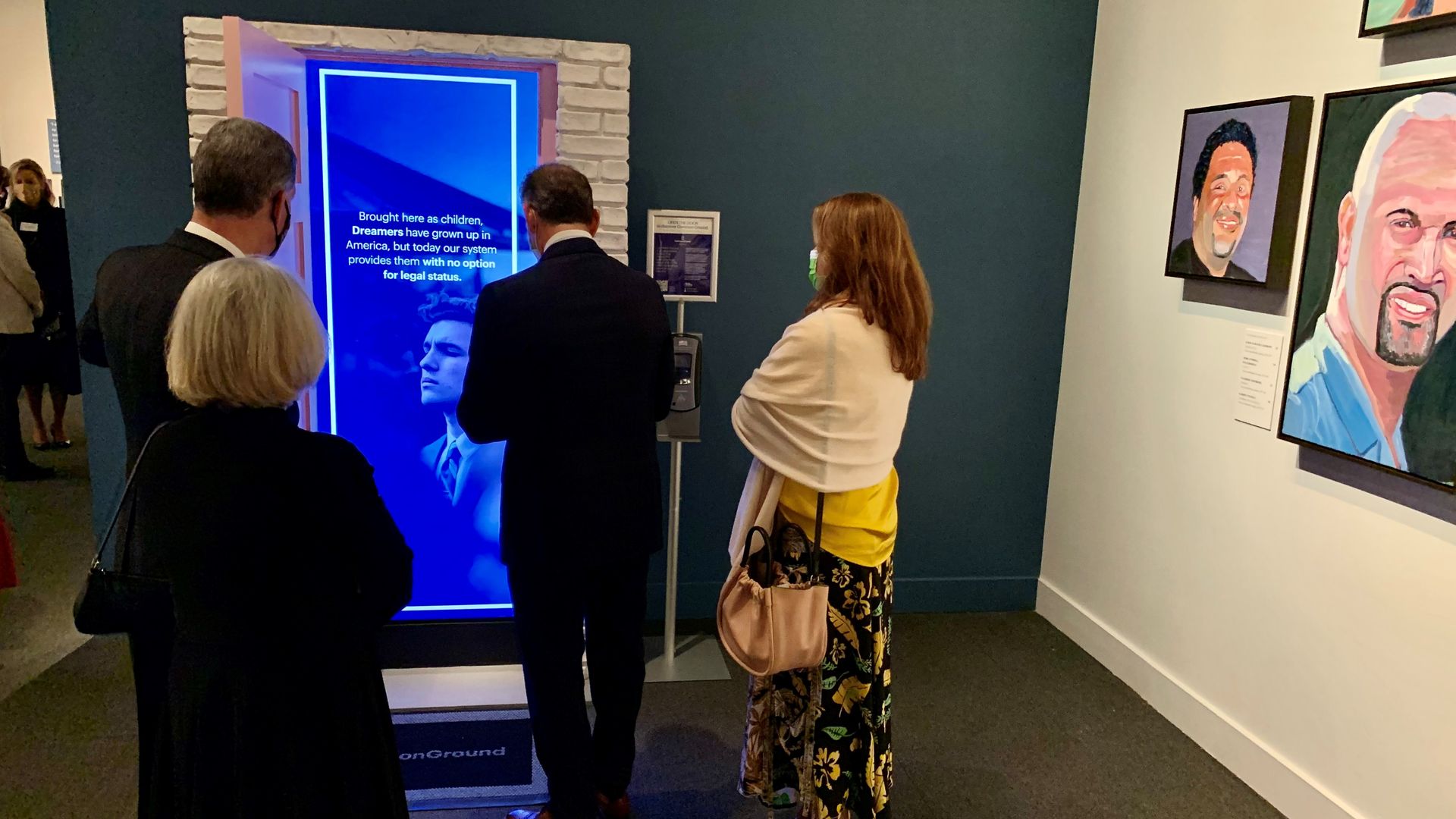 The Koch Network and the George W. Bush Presidential Center are partnering on an interactive immigration exhibit aimed at countering stereotypes and promoting immigration reform.
The big picture: The partnership — to be announced Tuesday — between the right-wing network's philanthropic arm, Stand Together, and the Dallas center comes as Congress is expected to debate immigration reform proposals amid resistance from many Republicans.
The details: The "Common Ground: Immigration Pop-Up Exhibit" features nine stand-alone doors signifying popular proposals about reforming immigration as told through interactive video stories.
When users open the multimedia doors, the exhibition takes them through a journey seeking to link immigrants and non-immigrants.
The exhibit also will highlight polling data showing over 75% of Americans believe immigration is a good thing, or that three in five Americans support a plan providing citizenship for Dreamers.
The yearlong exhibit is launching in Dallas alongside a new book and portrait exhibit by former president Bush called "Out of Many, One: Portraits of America's Immigrants."
"I set out to accomplish two things: to share some portraits of immigrants, each with a remarkable story I try to tell, and to humanize the debate on immigration and reform," Bush recently wrote in a Washington Post op-ed.
Bush also told CBS News anchor Norah O'Donnell the immigration system was one of the biggest disappointments of his presidency.
"I campaigned on immigration reform," said Bush, who cast himself as a "compassionate conservative" throughout his campaigns and two terms. "I made it abundantly clear to voters this is something I intended to do."
What they're saying: "Immigration signifies the exceptional success of our nation as the land of opportunity," Laura Collins, director of the Bush Institute-SMU Economic Growth Initiative, said in a statement. "When we welcome people who share our unwavering determination and optimism, we can remain a hopeful and prosperous society."
The intrigue: The Koch Network is alternately described as libertarian or conservative. It was founded by Charles and the late David Koch, Kansans who controlled Koch Industries, now one of the largest privately held companies in the United States.
Through its many groups like the Americans for Prosperity and The LIBRE Initiative, it has been pushing for bipartisan comprehensive immigration reform for years.
The network has argued immigration reform was needed to build economies in parts of the U.S.
Go deeper