Antitrust pressure on Big Tech takes center stage in Congress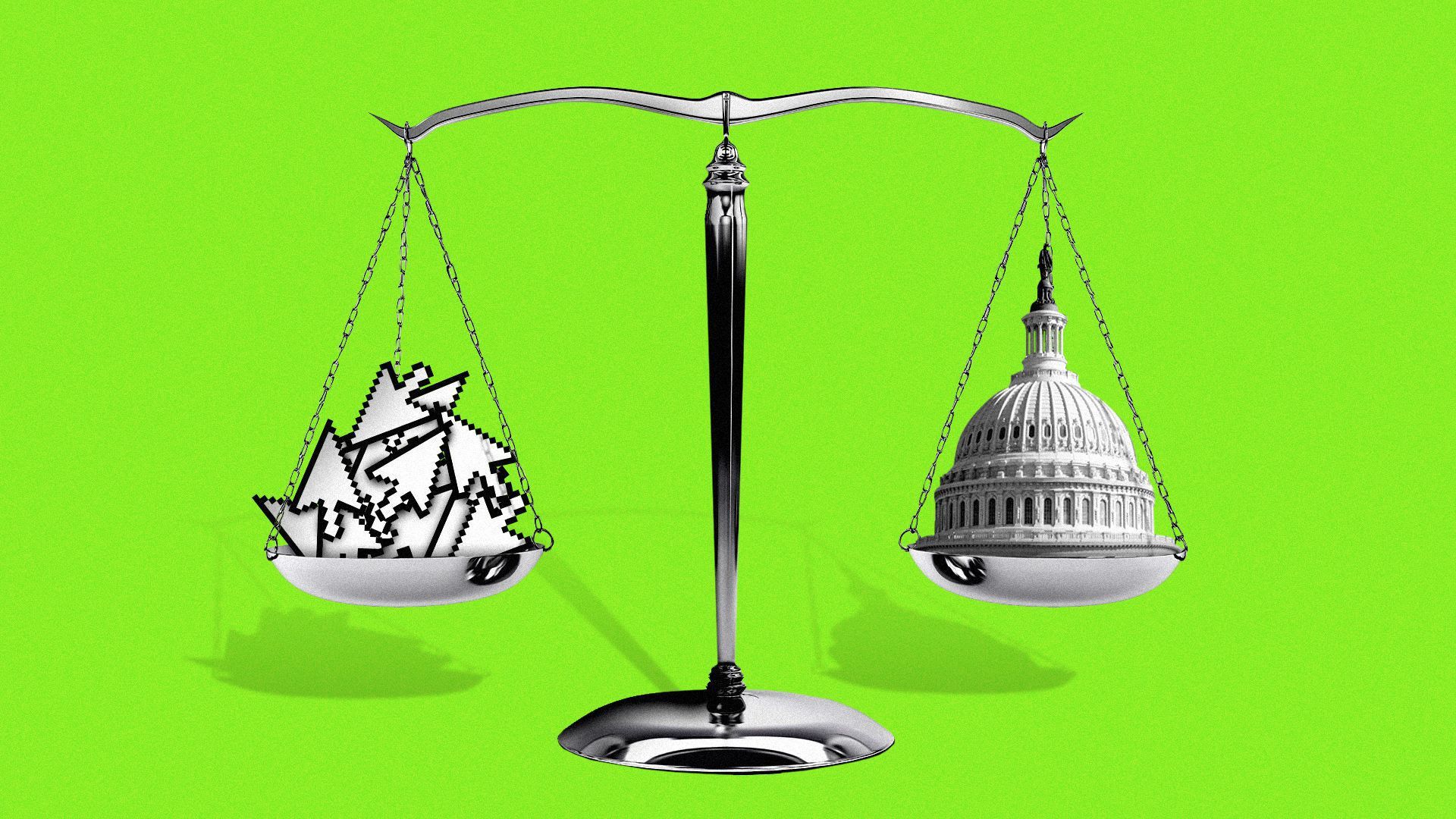 The antitrust noose is continuing to tighten around Big Tech, with some bankers saying that the pressure is impacting deal-making.
Driving the news: Lina Khan, a law professor who famously argued for breaking up Amazon, tomorrow will get a Senate confirmation hearing to become an FTC commissioner.
The House Judiciary Committee, controlled by Democrats, last week passed its tech antitrust report, setting the stage for legislation.
Sen. Josh Hawley (R-Mo.) last week unveiled his own trust-busting proposal, while Republicans on the House Energy & Commerce Committee are circulating a staff memo outlining their ideas for tech accountability.
Selection bias: Most of the D.C. antitrust focus, including formal investigations by the FTC and DOJ, is on four companies: Apple, Amazon, Facebook and Google.
No member of that quartet has put a blanket hold on M&A. But they've been noticeably sluggish, particularly given their heaving cash piles and near record-high stock prices.
The last sizable purchase was five months ago, when Facebook agreed to pay $1 billion for Kustomer.
"They're scared and are pretty much telling us that they'd rather not risk a long regulatory fight," says an M&A advisor who recently had a client's tires kicked by one of the Big 4.
Be smart: Other Big Tech companies are taking advantage of their time outside of the spotlight.
The best example of this is Microsoft, as evidenced by its recent megadeal for Nuance, its reported pursuit of both Discord and Pinterest and its public jabs at Google.
Microsoft has a larger market cap than any U.S. tech company outside of Apple, but D.C. seems to believe it's already taken enough antitrust lumps to last its lifetime.
Or look at Twitter, which apparently felt secure enough to pitch Clubhouse on an acquisition. Or Salesforce buying Slack.
The bottom line: Until legislators and regulators resolve what they want to do about Big Tech, beyond throwing rhetorical barbs, some of the largest potential acquirers are being relegated to the sidelines.
Go deeper