Capitol Hill's far right pushes Anglo-Saxon values, European architecture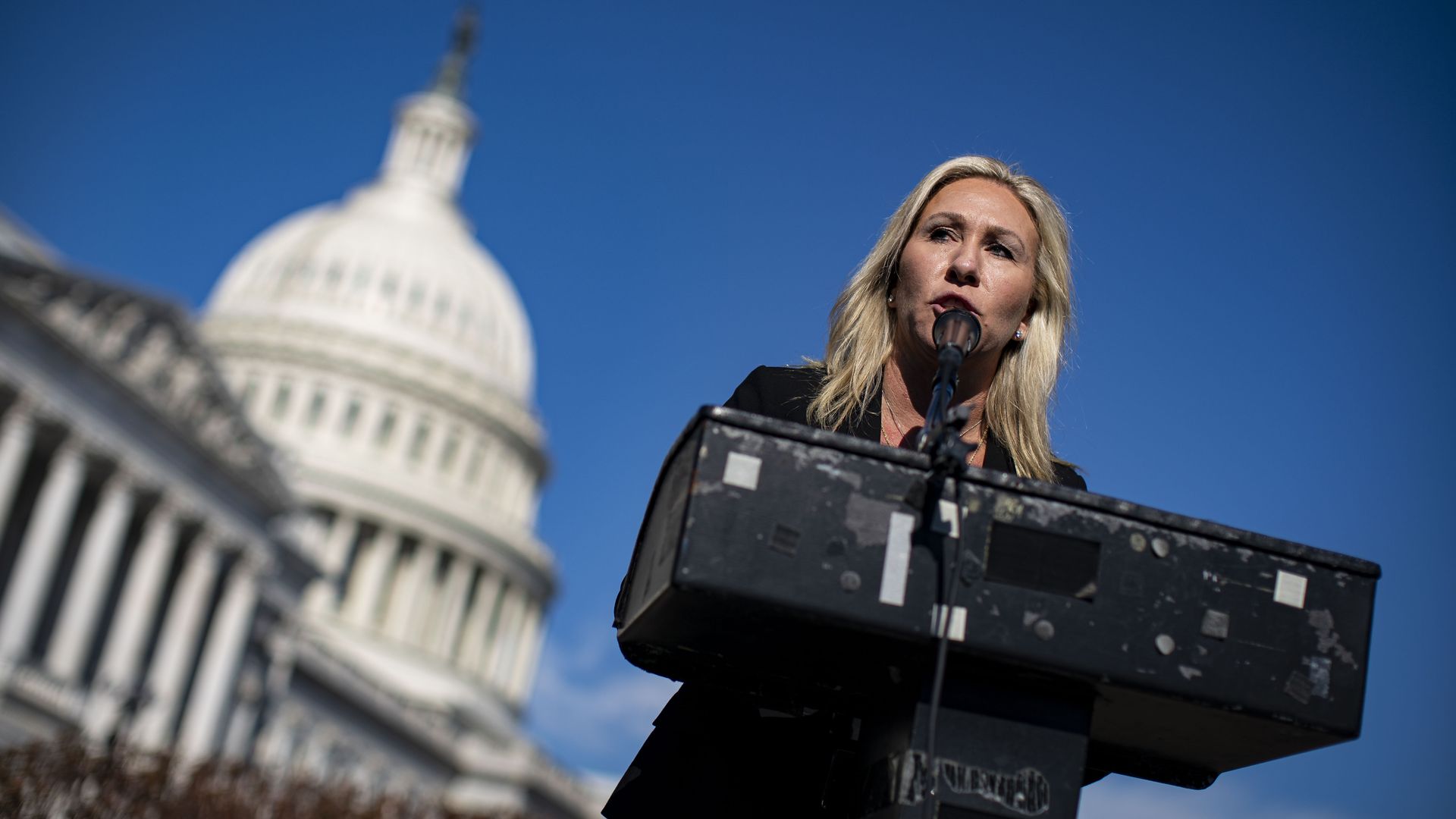 Multiple far-right House Republicans have begun planning and promoting an America First Caucus aimed at pushing "uniquely Anglo-Saxon political traditions," Punchbowl News first reported.
The big picture: "The document was being circulated as the GOP is struggling to determine a clear direction as it prepares to try winning back control of the House and Senate in the 2022 elections," AP writes.
Of note: "The AP could not independently confirm the organization's origins or current status, but Rep. Matt Gaetz, R-Fla., said he was joining and indicated that fellow conservative Rep. Marjorie Taylor Greene, R-Ga., was behind it." Punchbowl also noted that Paul Gosar (R-Ariz.) involved.
Details: The caucus has distributed documents that say the group hopes to "follow in President Trump's footsteps." The PDF that's been circulating adds that mass immigration has put the "unique identity" of the U.S. at risk.
In some of the most nakedly nativist rhetoric seen in the modern Congress, the document says: "The America First Caucus will work towards an infrastructure that reflects the architectural, engineering and aesthetic value that befits the progeny of European architecture."
The group focuses on different areas of policy — including immigration, education, foreign aid and election fraud — it says should "be re-examined from the ground up to ensure that what remains keeps the interest of Americans at heart."
Zoom out: Several House Republicans have come out against the group, with Minority Leader Kevin McCarthy (R-Calif.) tweeting that "[t]he Republican Party is the party of Lincoln & the party of more opportunity for all Americans — not nativist dog whistles."
Rep. Liz Cheney (R-Wyo.) tweeted: "We teach our children the values of tolerance, decency and moral courage. Racism, nativism, and anti-Semitism are evil. History teaches we all have an obligation to confront & reject such malicious hate."
Rep. Adam Kinzinger (R-Ill.) tweeted: "I believe anyone that joins this caucus should have their committees stripped, and the Republican conference should expel them from conference participation. While we can't prevent someone from calling themselves Republican, we can loudly say they don't belong to us."
Worth noting: Greene tweeted on Saturday that she was not involved with the organization, saying the PDF is "a staff level draft proposal from an outside group that I hadn't read."
Go deeper: Read the full 7-page document.
Go deeper