Nearly 100 people arrested during Daunte Wright protests in Minnesota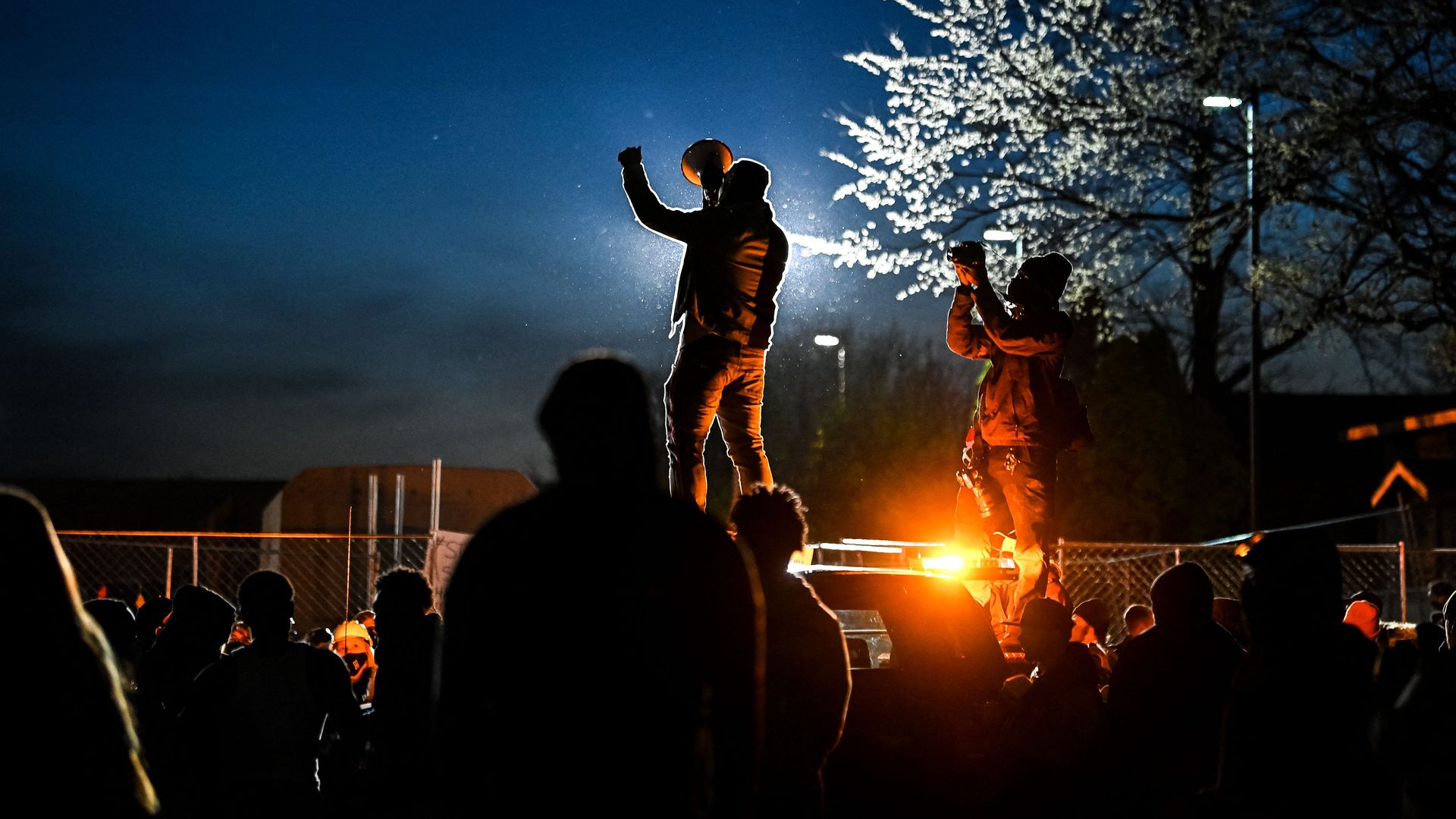 About 100 people were taken to custody Friday night in Brooklyn Center, Minnesota in connection to the protests of Daunte Wright's death, local law enforcement officials said during a news conference.
Details: Authorities said that Friday night's protests turned violent and destructive, which led to dispersal orders and arrests. Thursday night's protests remained peaceful and no arrests were made.
Minnesota Public Safety Commissioner John Harrington did not specify what charges could be brought against those arrested.
Law enforcement said a peaceful protest of about 250 people grew to about 500 people by evening, which led to a citywide curfew from 11 p.m. to 6 a.m.
What they're saying: "We had a wall secured perimeter fence, we had community advocates working the fence line, we had officers positions well back of the fence so that we could maintain a distance so that we're not going to be agitating individuals along the fence line," Harrington said, specifying how police were positioned around the Brooklyn Center Police Department.
Harrington said that deputies and officers used this formation successfully on Thursday night and did not engage with protesters, and hoped the same strategy would work Friday, but "the response was very different."
"This is a night that should have been about Daunte Wright ... recognizing his death and the tragedy that that is. Tearing down a fence, coming armed to a protest, is not in my mind fitting a peaceful protest," Harrington said.
"I'm saddened by what happened," Hennepin County Sheriff David Hutchinson said at a press conference Friday night. "Trying to cut down the fence to get into a safe area, their intentions are to cause harm to either the building or the police officers and deputies inside the fence. We need to grieve; we don't need to have more problems with destruction and deputies hurt, officers hurt."
Timeline: Harrington said that at approximately 8 p.m., small groups of protesters began to bring plywood, shields, umbrellas and liquid bottles.
Roughly 45 minutes later, some demonstrators started shaking the fencing around the precinct and throwing glass bottles at officers near the building.
Harrington added that part of the fence surrounding the precinct had been breached at around 9:30 p.m. Officers then started giving out dispersal orders.
Minutes later, at approximately 10 p.m., police started making arrests as violent confrontations arose.
At 10:40 p.m. the city of Brooklyn Center issued the 11 p.m. curfew.
Go deeper