Major satellite program launches to hunt for methane, carbon "super-emitters"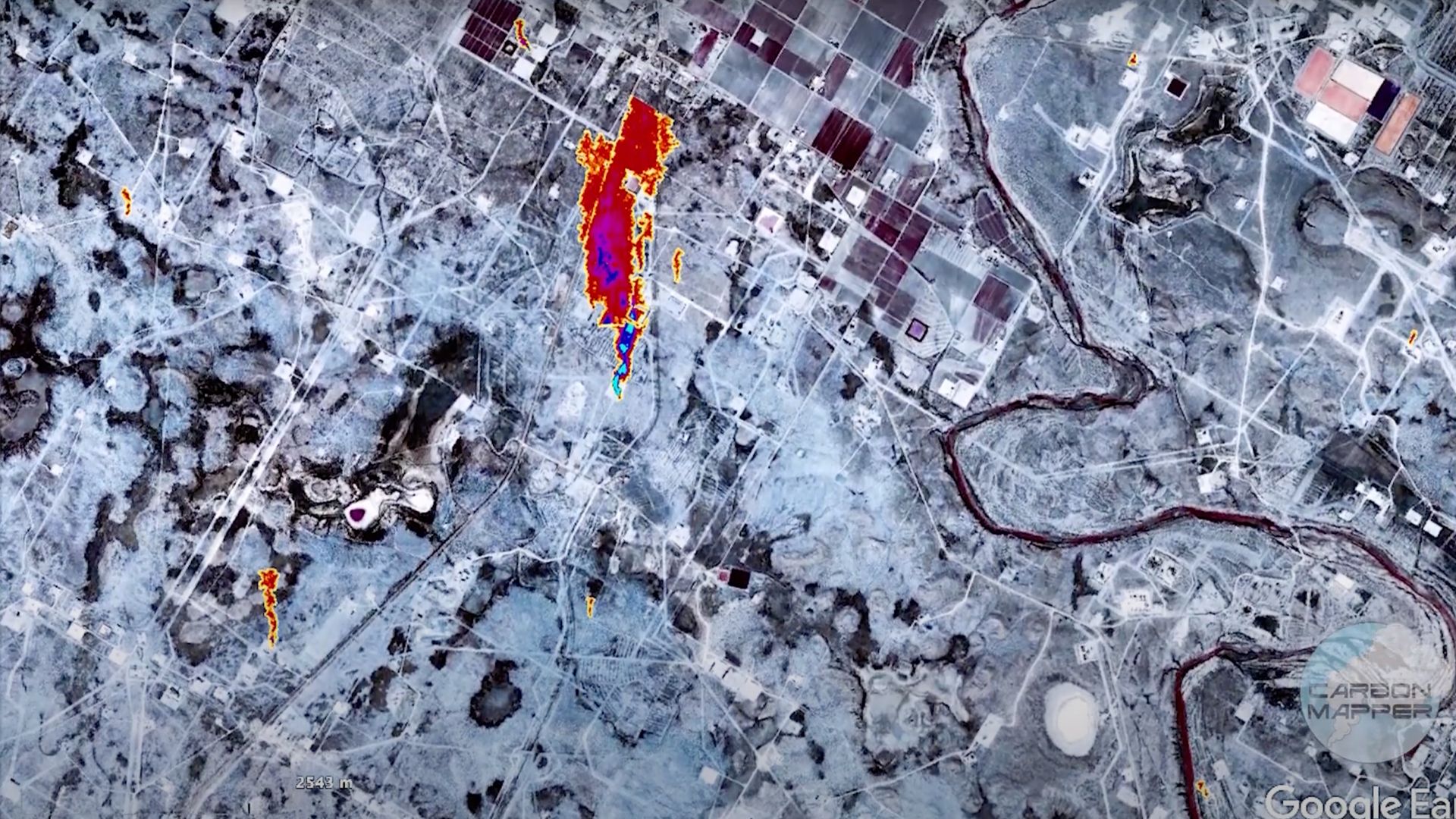 A new era in monitoring compliance of environmental regulations is quickly approaching, signaled in part by plans announced Thursday to deploy a network of satellites that can pinpoint sources of of methane and carbon dioxide emissions.
Why it matters: The new nonprofit, known as Carbon Mapper, aims to launch its first satellite in 2023 that can detect methane super-emitters and track carbon emissions. If successful, it could transform the way policymakers regulate greenhouse gas emissions and also generate a wealth of data for public use.
Between the lines: Carbon Mapper — which combines the skills of NASA's Jet Propulsion Laboratory and satellite firm Planet with the state of California, two universities in Arizona, a foundation and an environmental think tank — has raised $100 million for its first two satellites, planned for launch in 2023.
A second phase, consisting of a constellation of satellites, is in the design stages for launch in 2025.
When combined with efforts by the environmental group EDF to launch its own methane-tracking satellite, the development signals the move toward real-time emissions monitoring.
The new consortium represents a potential leap forward in the long-running effort to hold polluters accountable.
The intrigue: Depending on whether these efforts are successful, regulators may be able to know, in near real-time, how well a company, state or nation is living up to its climate commitments.
This venture could bolster support for emissions reduction programs, from the consumer level in the form of certification programs for things like lower emissions natural gas, to the international arena, where nations could independently monitor the emissions from other countries.
Details: The space-based effort, which would be complemented by image processing on the ground and an open data portal for the public, would be supplemented in California by aircraft monitoring to gather additional information on pollution sources, Carbon Mapper said in a press release.
Of note: A space-based system is particularly well-suited to monitoring methane emissions hot spots, also known as "super emitters."
Methane is a far more powerful greenhouse gas than carbon dioxide in when measured on short timescales, and research has shown that a relatively small number of natural gas facilities, including drilling sites and pipelines, can be large sources of emissions.
In addition, these hot spots can vary in time and place, depending on a facility's operations. That makes spotting them difficult unless there is continuous monitoring from above.
What they're saying: "We're providing the zoom lens to find these point source methane and CO2 emissions and quantify them, and to get them in the hands of operators within 24 hours, so that they can take rapid action," said Planet co-founder and chief strategy officer Robbie Schingler in an interview.
What to watch: The new initiative gives California, which is seeking to reach carbon neutrality by 2045, a powerful new tool to cut methane emissions.
Flashback: The state saw a massive methane leak at the Aliso Canyon facility in southern California beginning in 2015, which emitted roughly 109,000 metric tons of methane.
Context: The participation of Planet, which operates the largest Earth observing fleet of imaging satellites, many of which are no bigger than a shoebox, and NASA JPL, adds a level of technical expertise that will allow the satellites to not only map carbon and methane emissions, but also gather other data that will be useful for scientists, the public and businesses.
By the numbers: Carbon Mapper itself is privately funded via Bloomberg Philanthropies, High Tide Foundation, the Grantham Foundation for Protection of the Environment, the University of Arizona and other donors.
Yes, but: While $100 million has been raised so far, future funding would be needed and technological hurdles overcome to achieve the full goals of the effort.
Go deeper