J&J vaccine pause will have minimal impact on local vaccine rollout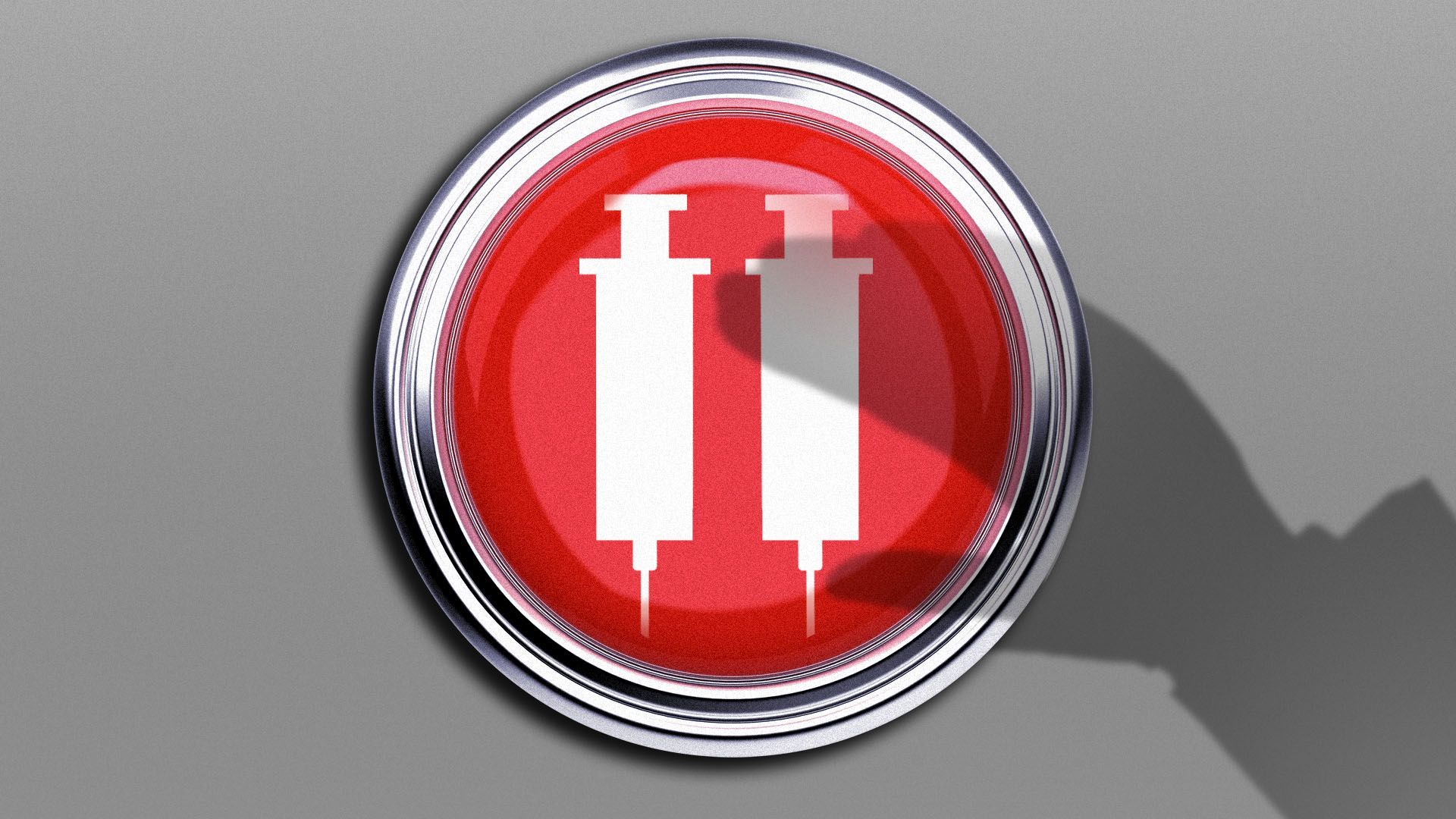 The pause on administering Johnson & Johnson's COVID-19 vaccine isn't expected to have a huge impact on vaccine rollout across local communities.
Why it matters: Like the country writ large, most localities have vaccinated the vast majority of their citizens with the two-dose Pfizer and Moderna shots, which have more than enough supply to fill the gaps caused by the J&J pause.
But the ease of J&J's single shot is key to helping inoculate communities that can be difficult to reach, including college students and homeless populations.
The backdrop: The FDA recommended that states immediately stop use of the one-dose vaccine following reports that six women — out of nearly 7 million recipients — experienced an "extremely rare" blood clot disorder within weeks of their shot.
The guidance, issued "out of an abundance of caution," will allow health officials to take a closer look at the data and make a recommendation for identifying and treating at-risk individuals.
The local impact:
In Charlotte, health care providers Novant and Atrium Health, along with Mecklenburg County, are pausing J&J vaccines. But it will likely only cause a hiccup in the overall rollout.
Atrium, the biggest health system in the Carolinas, says because it didn't have any J&J vaccines scheduled for the near future, the pause "will not affect current vaccination appointments."
Colorado and Denver officials are also halting J&J shots. About one in 10 people in Colorado who are fully immunized have received the J&J vaccine, according to state data.
That equals more than 122,000 people.
In Minnesota, the majority of doses administered — more than 90% — are from Moderna and Pfizer.
"We'll see about a 5% or so drop off [in supply] but it will not impact our desire and our nation-leading efforts to get 80% vaccinated," Gov. Tim Walz told reporters.
In Des Moines, the majority of vaccines provided have also been Moderna or Pfizer, Polk County Health Department spokesperson Nola Aigner Davis told Axios.
Des Moines Area Community College and University of Northern Iowa postponed or canceled clinics that were supposed to be held Tuesday using J&J. Students may have an option in coming days to get one of the two-dose vaccines, KCCI-TV reported.
This piece features reporting from Axios Charlotte's Paige Hopkins and Katie Peralta Soloff; Axios Denver's John Frank; Axios Des Moines' Jason Clayworth; and Axios Twin Cities' Torey Van Oot.
This is an Axios Local collaboration. If you live in Charlotte, Denver, Des Moines, Tampa Bay or the Twin Cities, sign up to receive newsletters designed to help readers get smarter, faster on the most consequential news unfolding in their own backyard.
Go deeper