Operational failure left Capitol vulnerable during Jan. 6 attack, IG will testify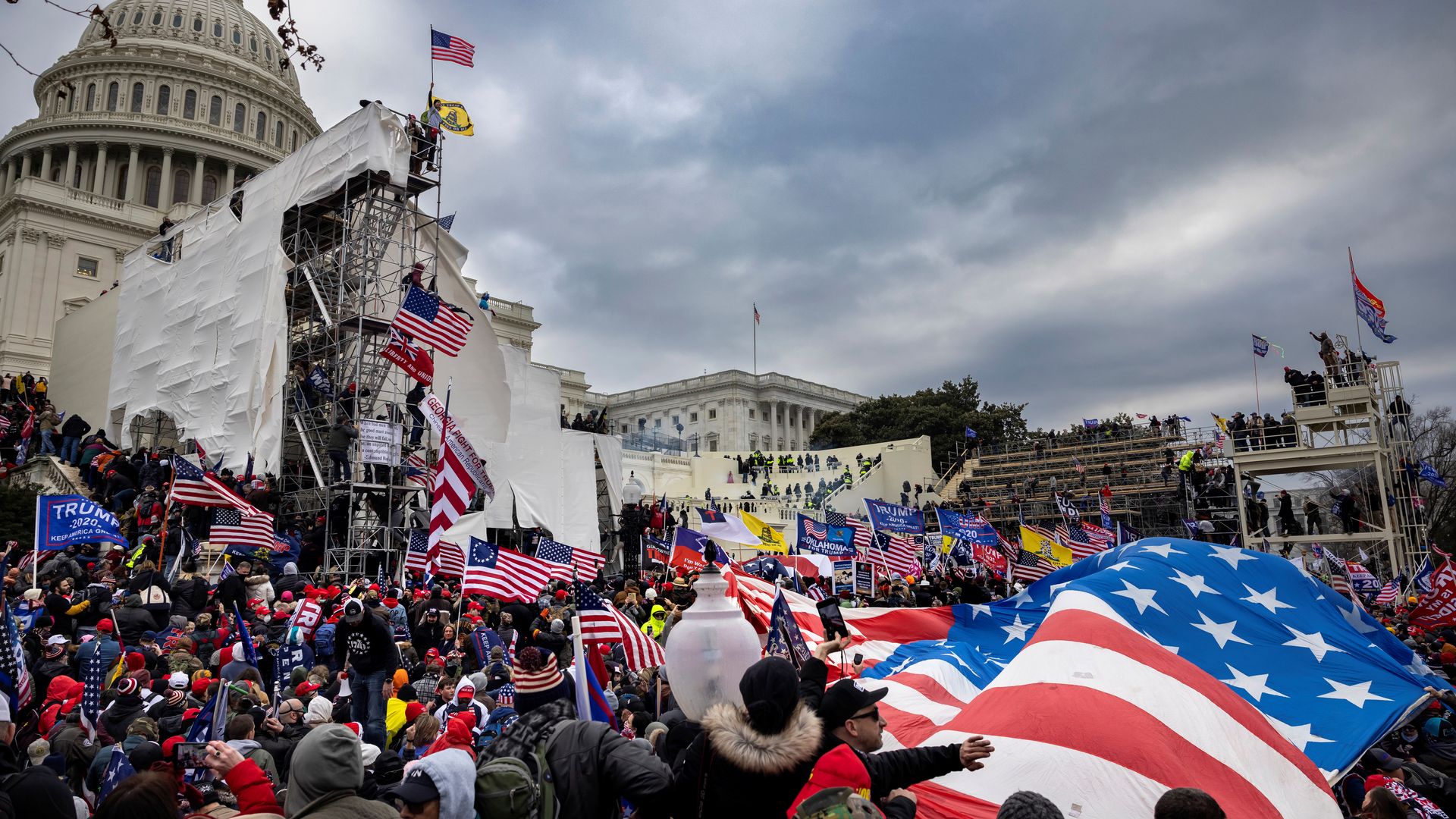 Operational and intelligence failures left the U.S. Capitol Police unable to effectively respond to the deadly Jan 6 attack on the Capitol, Inspector General Michael Bolton will say during a House hearing Thursday, according to his prepared testimony obtained by AP.
Why it matters: The subject of hearing in the House Administration Committee will be a damning, 104-page watchdog report on the department's response to the riot, which was completed in March but has not been released to the public. Chair Zoe Lofgren (D-Calif.) called it "detailed and disturbing."
Bolton will in particular fault Capitol Police for not prioritizing its Civil Disturbance Unit (CDU), which is responsible for ensuring that Congress is not disrupted by civil unrest or protest activity.
"USCP did not have adequate policies and procedures for CDU defining its responsibilities, duties, composition, equipment, and training," Bolton will say.
"CDU was operating at a decreased level of readiness because of a lack of standards for equipment, deficiencies noted from the events of January 6, 2021, a lapse in certain certifications, an inaccurate CDU roster, staffing concerns for the unit, a lack of properly performed quarterly audits, and property inventories not in compliance with guidance."
The big picture: In the report, Bolton found the agency's leaders ordered the CDU to refrain from using its most powerful crowd-control tools, like stun grenades, to control the riot on Jan. 6, according to the New York Times, which obtained a copy of the report.
The report also notes that the agency missed several pieces alarming intelligence before the riot, including an FBI memo sent on Jan. 5 that warned of threatening online postings by Trump supporters, according to AP.
Bolton concludes that the intelligence breakdown stemmed from dysfunction within the agency.
On Thursday, he will recommend that the department create "formal guidance requiring that employees communicate any intelligence reports and concerns from external sources to appropriate commanders" and provide "additional training to personnel on how to better understand intelligence assessments."
Go deeper