New Mexico governor settles with ex-aide who alleged sexual mistreatment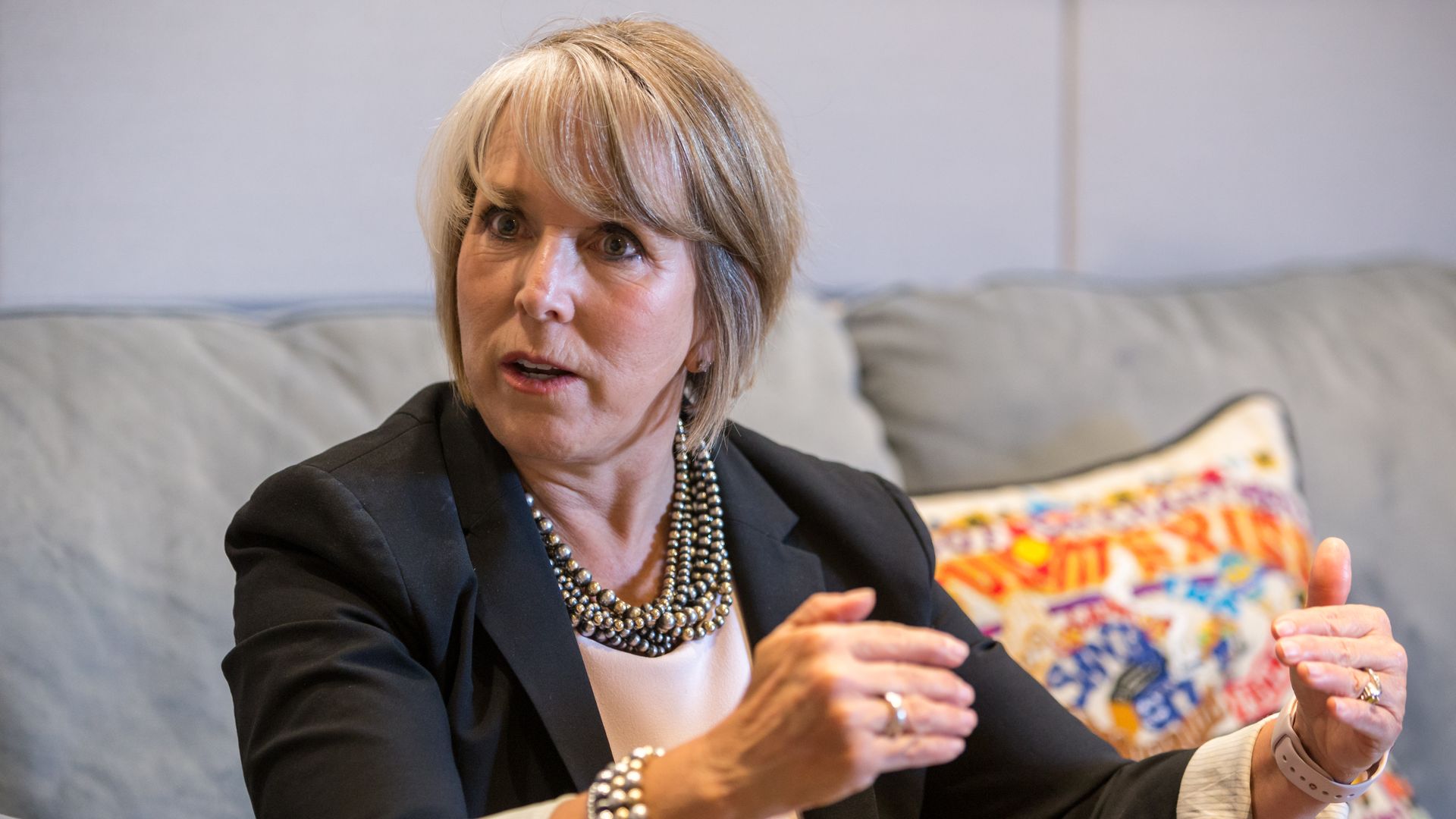 New Mexico Gov. Michelle Lujan Grisham's gubernatorial campaign has reached a settlement with a former campaign staffer who accused the Democrat of unwanted sexual behavior during her 2018 run for governor.
Why it matters: Lujan Grisham is the chair of the Democratic Governors Association and a former member of Congress. This development comes as Gov. Andrew Cuomo of New York, also a Democrat, battles searing sexual harassment allegations.
Driving the news: The New Mexico Secretary of State's Office shows five monthly payments of $12,500 — beginning last November — from Lujan Grisham's campaign to an Atlanta-based law firm representing James Hallinan, a former campaign spokesperson.
The collective cash payments of $62,500 were first reported by the Albuquerque Journal.
Jared Leopold, a spokesperson for Lujan Grisham, told the paper that the governor and campaign team "strenuously deny" Hallinan's claims but that the settlement was reached to avoid the distraction and cost of litigation over "numerous dubious and disputed potential claims."
The DGA did not immediately respond to a request for comment by Axios. Nora Meyers Sackett, Lujan Grisham's press secretary, told Axios: "The state doesn't have any comment as this is not official state business. Our office maintains there is no merit to the allegations."
A spokesperson for the Republican Governors Association, Will Reinert, told Axios in an emailed statement that settlement payments "certainly suggest that there must be some truth" to the claims and called on Lujan Grisham to publicly apologize.
Don't forget: Lujan Grisham, only the second elected Latina governor in U.S. history, was mentioned as a candidate to lead the Department of Health and Human Services under President Joe Biden.
Biden later named California Attorney General Xavier Becerra to the Cabinet post.
Hallinan, who now runs his own communications firm and advises Democrats, declined to comment about the settlement on Tuesday.
The intrigue: Lujan Grisham signed a bipartisan measure last year that limited the use of nondisclosure agreements in sexual misconduct cases.
Flashback: Hallinan spoke with both the Albuquerque Journal and me in late 2019 before I joined Axios, sharing allegations about Grisham's behavior, which he said included unwanted groping in the presence of others.
Hallinan said he had considered quitting and going to law enforcement but decided not to after being urged by a fellow campaign staffer to stick it out.
The governor's office strongly denied and denounced Hallinan's accusations at the time.
Go deeper