Lawmakers react to Biden's plans to withdraw U.S. troops from Afghanistan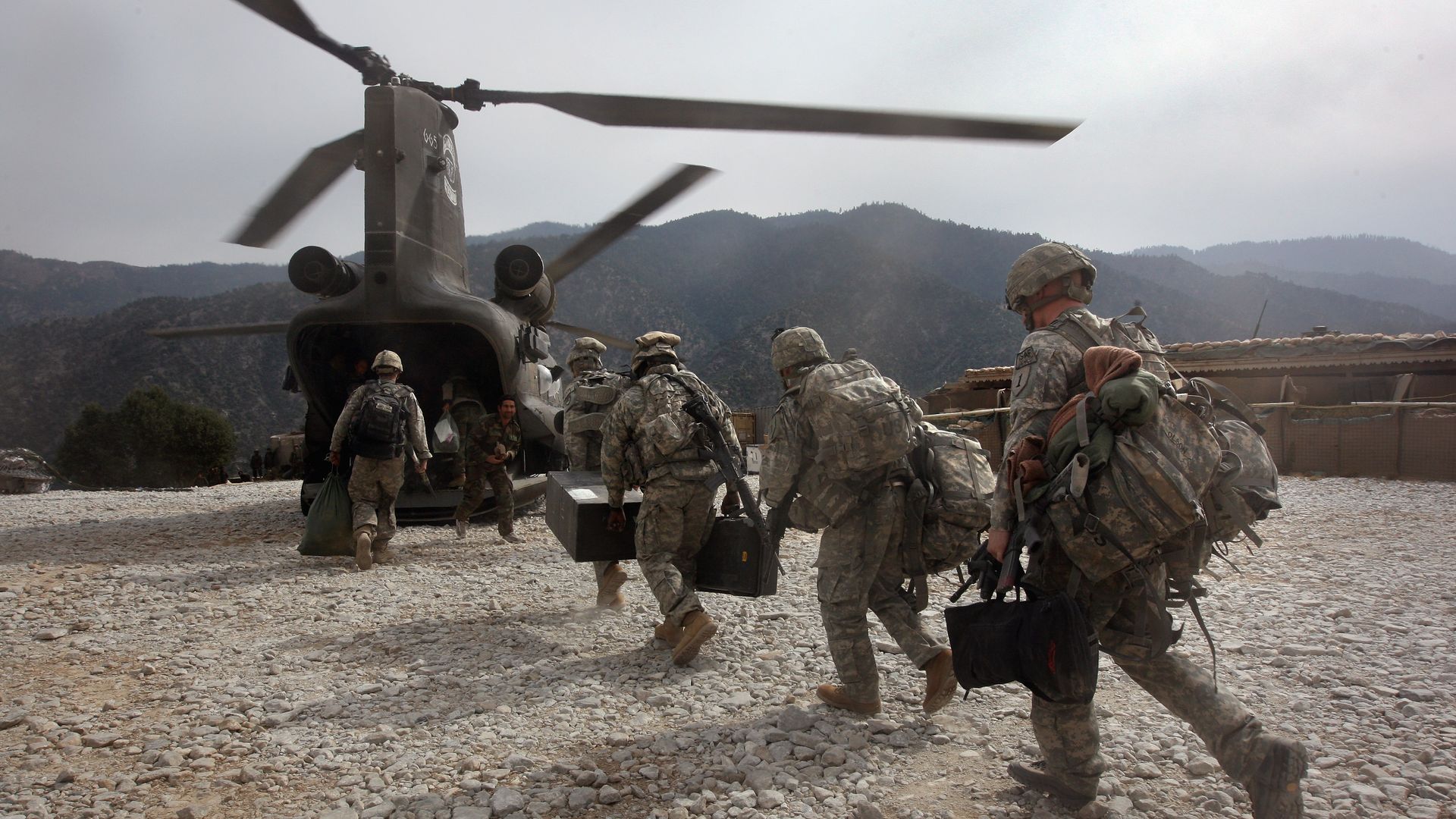 Senate Minority Leader Mitch McConnell (R-Ky.) on Tuesday called President Biden's expected plans to withdraw all U.S. troops from Afghanistan by Sept. 11 a "grave mistake" and "abdication of American leadership."
Why it matters: Biden's expected withdrawal date is four months after the May 1 deadline the Trump administration negotiated with the Taliban last year.
The big picture: The Taliban has vowed to resume attacks on U.S. and NATO personnel if foreign troops haven't exited by May 1, though it's unclear whether the group will follow through on its threat.
Officially, 2,500 U.S. troops are stationed in Afghanistan, but the number isn't fixed. The Washington Post estimates that the current total is around 3,500.
What they're saying:
McConnell: "Precipitously withdrawing U.S. forces from Afghanistan is a grave mistake. It is a retreat in the face of an enemy that has not yet been vanquished and an abdication of American leadership."
"A reckless pullback like this would abandon our Afghan, regional and our NATO partners in a shared fight against terrorists that we have not yet won. It will also specifically abandon the women of Afghanistan, whose individual freedoms and human rights will be imperiled."
Of note: Trump's May deadline was criticized by several top Republicans, including McConnell.
Sen. Jeanne Shaheen (D-N.H.): "I'm very disappointed in [Biden's] decision to set a Sept. deadline to walk away from Afghanistan. Although this decision was made in coordination w/our allies, the U.S. has sacrificed too much to bring stability to Afghanistan to leave w/o verifiable assurances of a secure future."
"It undermines our commitment to the Afghan people, particularly Afghan women. I urge the Biden admin to make every effort between now and September to safeguard the progress made and support our partners in the formation of an inclusive, transitional government."
Rep. Ro Khanna (D-Calif.): "I applaud President Biden for achieving what we thought was an impossibility here in Washington: ending a forever war. It is an act of extraordinary political courage and vision."
"After 20 years, thousands of lives lost, and trillions of dollars spent, we are finally bringing home our troops from Afghanistan."
Sen. Chris Coons (D-Del.): "President Biden has made the most responsible decision given the situation that he inherited. The withdrawal by [Sept. 11] will happen in close coordination with our allies, with good planning, and in a safe and responsible manner."
"We're in a different place in the world than we were 20 years ago."
Sen. Lindsey Graham (R-S.C.): "If reports are accurate that President Biden is withdrawing all forces from Afghanistan by September of this year, it is a disaster in the making."
"A full withdrawal from Afghanistan is so irresponsible, it makes the Biden Administration policies at the border look sound."
Sen. Jim Inhofe (R-Okla.): "To say I'm concerned is a vast understatement — this is a reckless and dangerous decision. No one wants a forever war, but I've consistently said any withdrawal must be conditions-based."
"Arbitrary deadlines would likely put our troops in danger, jeopardize all the progress we've made, and lead to civil war in Afghanistan — and create a breeding ground for international terrorists."
Go deeper: Biden seeks to withdraw all U.S. forces from Afghanistan by Sept. 11
Go deeper