John Kerry travels to China for climate change talks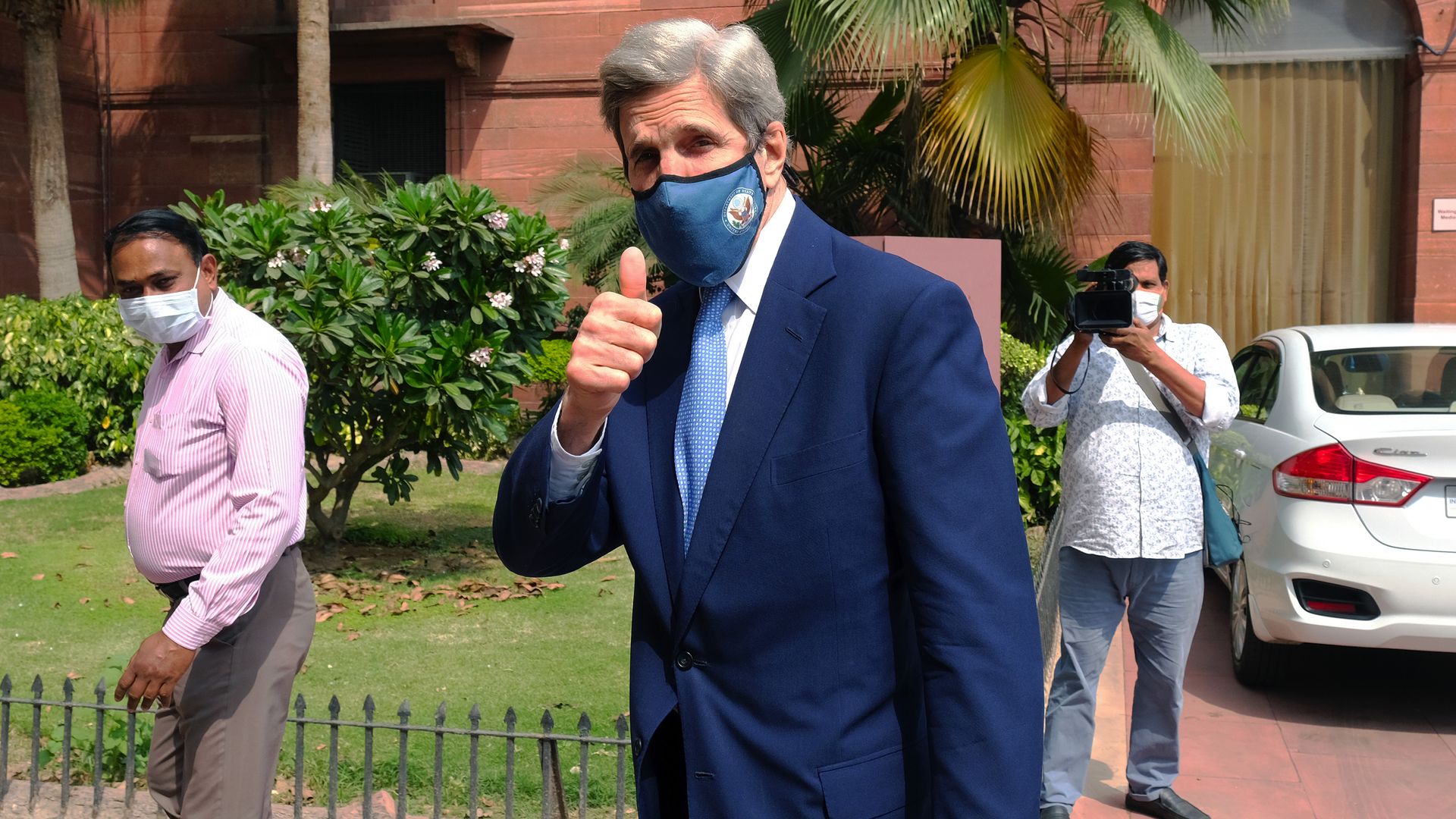 John Kerry, President Biden's special envoy on climate change, is traveling to Shanghai, China and then on to South Korea for meetings on reducing emissions of planet-warming greenhouse gases, the State Department said.
Why it matters: Kerry is the highest-ranking U.S. official to visit China since Biden took office, and these talks come less than two weeks in advance of a virtual White House climate summit on April 22-23.
The background: China is the world's largest emitter, with the U.S. in second place. Kerry is trying to move China to establish a more stringent emissions target for the year 2030, which is considered crucial for limiting global warming to 1.5 degree Celsius (2.7 degrees Fahrenheit) as outlined in the Paris Climate Agreement.
The world is currently well off track when it comes to meeting that target. Instead, it's on course to warm by more than 3 degrees Celsius (5.4 degrees Fahrenheit).
The consequences of such a temperature increase could be catastrophic, scientists have warned, including the loss of vital ecosystems such as coral reefs and the destabilization of polar ice sheets.
The intrigue: The White House is expected to use the summit to secure more stringent emissions reduction commitments by the year 2030. A State Department spokesperson said Kerry's message for Beijing will be blunt.
"We must insist Beijing do more to reduce emissions and help tackle the worldwide climate crisis. We cannot successfully address the climate challenge without significant additional action by China," the spokesperson said. 
"China represents almost 30 percent of global emissions, in addition to its carbon-intensive investments abroad."
China has committed to peak its emissions before 2030, and reach carbon neutrality by 2060, but these targets would not be ambitious enough to meet the Paris agreement's target of holding the global temperature increase to "well below" 2 degrees Celsius (3.6 Fahrenheit) by 2100, relative to preindustrial levels.
Kerry has said he is aiming to keep the most ambitious target of limiting warming to 1.5 degrees above preindustrial levels viable by getting countries to set targets that unleash innovation in the private sector.
What to watch: Kerry will also meet with other senior Chinese government officials, the State Department said.
Yes, but: The State Department is trying to keep expectations low, stating that Kerry's trip: "Is intended only to continue these important discussions."  
Of note: Kerry faces the difficult task of trying to separate the climate issue from the more contentious matters facing the U.S.-China relationship, from trade to its military buildup in the South China Sea.
"The climate issue is a free-standing issue. It's not for trade against the other critical differences that we have with China right now," Kerry told the Wall Street Journal in an interview.
What's next: The Biden administration is expected to release its more ambitious emissions reduction target during or just before next week's summit.
Go deeper