Presidential election upsets rock Ecuador and Peru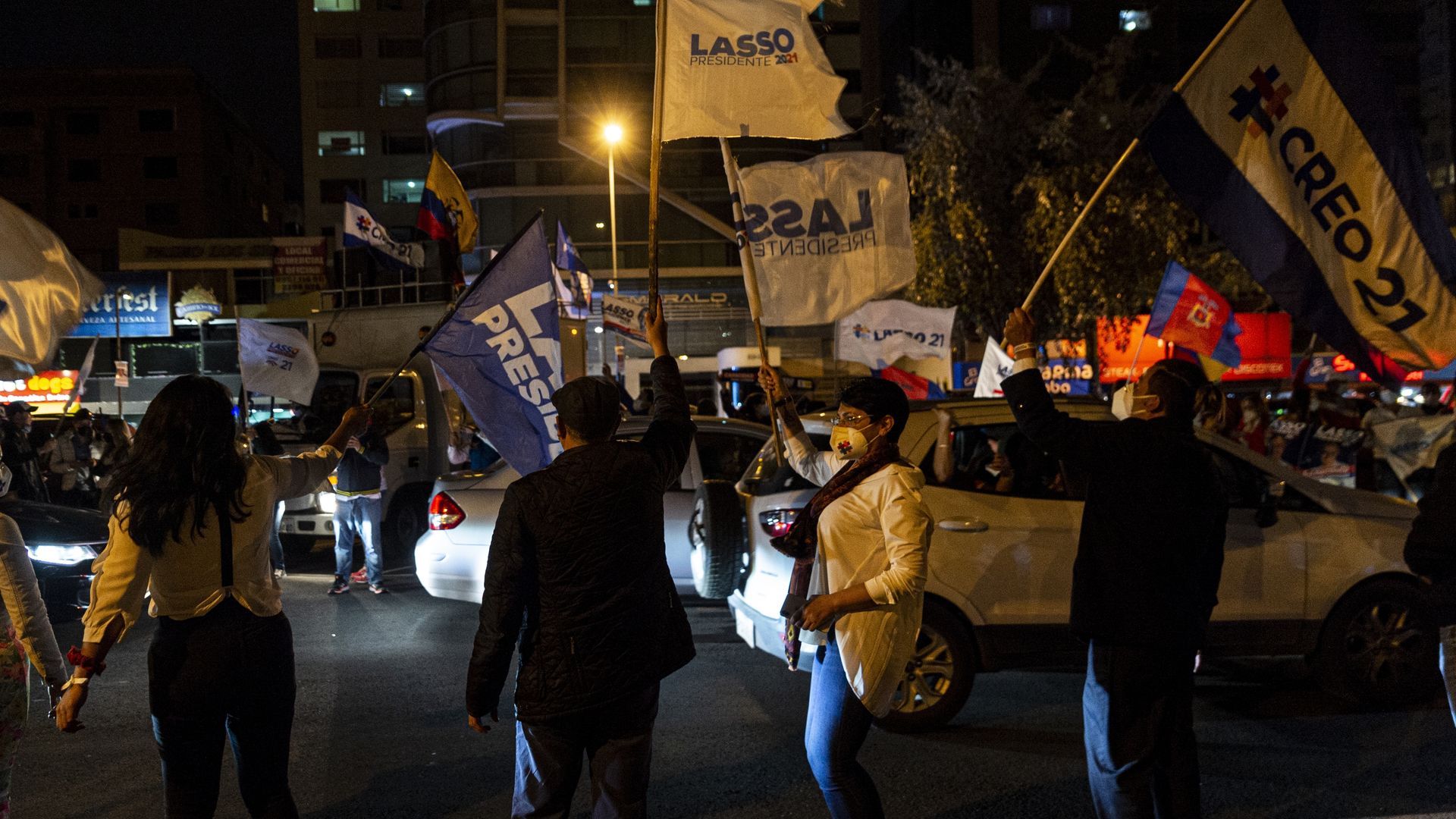 Defying expectations, voters in Ecuador's presidential election opted on Sunday for a conservative ex-banker, Guillermo Lasso, over a protege of leftist former President Rafael Correa.
Why it matters: The leftist contender, Andrés Arauz, conceded defeat in an election that was seen as a referendum on Correa, who remains highly influential despite having fled to Belgium to escape a corruption conviction.
Lasso will replace the deeply unpopular Lenín Moreno, who was Correa's chosen successor but broke from him after defeating Lasso in the 2017 election
What to watch: Lasso will inherit a polarized political system and a divided National Assembly, as well as an economic crisis exacerbated by the pandemic.
On Sunday in Peru, Pedro Castillo, a far-left candidate who was eighth in the presidential polls just a few weeks ago, finished first in the unofficial results with around 19% of the vote.
Driving the news: Best known as one of the leaders of a 2017 teachers strike, Castillo has promised to rewrite the constitution and give the state a bigger role in industries like mining.
The race for the second spot in the runoff is too close to call, but Keiko Fujimori, the deeply polarizing daughter of a former strongman president who was jailed for human rights abuses, is currently second with 13%.
Some commentators have described that potential matchup as "far-left vs. far-right."
There is widespread voter disillusionment in Peru, where politics were deeply dysfunctional even before the country faced one of the world's worst coronavirus outbreaks. Nearly every president since the 1980s has faced corruption charges.
Go deeper