"Nuclear sabotage" in Iran threatens nuclear talks in Vienna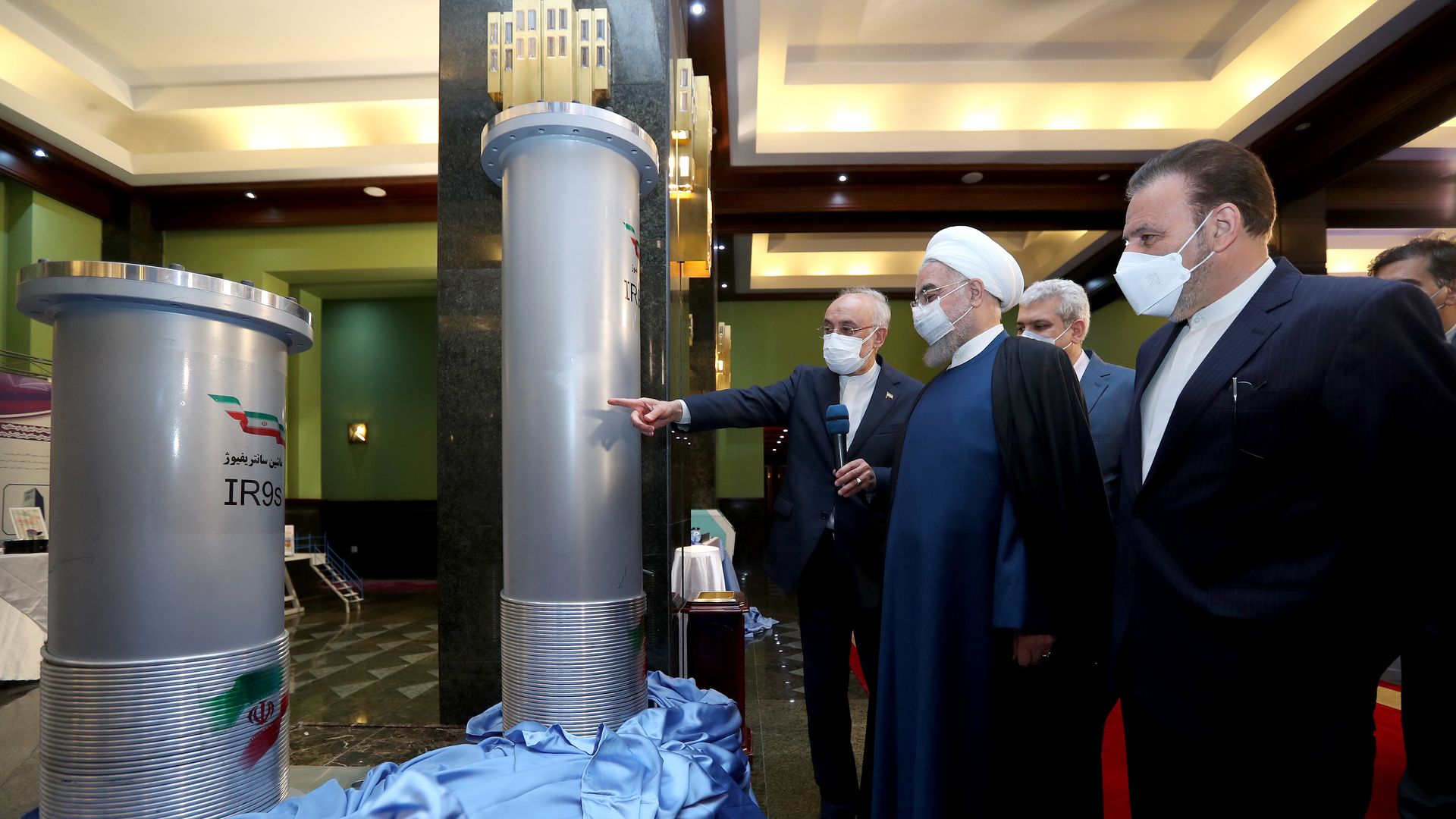 Iranian Foreign Minister Mohammad Javad Zarif has threatened retaliation against "any power with knowledge" of Sunday's attack on an Iranian nuclear site, and said Iran would now accelerate its violations of the 2015 nuclear deal until the U.S. lifts sanctions.
Why it matters: The apparent act of Israeli nuclear sabotage, which caused a blackout at the underground Natanz enrichment facility and may have caused significant damage, comes as the U.S. attempts to revive the nuclear deal.
If the Iranians do take additional steps beyond the boundaries of the deal, it could force the U.S. to move more quickly to salvage the agreement, or possibly to walk away from the table.
What they're saying: White House press secretary Jen Psaki said the Biden administration "was not involved in any manner" in Sunday's attack, but she wouldn't say whether it might hamper the ongoing nuclear diplomacy.
Psaki did say the U.S. still expects Iran to take part in this week's indirect nuclear talks in Vienna, which are set to resume on Wednesday.
Before that happens, top national security officials from the U.S. and Israel will convene virtually tomorrow for a second round of high-level strategic talks on Iran, Axios' Barak Ravid reports.
Led by national security adviser Jake Sullivan and his Israeli counterpart, Meir Ben-Shabbat, top national security and intelligence officials first met last month to share intelligence on Iran's nuclear program.
Between the lines: One of the main understandings that emerged was a mutual "no surprises" policy. But it's unclear whether the Natanz explosion or Israel's recent strikes on Iranian ships came as a surprise to the White House.
The Biden administration has distanced itself from both, creating the impression it disapproves of Israel's actions.
The other side: Prime Minister Benjamin Netanyahu has been increasingly vocal about his concerns around the nuclear talks.
He recently said that Israel would not be bound by any U.S.-Iran deal, hinting that the Vienna talks will not prevent Israel from continuing its operations against Iran.
Meanwhile, Zarif wrote UN Secretary-General António Guterres tonight, contending that a "grave war crime" had been committed at Natanz.
Zarif accused Israel of attempting to use the attack to thwart the nuclear talks, according to state media. He said those efforts would fail, and "we will take revenge on the Zionists themselves."
The state of play: The Vienna talks are the most significant step yet toward a joint return to the nuclear deal. But while last week's talks "met expectations," a senior State Department official on Friday cast doubt on Iran's "seriousness of purpose."
Iran refused to meet directly with the U.S. but held three days of talks with the nuclear deal's other signatories, while the U.S. communicated through EU representatives.
"We think it would be better if we could sit down with the Iranians. We're not going to pay a price for that, so if they don't want to meet with us, too bad," the senior official said.
What to watch: There are at least two major hurdles from the U.S. perspective: Iran is insisting that the U.S. lift all of its sanctions before Iran unwinds its nuclear violations, and it's including even sanctions that aren't linked to the nuclear program.
The talks will be "heading toward an impasse" if Iran's position remains unchanged, the official said on Friday.
Go deeper