Second senior Matt Gaetz aide resigns amid federal investigation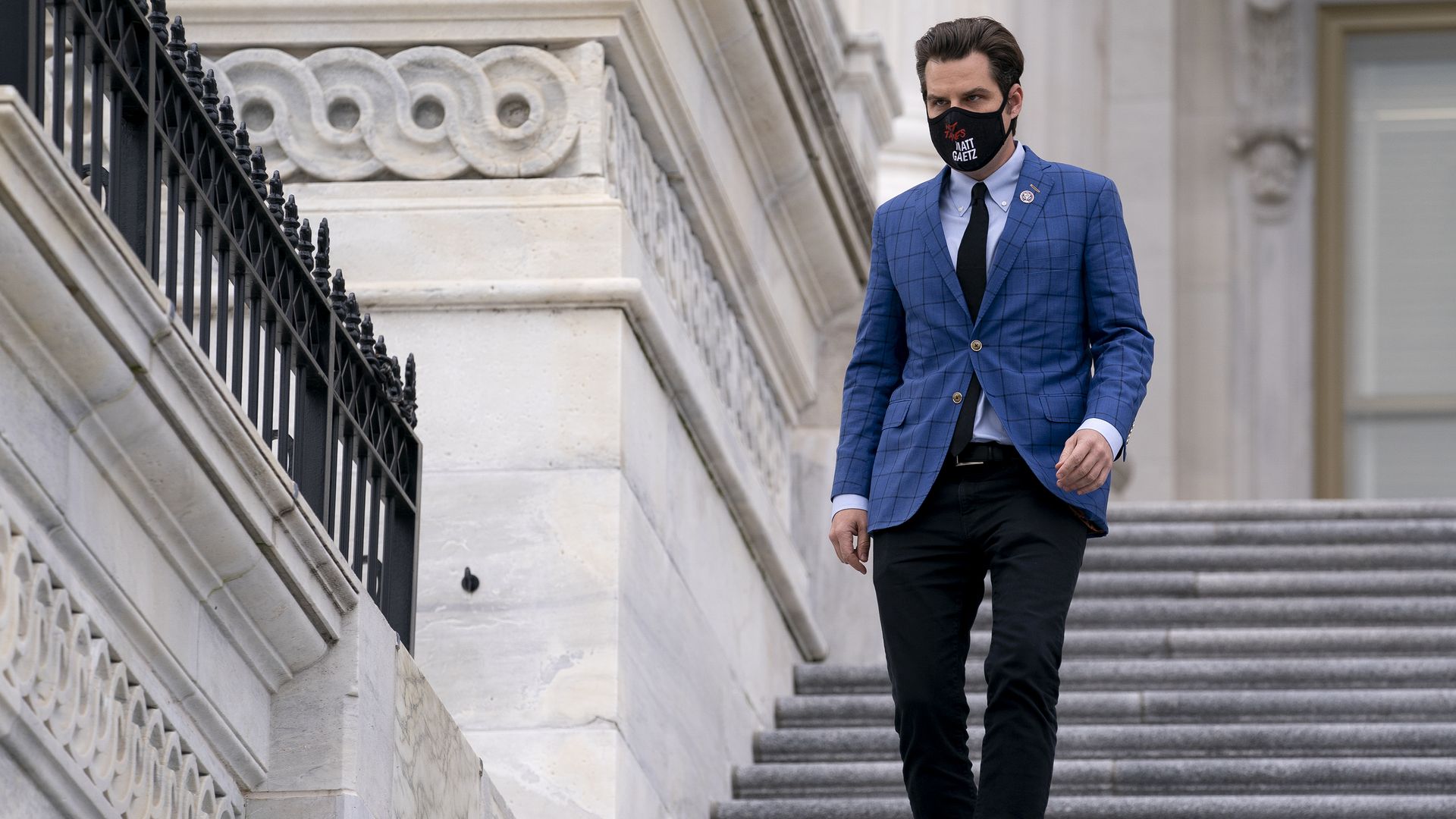 Devin Murphy, Rep. Matt Gaetz's legislative director, has stepped down amid a federal investigation into sex trafficking allegations against the Florida Republican congressman, the New York Times first reported and Axios has confirmed.
The latest: "It's been real," Murphy wrote in an email, obtained by Axios, to Republican legislative directors on Saturday morning, with the subject line: "Well...bye."
Context: Gaetz, who has not been charged with any crimes, has repeatedly denied allegations of being sexually involved with a 17-year-old girl and claims that he shared naked images of women with other Congress members.
What they're saying: As of Saturday afternoon, Murphy's automated email response says: "I am no longer with the office of Congressman Matt Gaetz. Womp womp. Cue the sad trombone."
Murphy directed requests to Isabela Belchior, who was named as legislative counsel for Gaetz in February. She previously assisted Rep. Sylvia Garcia (D-Texas) in the 2020 impeachment trial of former President Trump.
Murphy told associates he was interested in working on legislation, not working at TMZ, the New York Times reported earlier this week.
Murphy left not because of the representative's legal troubles but over media coverage of the investigation, per CNN.
The big picture: The House Ethics Committee announced Friday it had launched a probe into Gaetz.
Gaetz said the Justice Department launched an investigation after charging one of his associates, Joel Greenberg, with federal sex trafficking and other crimes.
A lawyer for Greenberg indicated last week that he is in plea negotiations with federal prosecutors over his sex trafficking of a minor.
A plea deal may indicate that Greenberg is open to cooperating with investigators by providing information, though it's unknown how deep the negotiations are.
Go deeper: Gaetz to speak at pro-Trump women's conference amid sex trafficking probe
Go deeper