Illumina CEO on a genomics-forward future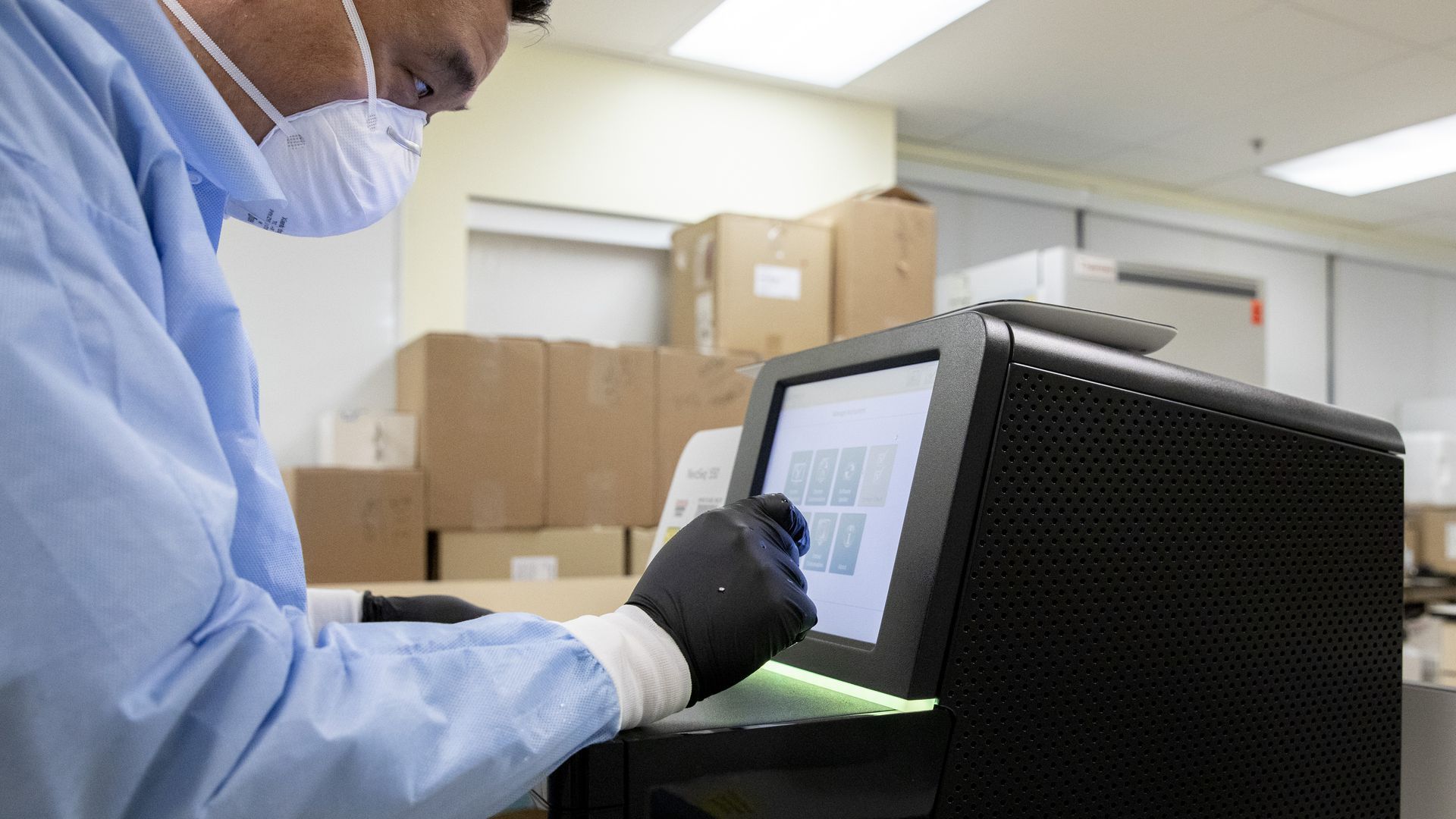 The head of the world's leading genetic sequencing company predicts a future where genomic data will increasingly drive health care.
Why it matters: As our ability to read genes gets faster and cheaper, genetic sequencing could pave the way for everything from enhanced disease surveillance to truly personalized care.
Driving the news: Illumina, which controls roughly 90% of the market for genetic sequencing machines in the U.S., announced earlier this week it earned record revenue of $1.09 billion in the first quarter of 2021.
The company is projecting revenue growth of 25–28% in fiscal year 2021 over the previous year.
Details: That growth is due in large part to "the extraordinarily massive and urgent human needs of the pandemic," Illumina CEO Francis DeSouza told Axios in an interview.
Genetic sequencing machines like the ones produced by Illumina were how scientists were able to rapidly decode the genome of SARS-CoV-2 and start building both tests and the mRNA vaccines that will ultimately curb the pandemic.
Our ability to track more dangerous virus mutations like B.1.1.7 was only possible because gene sequencing technology had gotten faster, cheaper and more widespread.
What's next: It cost $1,000 for Illumina to sequence a human genome in 2014, but the company expects to reach the $100 level within a couple of years.
Ultra-cheap sequencing — combined with an ever-increasing understanding of the genome — will result in genetics becoming "the foundational element of your health record," he says.
What to watch: The growth of liquid biopsies — tests that can find the genetic markers of cancer in blood samples.
Illumina is in the process of a $7.1 billion acquisition of Grail, a company that has developed liquid biopsies for dozens of cancers, but the Federal Trade Commission last week moved to block the acquisition on competitive grounds.
DeSouza contests the FTC's case that the acquisition will ultimately increase the cost of liquid biopsies, arguing Illumina can help get Grail's diagnostics to market faster and accelerate reimbursements for "underserved populations that can't afford the test."
The bottom line: Just as WWI helped accelerate the development of airplanes and WWII nuclear technology, "I believe we will look back and view the pandemic as ushering the era of biology and the era of the genome," says DeSouza.
Go deeper