Iconic tweet of Fyre Fest dinner to become an NFT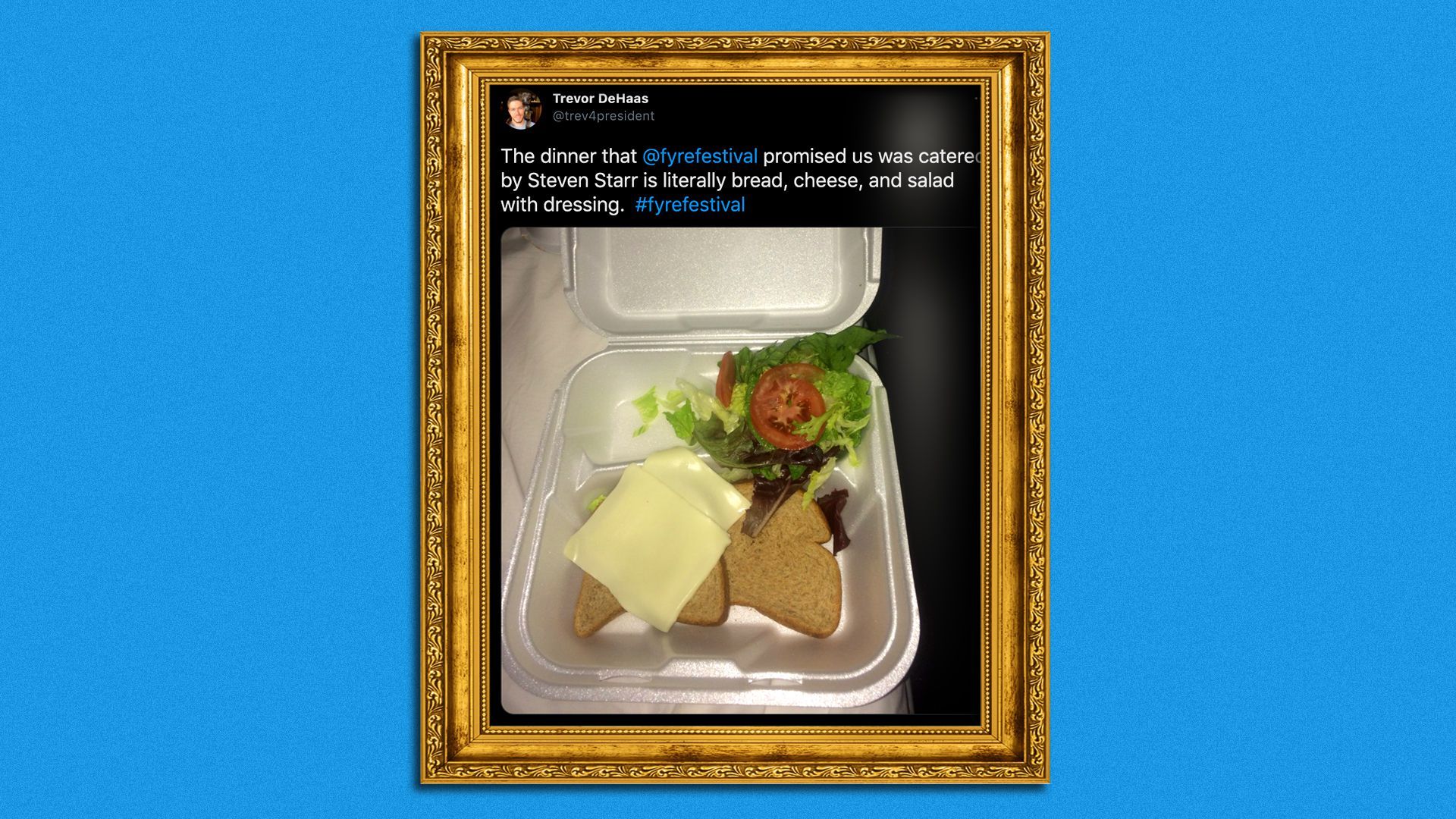 The man behind the iconic tweet of the Fyre Fest dinner — two limp slices of white cheese on wheat bread with "salad" in a styrofoam container — is teaming up with one of the men who helped organize the infamous festival to sell the tweet as an NFT. Because of course, he is.
Details: In an email, Trevor DeHaas tells Axios he's hoping to collect upwards of $80,000 that he'll put toward medical expenses from his daily dialysis and kidney transplant.
What he's saying: "A few weeks ago I saw Jack Dorsey, auctioning off the first tweet ever and at the time it was like 2.25 million. Instantly I thought of my viral tweet from Fyre festival," DeHaas says.
Dorsey's tweet eventually sold for $2.9 million and has spurred a craze that prompted DeHaas' partner in the sale, rapper Ja Rule, and his company Flipkick to sell a Fyre Fest painting for $122,000 last month.
"Now a few weeks before the 4 year anniversary of the festival (4/28) I'm selling the most iconic cheese sandwich on the blockchain along with the ownership of copyright."
Why it matters: Non-fungible tokens have become the investment world's newest craze, delivering six-, seven- and eight-figure paydays to the creators of images, video clips and tweets that are documented on blockchain and sold to the highest bidder.
Bridge Oracle CEO Sina Estavi, who paid the $2.9 million for Dorsey's tweet and shelled out another $1.1 million for an Elon Musk tweet, said he did so "to emphasize the importance of NFTs on [the] future of crypto and tech sphere."
In addition, "I wanted to encourage involving in charities in the crypto space," he said.
The big picture: "The biggest bubble [in the market] is NFTs because it's new and it's real, in the sense that real money is pouring into it," hedge fund manager and angel investor Howard Lindzon told me last month on the "Voices of Wall Street" podcast.
"But the markets are not developed yet. ... The digital bubble is NFTs themselves. That doesn't mean it can't go on for four more years," Lindzon, co-founder of StockTwits and CEO of Social Leverage Acquisition, added.
NFTs also are "the biggest opportunity."
Go deeper