Treasury details Biden's plan to raise $2 trillion through corporate tax hikes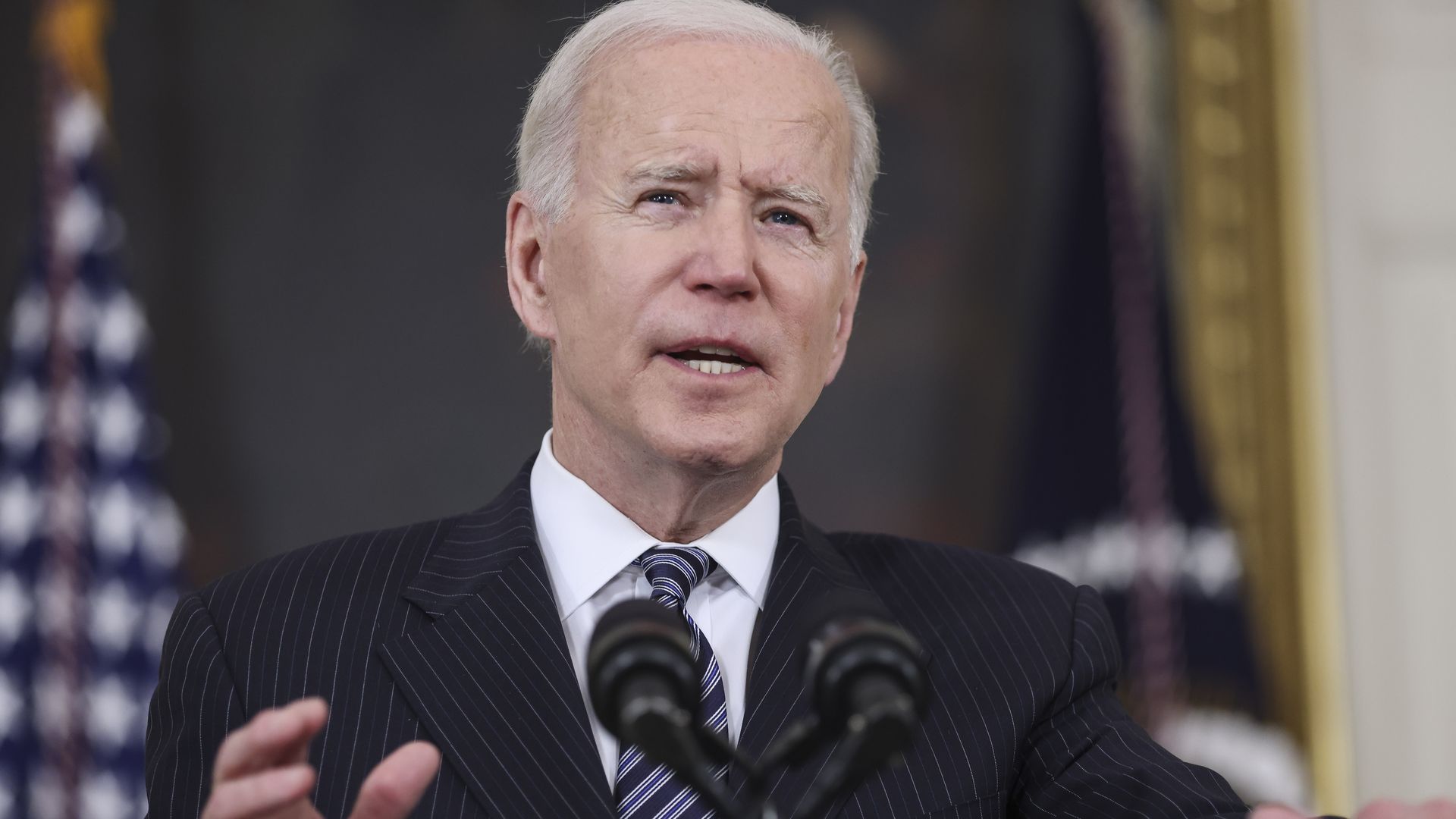 The Treasury Department released details on Wednesday of President Biden's plan to hike corporate taxes over the next 15 years to raise about $2 trillion for his sweeping jobs and infrastructure proposal.
Why it matters: The plan will likely serve as a roadmap as Democrats in Congress craft legislation to enact Biden's $1.9 trillion American Jobs Plan, which seeks to fulfill a range of campaign promises to fix the country's crumbling infrastructure, slow the growing climate crisis and reduce economic inequality.
The big picture: The infrastructure plan, which follows a $1.9 trillion COVID-19 relief bill, is one of two large packages planned by the administration to boost infrastructure — and it lays further groundwork for Biden's first-term legacy to be defined by spending trillions within months of taking office.
Details: The tax plan unveiled Wednesday would...
Raise the corporate income tax rate from 21% to 28%.
Enforce a 15% minimum tax on book income of large companies that report high profits, but have little taxable income.
Replace fossil fuel subsidies with incentives for clean energy production.
Boost enforcement against corporate tax avoidance.
What they're saying: Treasury Secretary Janet Yellen told reporters on a briefing call that Biden's plan would end the global "race to the bottom" of corporate taxes that have hurt workers and the U.S. economy, per the New York Times.
"Our tax revenues are already at their lowest level in generations," she said. "If they continue to drop lower, we will have less money to invest in roads, bridges, broadband and R&D."
Earlier this week, Yellen called for a global minimum tax rate to reduce the likelihood of companies relocating offshore, which some Republicans have warned would be a byproduct of raising corporate taxes.
Between the lines: 65% of voters said they strongly or somewhat support Biden raising corporate taxes to pay for his infrastructure plan, including 42% of Republicans, according to a Morning Consult poll released Wednesday.
The other side: The Chamber of Commerce and the Business Roundtable, the voices of America's top corporations, have claimed that raising taxes would hurt U.S. companies operating globally, AP reports.
Moderate Sen. Joe Manchin (D-W.Va.) warned on Monday that he will not support Biden's proposed corporate tax hike, adding that there are "six or seven other Democrats that feel very strongly about this."
"There is room for compromise," Commerce Secretary Gina Raimondo said at a White House press briefing Wednesday, in reference to the 28% corporate tax rate.
Go deeper: Biden unveils sweeping American Jobs Plan
Go deeper