E3 returns this June with an all-digital show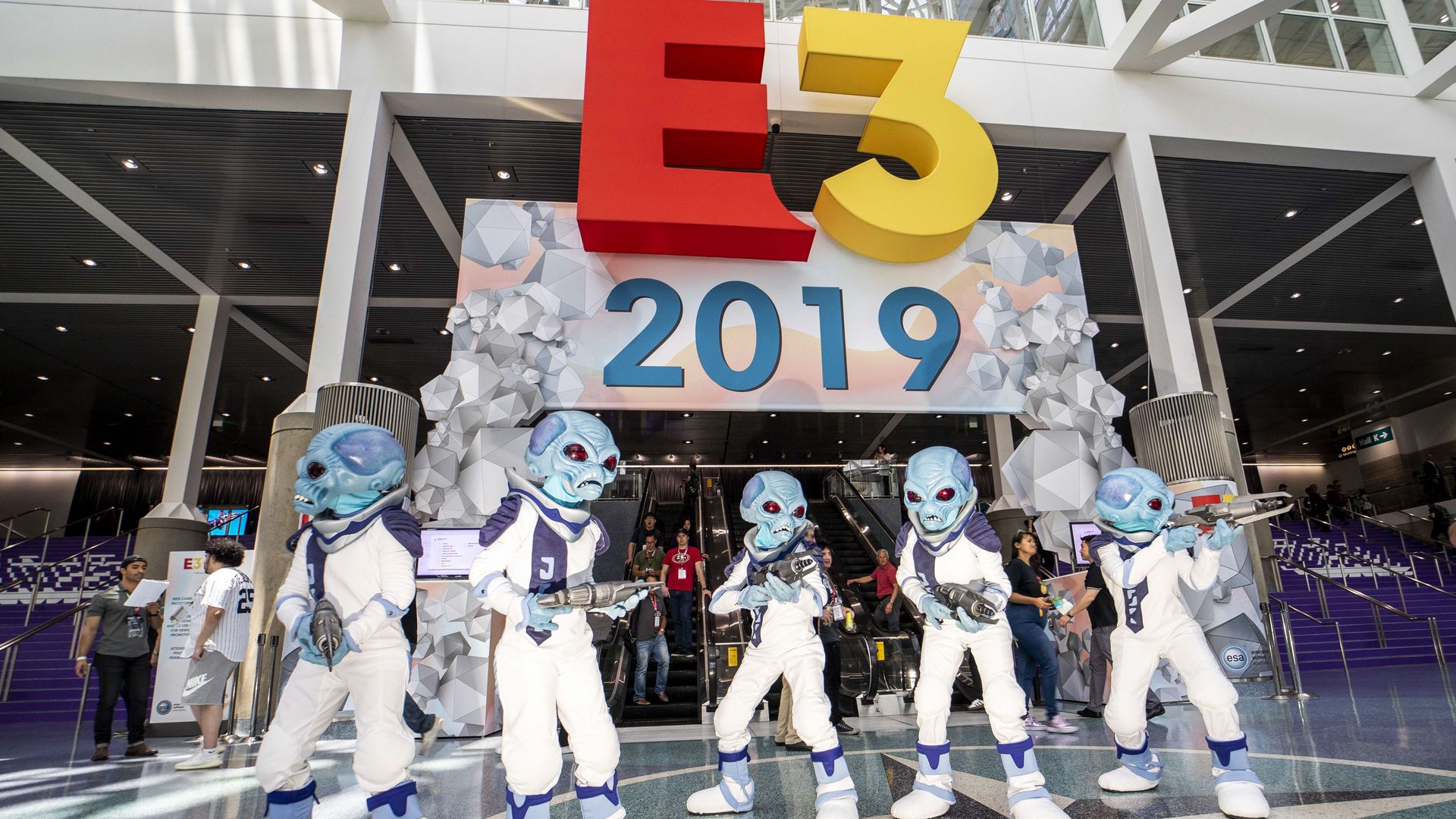 The video game industry's biggest trade show, E3, will be held June 12–15 as a virtual event full of livestreamed press conferences and demonstrations of new games, the show's organizers at the Entertainment Software Association announced Tuesday.
Why it matters: E3's digital return is an attempt to reestablish the long-running show as the game industry's premier showcase, following the cancellation of the event in 2020 and amid questions about E3's continued relevance.
The ESA listed several major game companies that will showcase their games: Nintendo, Xbox, Capcom, Konami, Ubisoft, Take-Two, Warner Bros and Koch Media, with more to be announced.
The list does not include EA, which had run a satellite event in years past. Nor does it include industry juggernaut Sony PlayStation, which had been set to skip the 2020 show prior to its cancellation. "Call of Duty" maker Activision will not participate in E3 this year, a company rep tells Axios.
All of the companies mentioned here are members of E3, which also serves as the industry's lobbying group in Washington, D.C.
Between the lines: In normal years, E3 would fill the cavernous Los Angeles Convention Center and attract tens of thousands of (mostly) industry professionals.
Some members of the public always snuck in, trading on such credentials as "I worked at GameStop briefly" or "I have a video game blog," but E3 was originally meant to be a trade show to stoke enthusiasm along the gaming supply chain.
The shift to an all-digital event makes E3 2021 more of a modern showcase directly to the public.
The big picture: In recent years, the big video game companies, led by Nintendo, realized they could generate a lot of hype by hosting their own digital showcases, away from the cluttered E3 week.
The cancellation of E3 2020 helped lead to a slew of unaffiliated digital game showcases throughout the summer, a sort of endless E3 conducted without the ESA.
As a result, E3 is in the mode of selling itself. The group's one sheet for E3 2021 includes the line: "E3 Matters More Than Ever."
The bottom line: The true test of E3's continued relevance will be in 2022, when the ESA expects to stage it as a physical event again.
E3's organizers tell Axios they expect the 2022 event to be back in Los Angeles.
(The Axios Gaming newsletter will launch soon. Sign up for it here.)
This story has been updated to include information from Activision.
Go deeper