A glimmer of hope in Yemen after six years of war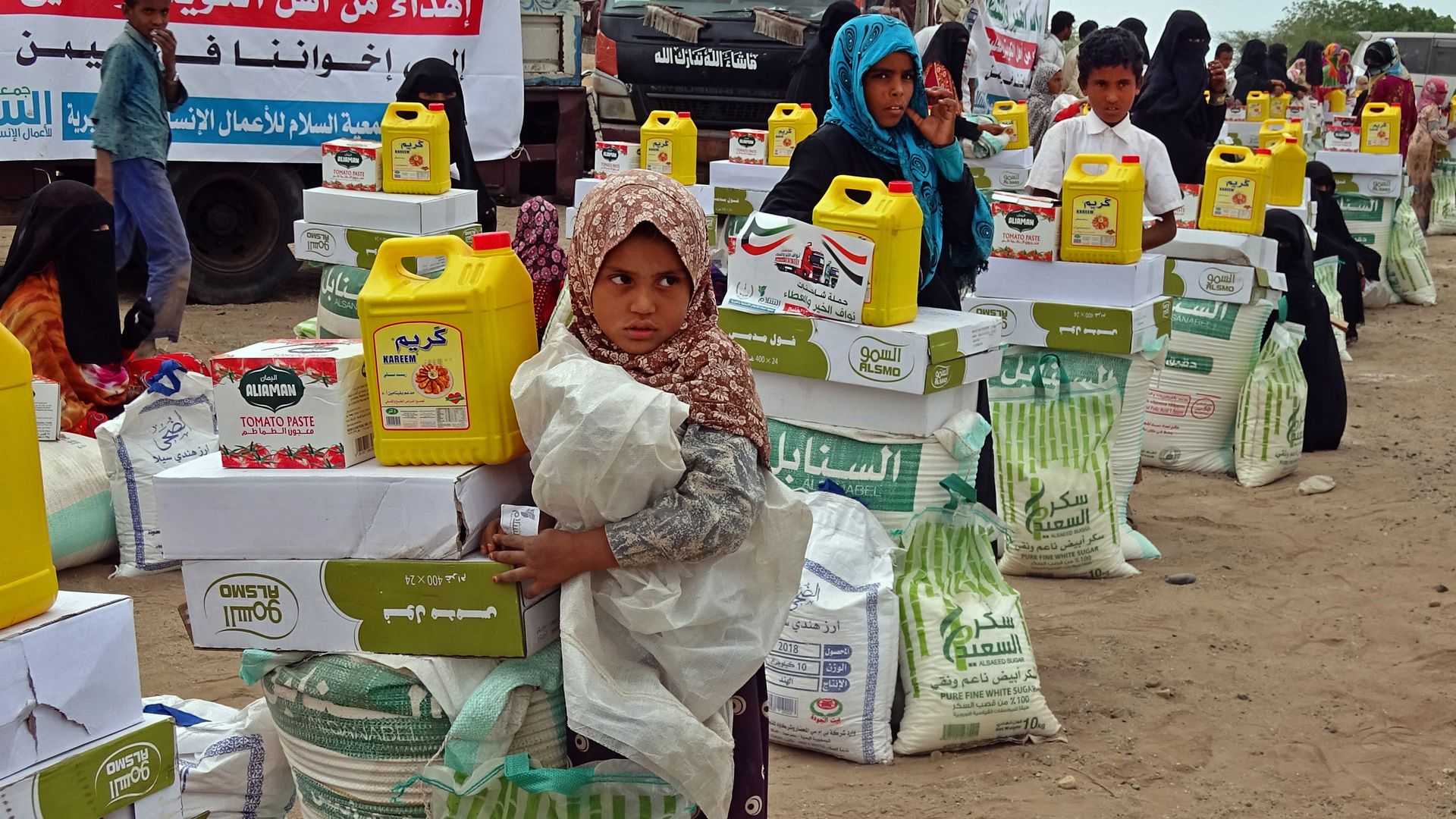 Yemen's humanitarian crisis has never been more dire, but the arrival of the Biden administration and a renewed push to end the conflict have created "the best chance for six years to end the war," International Rescue Committee CEO David Miliband tells Axios.
The state of play: Prices of staples like flour have more than doubled since 2016, per the IRC, and an economy that was already among the world's poorest has been devastated by the fighting.
That leaves millions reliant on food aid to survive, but Yemen's major ports are blockaded and its international airport is closed. The Saudi-led coalition imposed the blockade in 2015 after the Houthi rebels took the capital and the ports.
Both sides are disrupting aid deliveries, Miliband says. It typically takes three to four months to get a permit to deliver aid to more populous northern Yemen, controlled by the Houthis, and two months to deliver it to the south, controlled by the internationally recognized government.
And there's less aid to deliver in the first place as wealthy countries cut back. A donor conference on March 1 raised less than half of what was hoped.
Zoom in: The World Food Program provides food aid to around 8 million Yemenis, but it was forced to significantly reduce assistance last year to northern Yemen due to "a challenging operating environment and a decreased funding outlook."
"If you're trying to deliver aid when conflict is still going on, it's like trying to run up a downward escalator. You can do it for some time, but in the end, you get exhausted and the escalator wins and you end up in a heap at the bottom," Miliband says.
"And that's the tragedy for so many Yemeni people at the moment. There's malnutrition on a grand, man-made scale and it's totally inexcusable."
Driving the news: Saudi Arabia proposed a ceasefire on Monday, offering to lift the blockade if the Houthis would enter peace talks.
The Houthis demanded that the Saudis lift the blockade first before they agree to a ceasefire. The UN and U.S. are working to forge an agreement.
"Unless we get a new type of approach, then humanitarian needs will continue to be held hostage to diplomatic game-playing and the realities of Yemen's fragmented, brutal, impoverished situation will only get worse and worse," Miliband says.
The bottom line: "The truth is that people have turned their eyes away from what's going on in Yemen. And since it's the world's worst humanitarian crisis, that's a collective crisis of very serious proportions."
Go deeper