Tesla's video footage of drivers raises safety and privacy concerns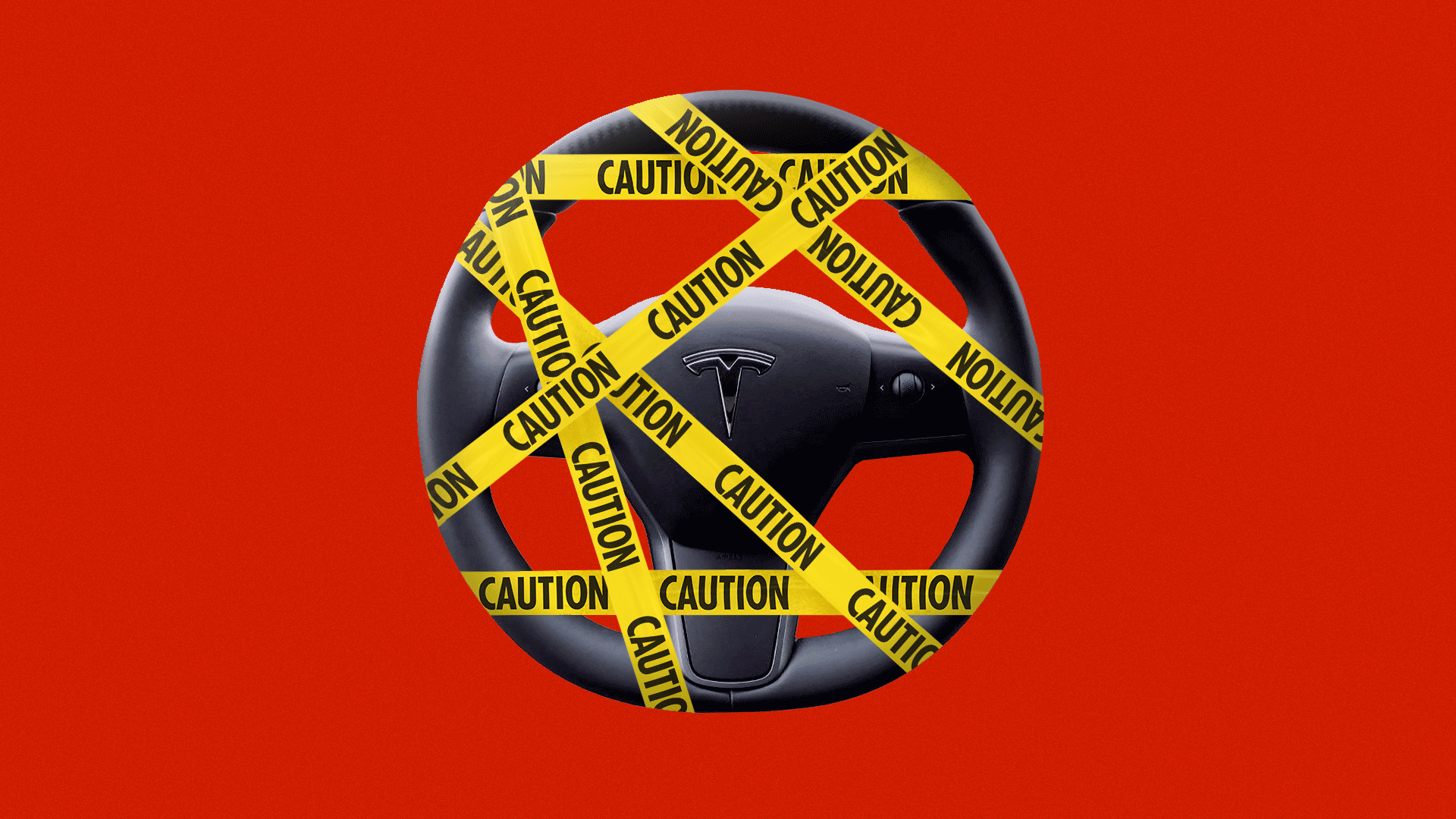 Cars are increasingly equipped with cameras to monitor driver behavior, but Tesla's use of the technology raises safety and privacy questions, Consumer Reports writes.
Why it matters: Driver monitoring systems help ensure motorists are paying attention to the road when using automated features that don't require their hands on the wheel.
How it works: Most of these systems use infrared cameras to track the driver's head position or eye movements.
If the system detects the driver is not engaged, it'll issue a warning — flashing lights or a vibrating steering wheel, for example — to get them to pay attention. Failure to do so will bring the car to a safe stop.
GM, Ford, BMW and Subaru told CR their closed-loop systems do not record, save, or transmit any data or video.
Tesla, on the other hand, is recording and transmitting video footage of occupants to help engineers further develop its self-driving technology, according to CR.
What's worse, the automaker is not using the in-car cameras to keep passengers safe, CR's auto expert Jake Fisher tells Axios.
"If Tesla has the ability to determine if the driver isn't paying attention, it needs to warn the driver in the moment, like other automakers already do," he said.
Catch up fast: Tesla has been letting certain customers beta-test its latest "full-self-driving" technology on city streets. That has led to a bunch of hair-raising videos on social media, some showing near collisions.
Tesla CEO Elon Musk responded on Twitter that the automaker would ban drivers from participating in its beta tests if video footage from inside the car shows they aren't paying attention.
Of note: Tesla's in-car camera is turned off by default, but owners have the option to activate it.
If they do, Tesla advises them it will capture and share video clips to help the company "develop future safety features and software enhancements."
That raises a host of privacy concerns, John Davisson, senior counsel at the Electronic Privacy Information Center (EPIC), told CR.
"Any time video is being recorded, it can be accessed later," including by police, insurance companies, regulators and bad actors, Davisson said.
Tesla didn't respond to Consumer Reports or Axios.
Go deeper:
Go deeper