Former Missouri Gov. Greitens runs for Senate after never-ending campaign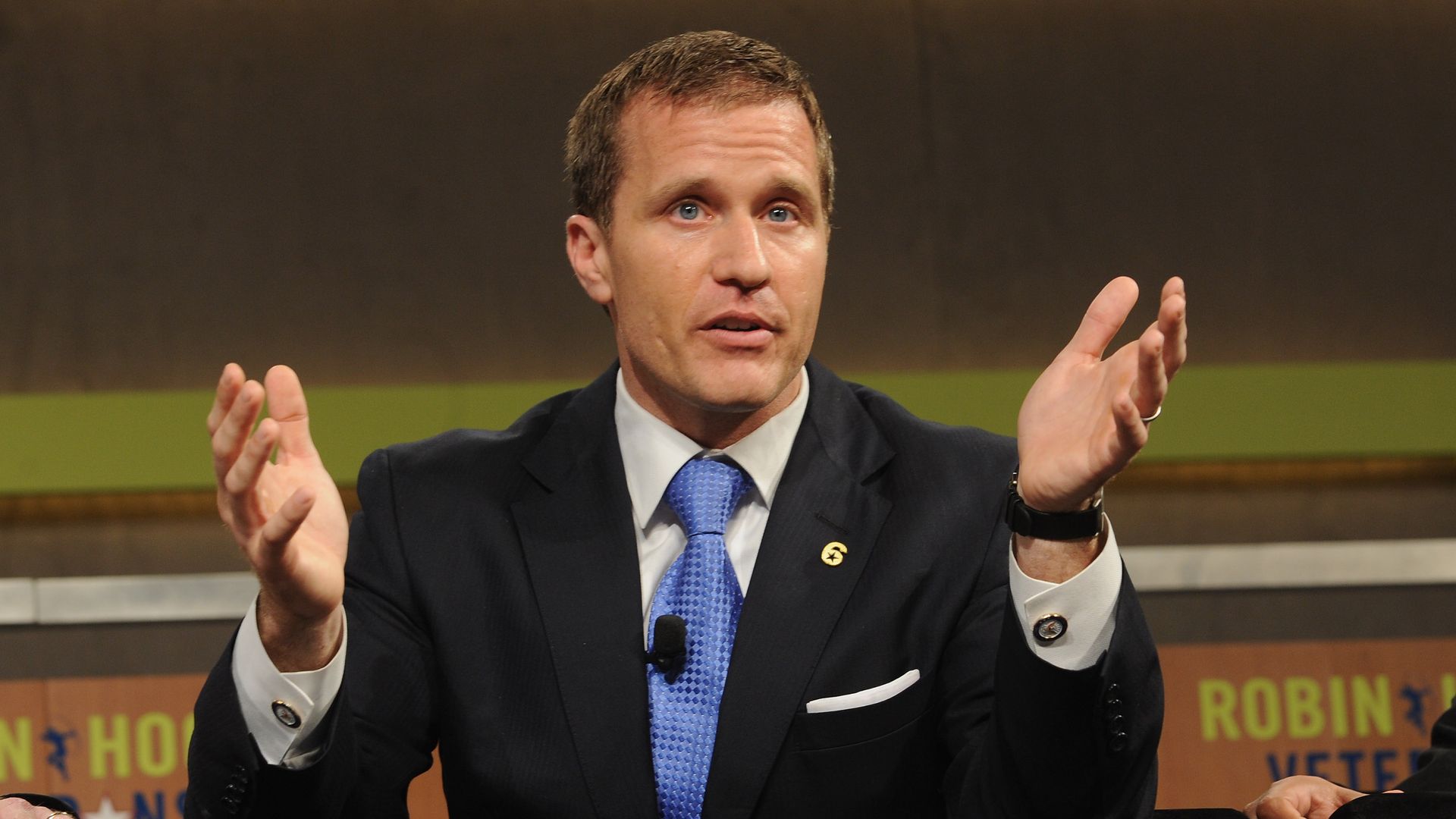 Former Missouri Gov. Eric Greitens' U.S. Senate bid looks like an official reentry into politics. In reality, the Republican has been campaigning for over a year, records show.
The big picture: Greitens resigned in 2018 amid corruption and sexual misconduct allegations. But a state ethics panel cleared him of wrongdoing last year, and he's spent the months since tapping a six-figure reserve of campaign contributions to rehabilitate his image.
He's also cast himself as a Trumpian victim of the political establishment.
Driving the news: Greitens announced Monday he will seek the GOP nomination to replace Sen. Roy Blunt (R-Mo.), who announced he will retire after the 2022 election.
"I'm committed to ... defending President Trump's 'America First' policies and also to protecting the people of Missouri from Joe Biden, Nancy Pelosi and Chuck Schumer's radical leftist agenda," Greitens said in a Fox News interview.
The former Navy SEAL was considered a rising GOP star before he was accused of sexual misconduct, leading to a felony criminal charge that was later dropped.
He also was accused of campaign finance violations. While his campaign was fined, state investigators "found no evidence of any wrongdoing on the part of Eric Greitens individually."
Between the lines: Technically, Greitens was already a political candidate prior to this week. In multiple filings with state ethics officials in 2019 and 2020, he signaled his intention to run for Missouri governor or some other, unspecified state-level office.
Those procedural steps allowed him to keep his campaign committee active and continue tapping the hundreds of thousands of dollars it still had in the bank.
In addition to paying his extensive legal bills, Greitens has used that cash to boost his public profile and try to repair his political brand.
His campaign committee has shelled out for public relations consulting and media booking services. And it's purchased tens of thousands of dollars in Facebook ads.
Many of those ads attempted to cast his legal and ethical travails as a conspiracy against him, akin to the one ostensibly perpetrated against Donald Trump.
Some ran after Trump's first impeachment trial and leaned on some of the president's foremost defenders during the underlying Ukraine scandal.
Rudy Giuliani, the ex-Trump attorney at the center of that scandal, endorsed Greitens within hours of him declaring his Senate candidacy.
Other Facebook ads funded by Greitens' campaign last year promoted a nonprofit he formed to distribute N95 masks during the height of the COVID-19 pandemic.
Be smart: The continuity between the state and federal campaigns was evident in the automated message sent to people who signed up for email updates at Greitens' Senate campaign website this week.
A copyright notice at the bottom of the automated emails said they came not from the Senate campaign but "Greitens for Missouri," his state-level campaign committee.
What's next: Greitens for Missouri ended 2020 with nearly $250,000 in the bank.
Federal law bars it from transferring those funds to his new Senate campaign committee, dubbed "Greitens for U.S. Senate."
Whether he used any of the remaining funds to continue boosting his image ahead of his Senate bid is something the public won't learn until "Greitens for Missouri" files its first-quarter report next month.
Go deeper