Scoop: House progressives want Biden to supersize spending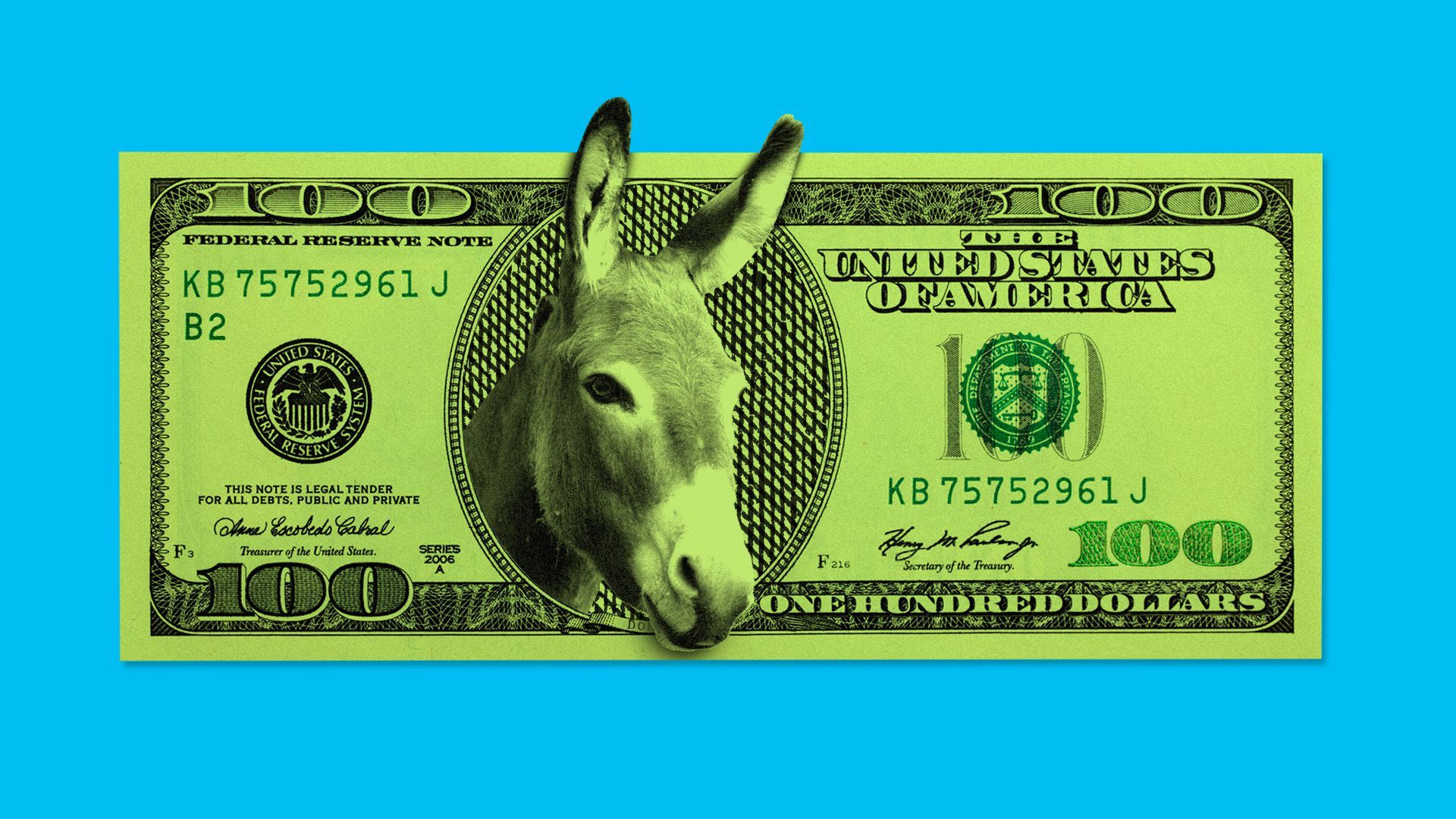 Progressive Democrats in the House are privately discussing how they can push President Biden for a second spending package substantially bigger than the $3 trillion over a decade floated in various news outlets this week.
Why it matters: These members are attuned to the climate group Sunrise Movement's argument that "the crises we face demand at least $1 trillion per year over the next decade," two sources familiar with the conversation told Axios.
Sunrise's extremely ambitious proposal — at least $10 trillion — could quickly emerge as a benchmark for House progressives to rally around.
"Progressives feel like this package will define Biden's presidency," one source said, "and that $3 trillion over 10 years feels low, and it may not meet the scope of what we need to do — in particular on climate."
The strategy was discussed during a phone call Tuesday among members of the Congressional Progressive Caucus. Several raised concerns about the size of Biden's next spending package, which the president plans to unveil Wednesday in Pittsburgh.
They regard the reported scope of the proposal — which some moderates such as Sen. Joe Manchin (D-W.Va.) already consider at the far reaches of acceptability — as too small to meet the moment, the source said.
"He should be bold with his opening offer."
Between the lines: Biden's next spending bill will involve a longer, messier and more complicated fight between the ideological factions of the Democratic Party.
In the $1.9 trillion COVID-19 relief package that just passed, there was agreement among Democrats from the beginning it was going to be entirely deficit-financed.
But the next package will likely be more of a running battle. Biden has said he wants to hike corporate and high-income earners' taxes to pay for much of the new spending — which sets up a fight between progressives and moderates.
And the ambitions for the proposal keep expanding — everything from meat and potatoes infrastructure (roads, bridges, ports), to broadband and climate initiatives.
There are also proposals for substantial investment in social welfare, including expansion of the child tax credit, universal pre-kindergarten, free community college and other measures.
Bottom line: "The parameters of the battle will not be locked in at the beginning," said the source familiar with the House progressives' internal discussions.
Progressives will view Biden's announcement next week as an opening framing, "and then Congress is going to have a lot more agency in this fight because it's going to be longer. Congress won't have to act by a certain date."
Go deeper