Biden calls Georgia's voting restrictions "Jim Crow in the 21st Century"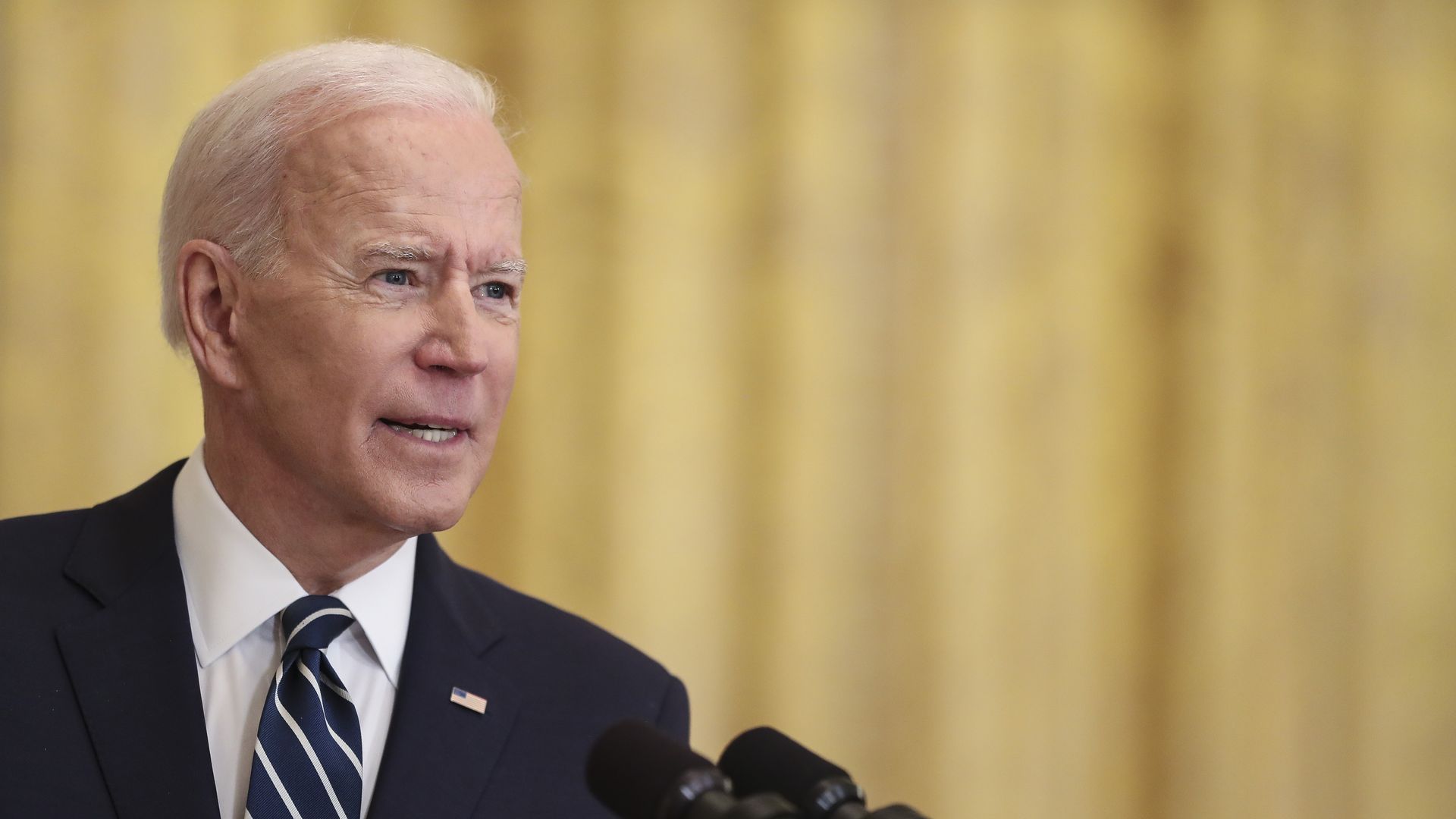 President Biden condemned Georgia's voter restrictions Friday, calling the newly-signed law "Jim Crow in the 21st century."
The big picture: Georgia is the first battleground state to pass such a law in the aftermath of the 2020 election. The law imposes new ID requirements, limits the use of ballot drop boxes and bans non-poll workers from giving food and water to voters in line, among other restrictions.
Civil rights groups filed lawsuits over the restrictions almost immediately after Gov. Brian Kemp (R) signed the legislation into law.
What he's saying: "This law, like so many others being pursued by Republicans in statehouses across the country is a blatant attack on the Constitution and good conscience," Biden said in a statement.
"Recount after recount and court case after court case upheld the integrity and outcome of a clearly free, fair, and secure democratic process," he added.
"Yet instead of celebrating the rights of all Georgians to vote or winning campaigns on the merits of their ideas, Republicans in the state instead rushed through an un-American law to deny people the right to vote."
"It must end. We have a moral and Constitutional obligation to act," he said, urging Congress to pass laws to expand access to the ballot box.
"If you have the best ideas, you have nothing to hide. Let the people vote."
Gov. Brian Kemp in a tweeted statement Friday said, "There is nothing 'Jim Crow'" about the law.
"It is obvious that neither President Biden nor his handlers have actually read SB 202," he added.
"As Governor, I won't back down from keep Georgia elections secure, accessible, and fair."
What to watch: Biden told reporters later Friday that the Justice Department was examining the Georgia restrictions.
"We don't know quite exactly what we can do at this point," Biden said when asked by a reporter if there was anything the White House could do to address the law. "The Justice Department's taking a look as well."
Editor's note: This story has been updated with Gov. Kemp's statement.
Go deeper