In show of bipartisan solidarity, governors, former officials condemn anti-Asian attacks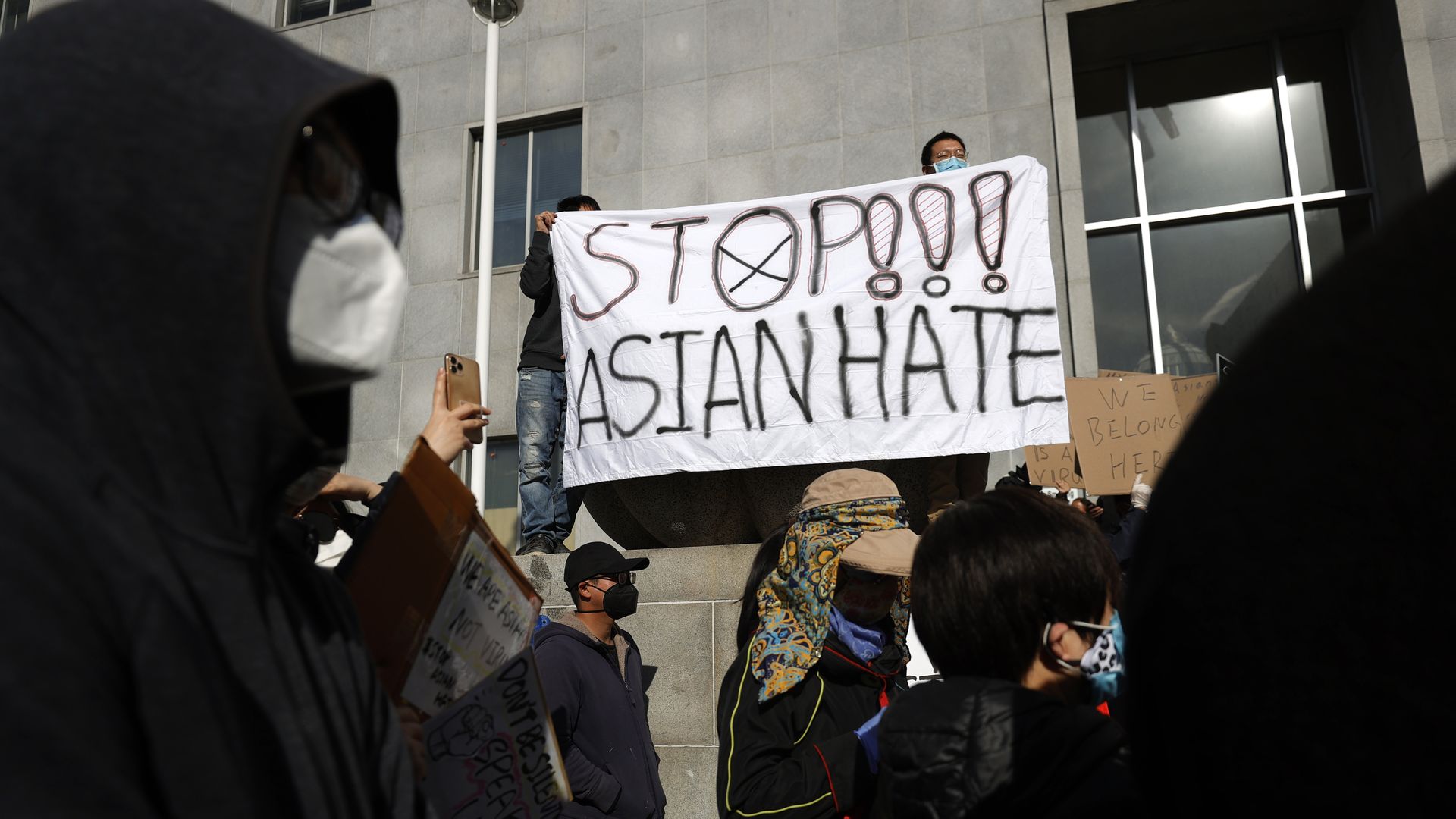 26 governors and more than 60 former officials denounced bias and discrimination against Asian people Friday, saying, "hate will not divide our states, territories, and communities."
Driving the news: The statements come amid a nationwide day of action following March 16's deadly shooting in Atlanta, in which eight people including six Asian women were killed, and a yearlong surge of anti-Asian hate crimes fueled by the coronavirus pandemic.
Hate crimes reported to law enforcement against Asian people in America's largest cities jumped nearly 150% in 2020, according to the Center for the Study of Hate and Extremism at California State University
What they're saying: "From the Chinese Exclusion Act to the incarceration of Japanese Americans in World War II to the mistreatment of Muslims and Sikhs after 9/11, this year is part of a history of racism against the Asian American community," the governors' statement read.
"Today, and every day, we stand in solidarity, in support, and in shared resolve with the Asian American community."
Two Republicans — Maryland Gov. Larry Hogan and Massachusetts Gov. Charlie Baker — joined 23 Democratic colleagues and the governor of Guam in signing the letter.
More than 60 Asian American and Pacific Islanders who served in senior roles across six presidential administrations released a separate letter Friday calling for action against Asian bias.
"For centuries, AAPIs have contributed much to the vibrancy and success of this country. Yet we are sometimes still seen as 'the foreigner' or 'less American' and treated as the 'other,'" the letter read.
They called on political leaders to denounce anti-Asian attacks, work with law enforcement to protect the community and pass legislation that will better support the community's needs.
Signees include former secretaries of Commerce Gary Locke and Norman Mineta, former Secretary of Transportation Elaine Chao.
The big picture: AAPI lawmakers, led by chair of the Congressional Asian Pacific American Caucus Rep. Judy Chu, on Friday held a Facebook Live conversation as part of the National Day of Action to Stop Asian Hate.
Go deeper: Over 183 organizations join AAPI groups' call for $300M to address anti-Asian violence
Go deeper