Manchin urges Democrats to find "bipartisan solution" to pass sweeping voting rights bill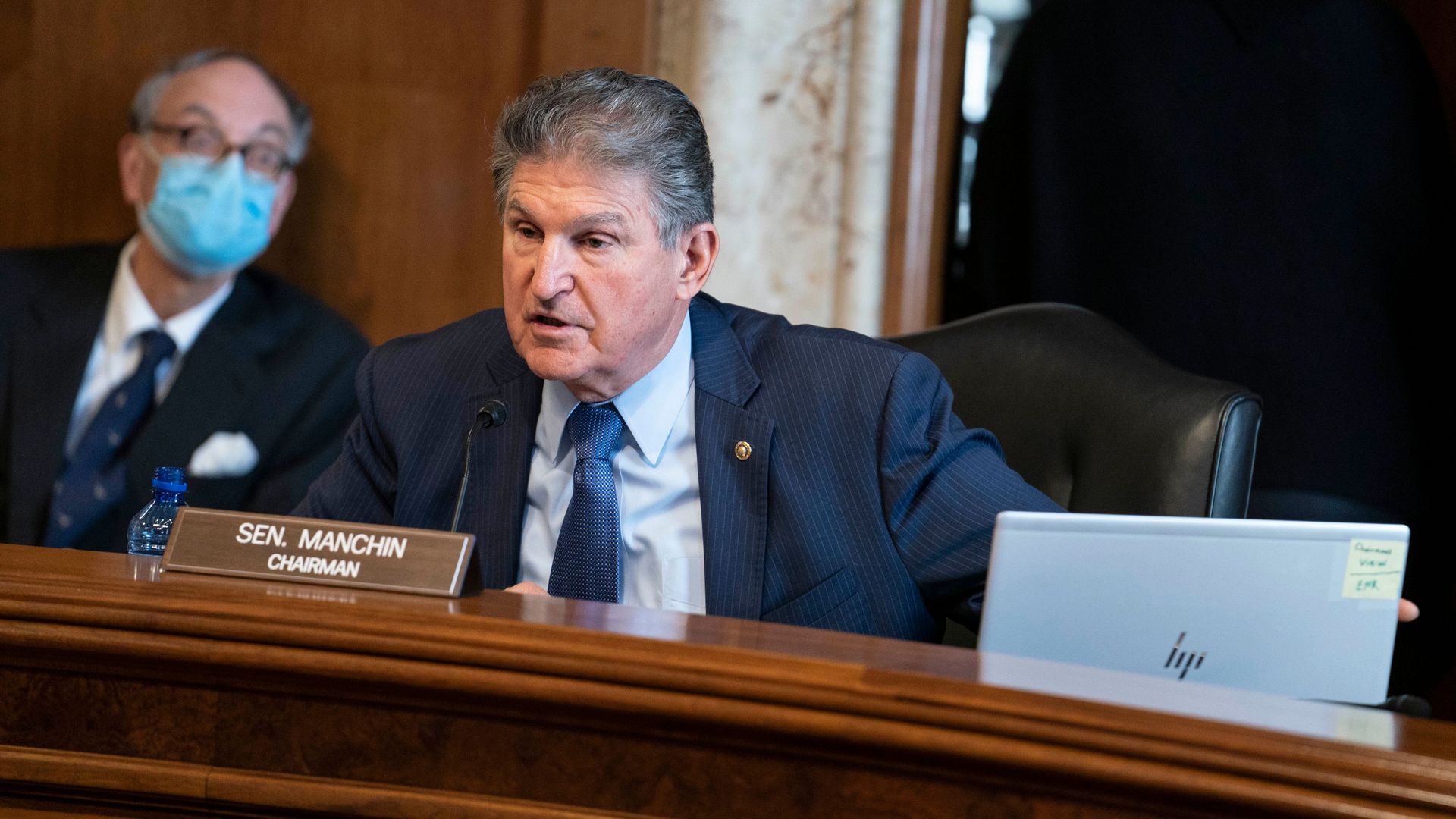 Sen. Joe Manchin (D-W.Va.) on Thursday urged Democrats to find a "bipartisan solution" when trying to pass their flagship election and anti-corruption bill — a signal that he will not support an effort to get rid of the filibuster to pass it.
Why it matters: Manchin's statement comes amid increasing calls for Democrats to get rid of the 60-vote threshold to pass the "For the People Act." Without the West Virginia Senator's support, Democrats may have no choice but to reach a compromise with Republicans to pass the legislation.
"Pushing through legislation of this magnitude on a partisan basis may garner short-term benefits, but will inevitably only exacerbate the distrust that millions of Americans harbor against the U.S. government," Manchin wrote in a statement Thursday.
What he's saying: "As the Senate prepares to take up the For the People Act, we must work toward a bipartisan solution that protects everyone's right to vote, secures our elections from foreign interference, and increases transparency in our campaign finance laws," Manchin wrote.
"There are bipartisan proposals embedded in this bill that can strike the right balance and make great strides on each of these issues. Instead of arguing about the election reforms on which we disagree, Congress should be working together to enact those on which we can agree."
"America's declining trust in the government and each other makes it harder to solve key problems. That trust will continue to diminish unless we, as members of Congress, transcend partisanship."
The other side: Senate Majority Leader Chuck Schumer (D-N.Y.) on Thursday said that Democrats will focus on taking "big bold action," adding that they will try to work with Republicans in a bipartisan manner, but will do whatever it takes to make sure major legislation passes.
He did not rule out getting rid of the filibuster, saying at a press conference that "everything is on the table."
The big picture: Several Senate Democrats — including Manchin and Sen. Kyrsten Sinema (D-Ariz.) — oppose changing Senate rules to bypass the filibuster, according to CNN.
Go deeper