Georgia governor signs law curbing voting access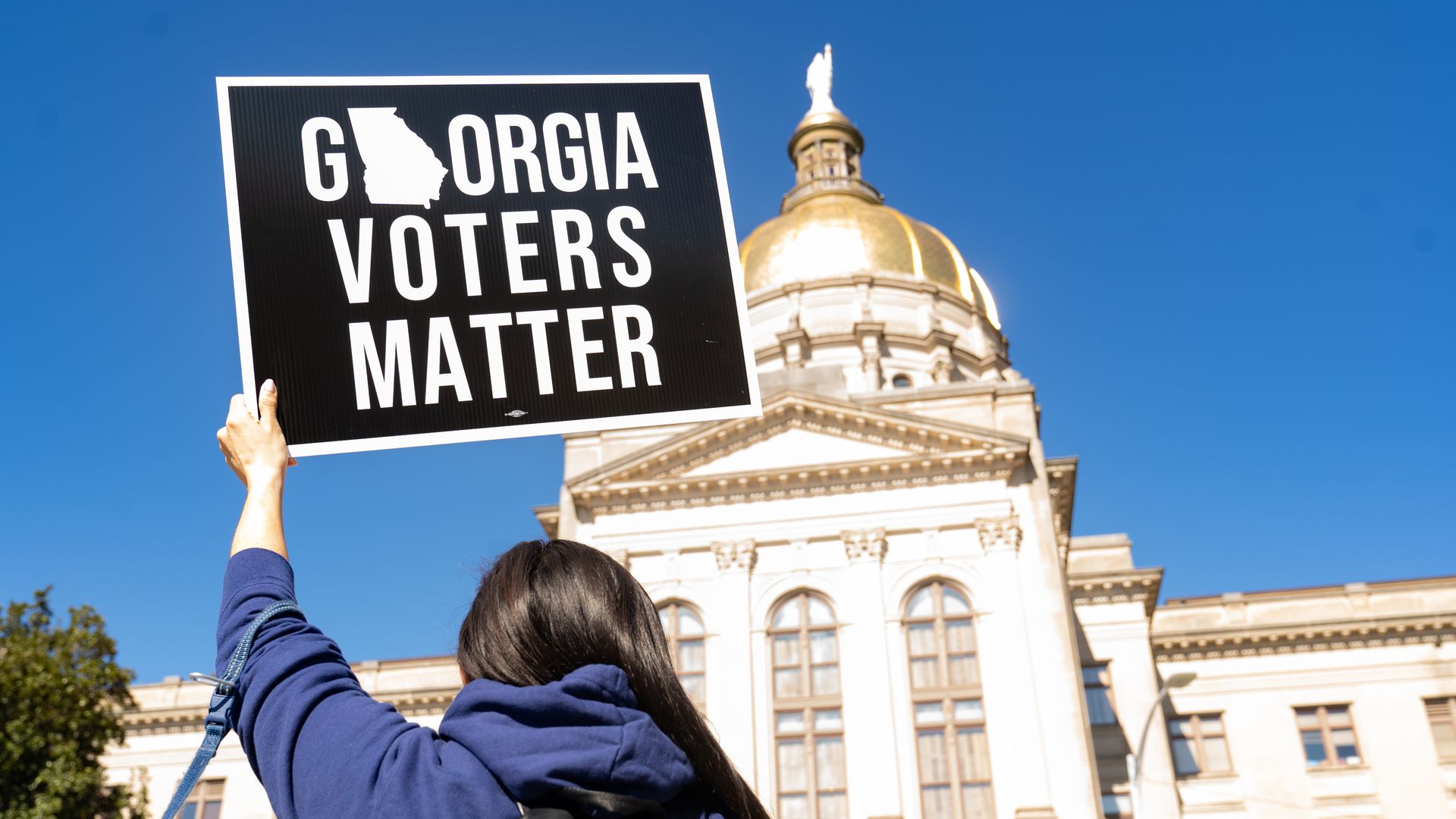 Georgia Gov. Brian Kemp (R) signed a sweeping, GOP-sponsored overhaul to the state's election law on Thursday.
Why it matters: It is the first battleground state to pass such a law in the aftermath of the 2020 election.
Iowa Gov. Kim Reynolds already signed a bill into law scaling back early voting in the state.
"Republican efforts to change voting laws in Georgia followed record-breaking turnout that led to Democratic victories in the presidential contest and two U.S. Senate runoffs in the once reliably red state," AP writes.
Joe Biden won the state by only slightly more than 12,000 votes in the 2020 presidential election.
The new law includes measures that:
Cut the time period voters have to request absentee ballots and impose new identification requirements.
Make it easier for state officials to take over local elections boards.
Limit the use of ballot drop boxes.
Allow challenges to voting eligibility.
Criminalize any attempt to approach voters in line, even if only to give them food or water.
"[R]eplace the elected secretary of state as the chair of the state election board with a new appointee of the legislature after Republican Secretary of State Brad Raffensperger rebuffed [former President] Trump's attempts to overturn Georgia's election results," AP writes.
What they're saying: "Few are more important than the law I signed moments ago," which ensures Georgia's elections are "secure, accessible and fair," Kemp said at a press conference on Thursday.
"It's like the Christmas tree of goodies for voter suppression," Democratic state Sen. Jen Jordan said on the Senate floor Thursday, per CNN.
Some lawmakers argue restrictions will boost election integrity, despite no evidence of widespread fraud in the 2020 election.
Meanwhile, critics say these measures are intended to target heavily Democratic jurisdictions and will hurt Black and Latino voters the most, Washington Post reports.
President Biden called the GOP effort "sick" and "un-American" at his press conference on Thursday.

Former President Jimmy Carter, who previously served as a state senator in Georgia and then governor, also voiced opposition early on.
Of note: During the signing ceremony, Georgia state Rep. Park Cannon (D) was handcuffed and "forcefully removed" after knocking on the governor's office door, Atlanta-based WXIA-TV reports.
The big picture: Republican lawmakers have proposed at least 253 laws to restrict voting access in 43 states across the country, according to data compiled as of Feb. 19 by the nonpartisan Brennan Center for Justice. More proposals have reached the floor since, CNN writes.
The Georgia bill passed the state House in a 100-75 vote, and then was agreed to by Senate Republicans, with 34-20 in favor on Thursday afternoon.
Go deeper