U.S. needs to expand rapid COVID-19 testing, experts say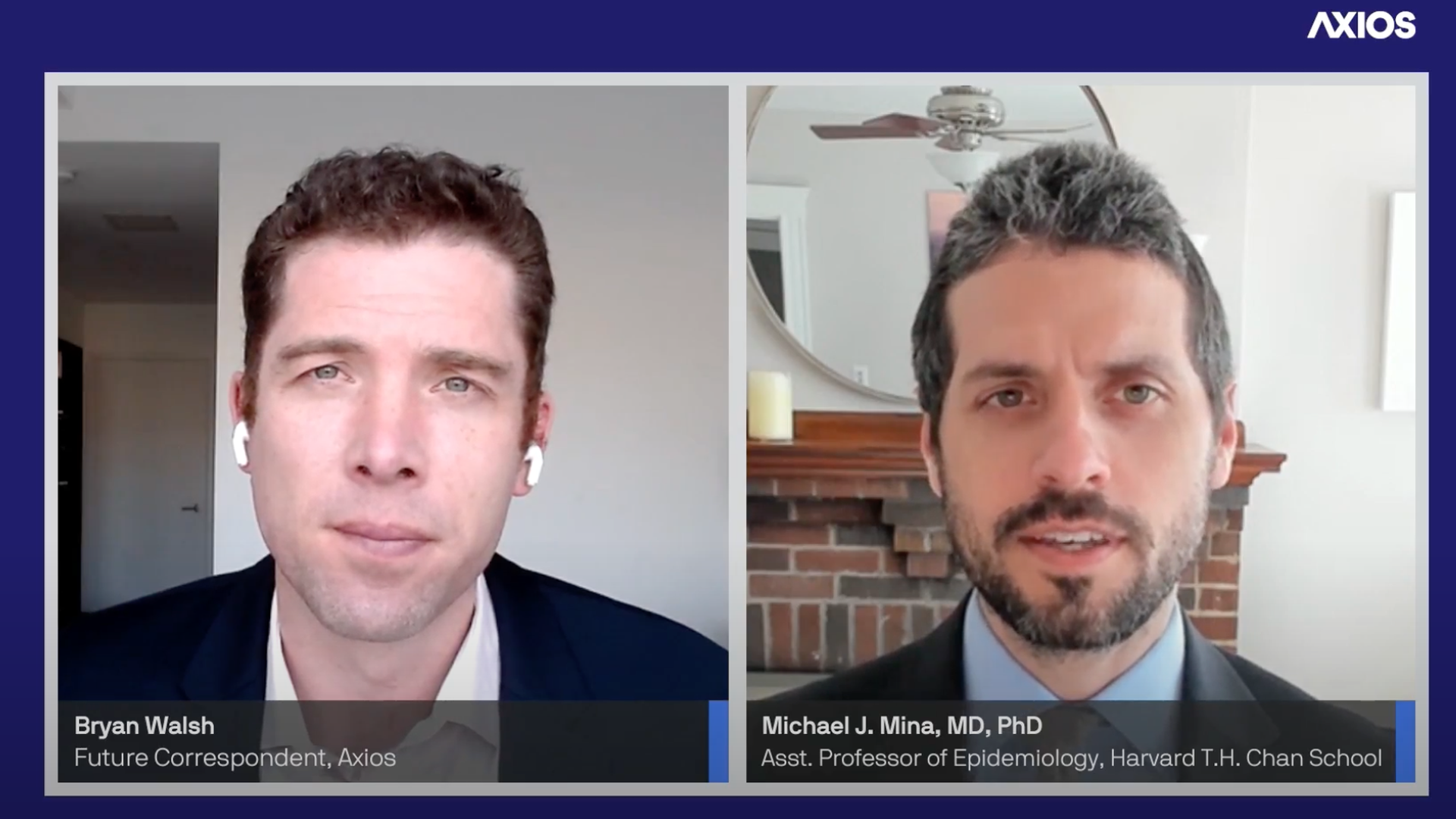 The U.S. needs to ramp up the use of rapid COVID-19 testing in order to curb the pandemic and prepare for reopening, two public health experts said on Wednesday during an Axios virtual event.
Why it matters: Experts warn that vaccinations likely do not provide long-term immunity and that the pandemic is far from over. Jennifer Nuzzo of Johns Hopkins, and Michael Mina of Harvard's Kennedy School of Public Health, say mass testing will be imperative to tracking outbreaks and containing the virus in the coming months.
"Testing informs our understanding of what's going on at all levels, from the personal—knowing that today is not the day to go and visit my vulnerable relatives because I'm infected—to the national, trying to understand, is the situation in the U.S. getting better? Is it worse?" Nuzzo said.
What they're saying: "We need rapid tests that are ubiquitous, that we can use in lots of different places, and at a volume that will enable repeat testing. And we also need them to be much more inexpensive than they are right now," Nuzzo said.
"Some of the cheapest rapid tests are about $5 each, which is extraordinarily low cost in the scheme of things, and particularly compared to laboratory testing" she added. "But there are 15 million public school children in the U.S. And so even if you were to test all of the ones, that would be a prohibitive cost."
"[I]n the midst of a pandemic, we can switch the purpose of testing from just purely a diagnostic test to actually a test that is going to help mitigate spread at the community level....the only way to make that a reality is to get the tests away from being prescription-use only, make them smaller, simpler and tests that people could be using at home," Mina said.
Mina also supported the use of rapid, at-home COVID-19 tests as schools and workplaces reopen, even though at-home tests may not be as accurate as laboratory testing.
"If people walking into that building use a test at home before work, or at the doorway before school, whatever that might be, it can reduce any chances of spread, say, 90 percent. And that is a major win."
"It's not perfect, but nothing in this pandemic is perfect. But a reduction by 90 percent would be a massive benefit to make everyone feel safer."
Go deeper