NASA's Mars helicopter may make first flight in April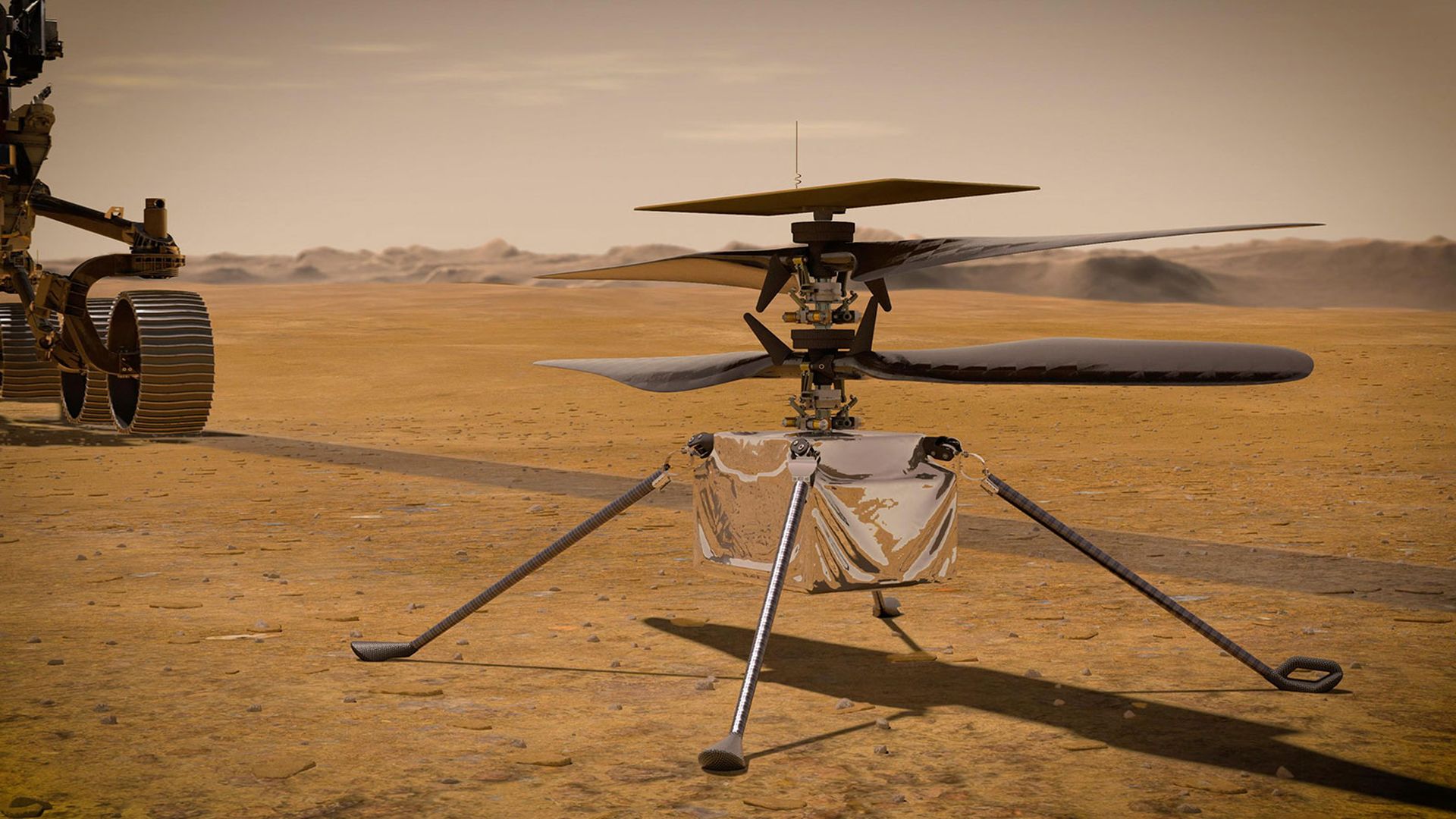 NASA's Mars helicopter Ingenuity, which hitched a ride to the Martian surface on the Perseverance rover, may attempt its first test flight in early April, NASA announced Tuesday.
Why it matters: If the test is successful, Ingenuity will be the first helicopter to fly on another planet, possibly opening up a new way to robotically explore space.
Context: The four-pound helicopter is still attached to the belly of Perseverance, which is currently driving to an "airfield" where Ingenuity will deploy and have 31 Earth days to attempt its test flight.
NASA is aiming for no earlier than April 8 for the flight, though it could move up or back by a few days.
How it works: During the test, the helicopter will hover at 10 feet above the planet's surface for up to 30 seconds, then will descend and touch back down.
Flying on Mars will be more difficult than flying on Earth, since the Martian atmosphere is just 1% as dense as Earth's at the surface.
Lower atmospheric density means the helicopter produces less lift, though Mars' weaker gravitational pull should help to get the lightweight aircraft airborne.
What they're saying: "Every step we have taken since this journey began six years ago has been uncharted territory in the history of aircraft," Bob Balaram, chief engineer of Ingenuity, said in a statement.
"And while getting deployed to the surface will be a big challenge, surviving that first night on Mars alone, without the rover protecting it and keeping it powered, will be an even bigger one."
Extremely cold nighttime temperatures on the planet could freeze and crack unprotected electrical components, though Ingenuity was equipped with solar panels and electrical heaters that should prevent damage from the cold.
Our thought bubble, via Axios space reporter Miriam Kramer: Perhaps one of the most exciting things about Ingenuity is its ability to give scientists a more holistic view of Mars.
Instead of just sticking it out in one general area and studying it deeply like Perseverance or gazing down from high above like an orbiter, Ingenuity could split the difference — opting instead to place different parts of the Red Planet in context with one another.
Go deeper