What we know about the victims of the Boulder mass shooting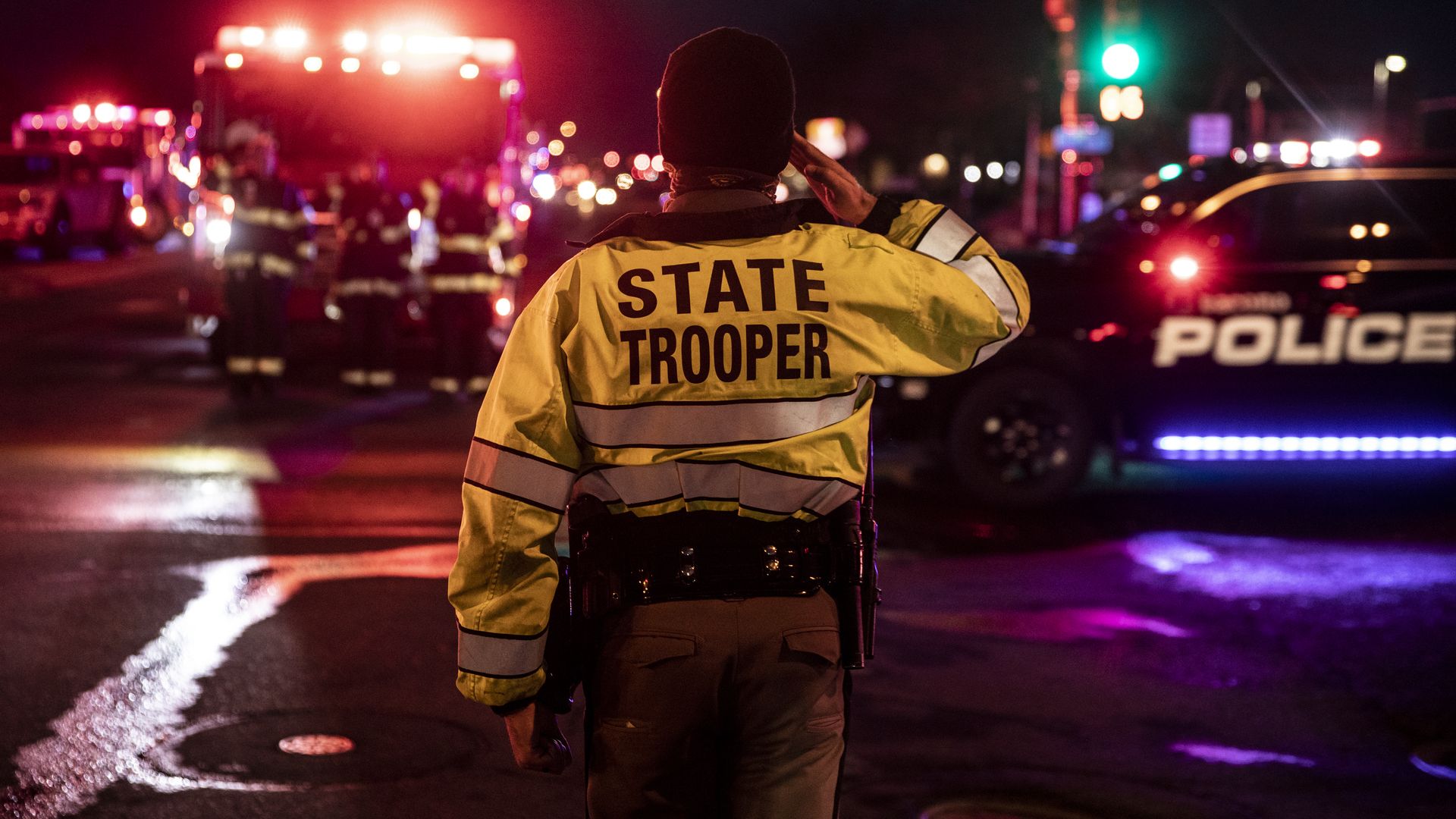 The 10 victims who died in a mass shooting by a 21-year-old gunman in Boulder, Colorado, on Monday have been identified by local police.
The latest: Investigators say it is still unknown why the suspect opened fire inside the King Soopers grocery store, AP reports.
This is the second massacre in a week, after the Atlanta massage parlor shootings on March 16 that left eight people dead — including six Asian women.
What we know: The Boulder Police Department on Tuesday released the names of the victims:
Denny Stong, 20
Neven Stanisic, 23
Rikki Olds, 25
Tralona Bartkowiak, 49
Suzanne Fountain, 59
Teri Leiker, 51
Eric Talley, 51
Kevin Mahoney, 61
Lynn Murray, 62
Jody Waters, 65
Stong had worked at the grocery store since 2018 and was studying to become a pilot.
He loved planes, bikes and motorcycles, according to the Denver Post.
"You pushed my buttons at times and made me grow," a colleague and friend Logan Ezra wrote on Facebook. "You taught me many lessons and brought me many memories."
Stanisic, the son of Serbian refugees from Bosnia, "had just fixed a coffee machine at Starbucks and was about to head off to his next repair job when the shooter shot and killed him as he sat in his car in the parking lot of the shopping center," BuzzFeed reports.
"He was a wonderful boy," Iva Petrovic, wife of the local Serbian Orthodox priest, told BuzzFeed News. "We are very affected at this point. We are grieving. It's such a big tragedy for us in our community."
Olds was a manager at the grocery store, her aunt, Lori Olds, told the Denver Post.
"She had the most bubbly personality and absolutely refused to let anyone knock her down," her friend Lance Cox-Balazs wrote on Facebook.
Bartkowiak, who went by Lonna among family and friends, was co-owner of local clothing store Umba.
Her Facebook feed shows photos of travels that influenced her shop, including trips to the Envision Festival in Costa Rica and Burning Man in Nevada.
"Lonna was was an angel with a heart of gold," roommate BJ Cochran wrote on Facebook. "Please remind everyone that you love them. Our time is not guaranteed here."
Fountain was a financial counselor at Boulder Community Health but worked in local theater and volunteered at eTown Hall, a musical and theatrical nonprofit in town.
"Suzanne was a bright light to all she met," the group wrote on Facebook. "[W]e were proud to have her represent eTown in our community as she welcomed people into our space hundreds and hundreds of times."
Leiker worked at the King Soopers for more than 30 years, and "it was her favorite thing to do," friend Lexi Knutson said per BuzzFeed.
Knutson called Leiker "the most innocent, caring, and loving individual that the world held."
"She always ended the calls with 'Love your buddy Teri,'" Knutson said, referring to their weekly conversations.
Talley was a Boulder police officer and a father of seven children.
"I can tell you that he's a very kind man and he didn't have to go into policing," Boulder Police Chief Maris Herold said at a press conference, calling him "heroic."
"He had a profession before this, but he felt a higher calling and he loved this community and he's everything that policing deserves and needs ... and he was willing to die to protect others."
Mahoney represented "all things love," his daughter, Erika Mahoney, said in a tweet.
"I'm so thankful he could walk me down the aisle last summer," she added.
Mahoney served as chief operating officer of Stonebridge Companies and worked in the hospitality industry for years, BuzzFeed reports. "He was a kind, smart, articulate professional who loved his family so very much," Chuck Tomb, who worked with Mahoney, wrote on Facebook.
Murray had been a photo editor for magazines such as Glamour and Marie Claire, according to BuzzFeed News.
She met her husband John and moved to Boulder to be near their 24-year-old daughter Olivia Mackenzie.
When friend Lila Sharfi was at a low point and found herself with a TV that did not have a remote control, Murray shared her own. "It's 10 years later and I still have that remote control," Sharfi said. "I will keep it forever and fondly think of Lynn every time I push the power button ... I'll miss her dearly."
Waters ran a clothing and homeware store for 20 years.
A mother of two daughters, she began studying at the University of Arizona last year, according to her Facebook.
"My high school buddy. My neighbor. Heaven's Angel," friend Jeff Schwartz wrote on Twitter.
This story will be updated as more information is released about the victims.
Go deeper