South Dakota Gov. halts transgender sports ban, citing potential NCAA lawsuit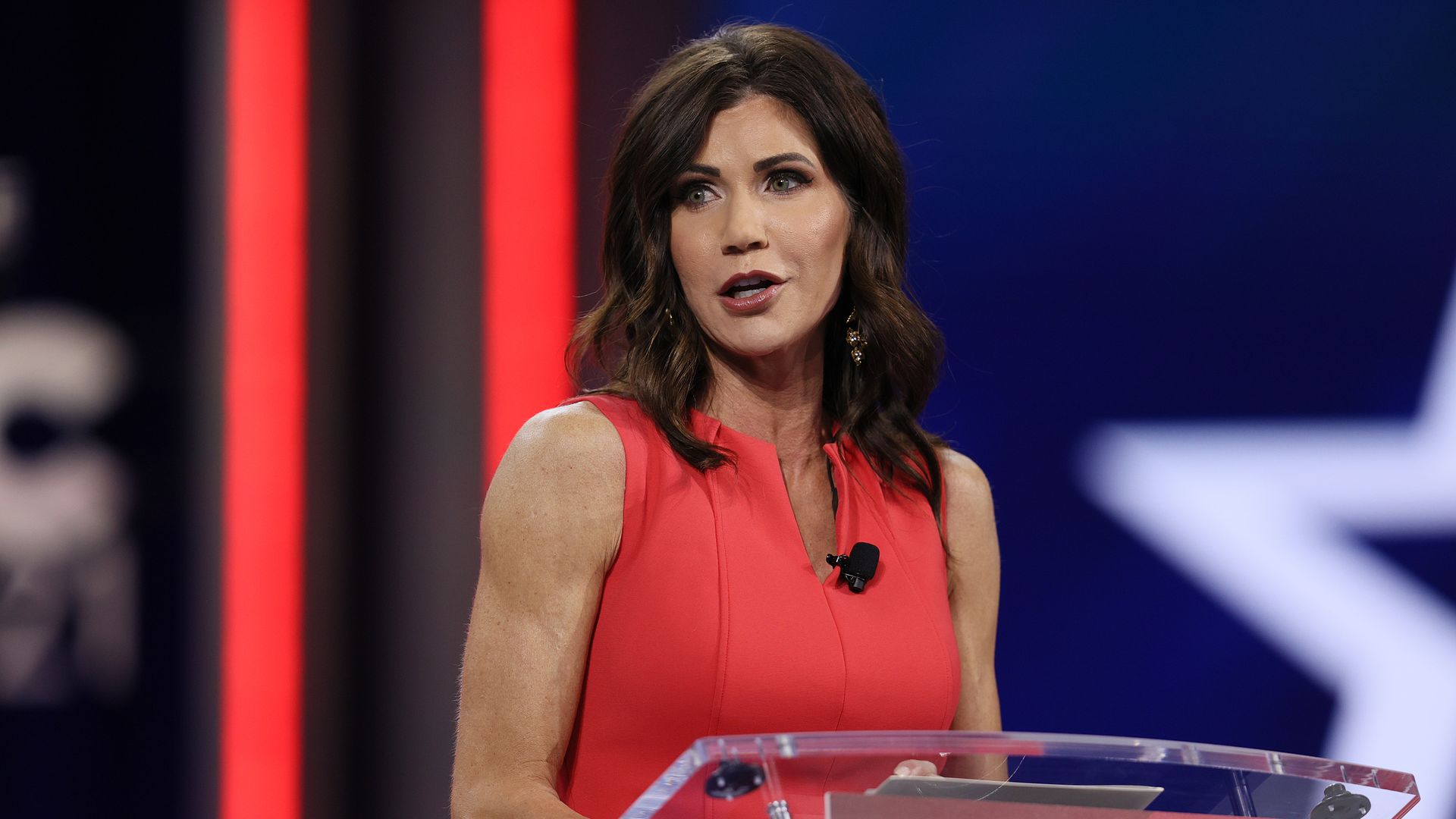 South Dakota Gov. Kristi Noem (R) said she will not sign a bill banning transgender students from playing women's sports unless revisions are made to the legislation that change how it would affect cisgender students and leave it less vulnerable to a potential NCAA lawsuit.
Why it matters: The bill is part of a record-setting boom in anti-trans legislation introduced by Republican state lawmakers this year. LGBTQ advocates say the push is an unprecedented inflection point for trans rights in the country.
Catch up quick: Noem listed two core issues with the current version of the state's bill in a Friday Twitter thread.
Vague language that could apply to cisgender students taking performance-enhancing drugs, instead of only trans student athletes who are taking hormones to transition.
The bill would force "an unworkable administrative burden on schools" made to annually verify all student athletes' sex.
Her suggested changes would limit the bill's effects to middle schools and high schools instead of colleges, as part of an effort to avoid possible litigation from the NCAA.
What they're saying: "We've been trying to figure out how to defend women's sports effectively ... and we have to do that in a way that we can actually win," Noem said at a press briefing on Monday, noting that she has discussed the bill with legal counsel since November.
"These legal scholars think that South Dakota's chances of winning a lawsuit against the NCAA are very low," she said.
"Once we have enough states on board, a coalition brought big enough where the NCAA cannot possibly punish us all, then we can guarantee fairness at the collegiate level," she said.
Noem denied on Monday that the bill or the coalition was about transgender students.
The NCAA did not respond to a request for comment.
The other side: The bill "has never been about leveling the playing field for student athletes. It's been obvious from the beginning that this discriminatory legislation is about creating problems that don't exist and, in the process, harming some of the most vulnerable people in our state," said Jett Jonelis, ACLU's South Dakota advocacy manager.
"We already knew the bill was discriminatory on its face, and Noem only emphasized that further," Gillian Branstetter, a spokesperson for the National Women's Law Center, said.
The big picture: South Dakota is still on track to be one of the next states to pass one of over 40 bills to exclude trans youth from sports that align with their gender identity, after Mississippi, which was the first.
Per the AP, "There are currently no transgender girls competing in girls' high school sports, according to the South Dakota High School Activities Association."
Go deeper