The fraught U.S.-China climate relationship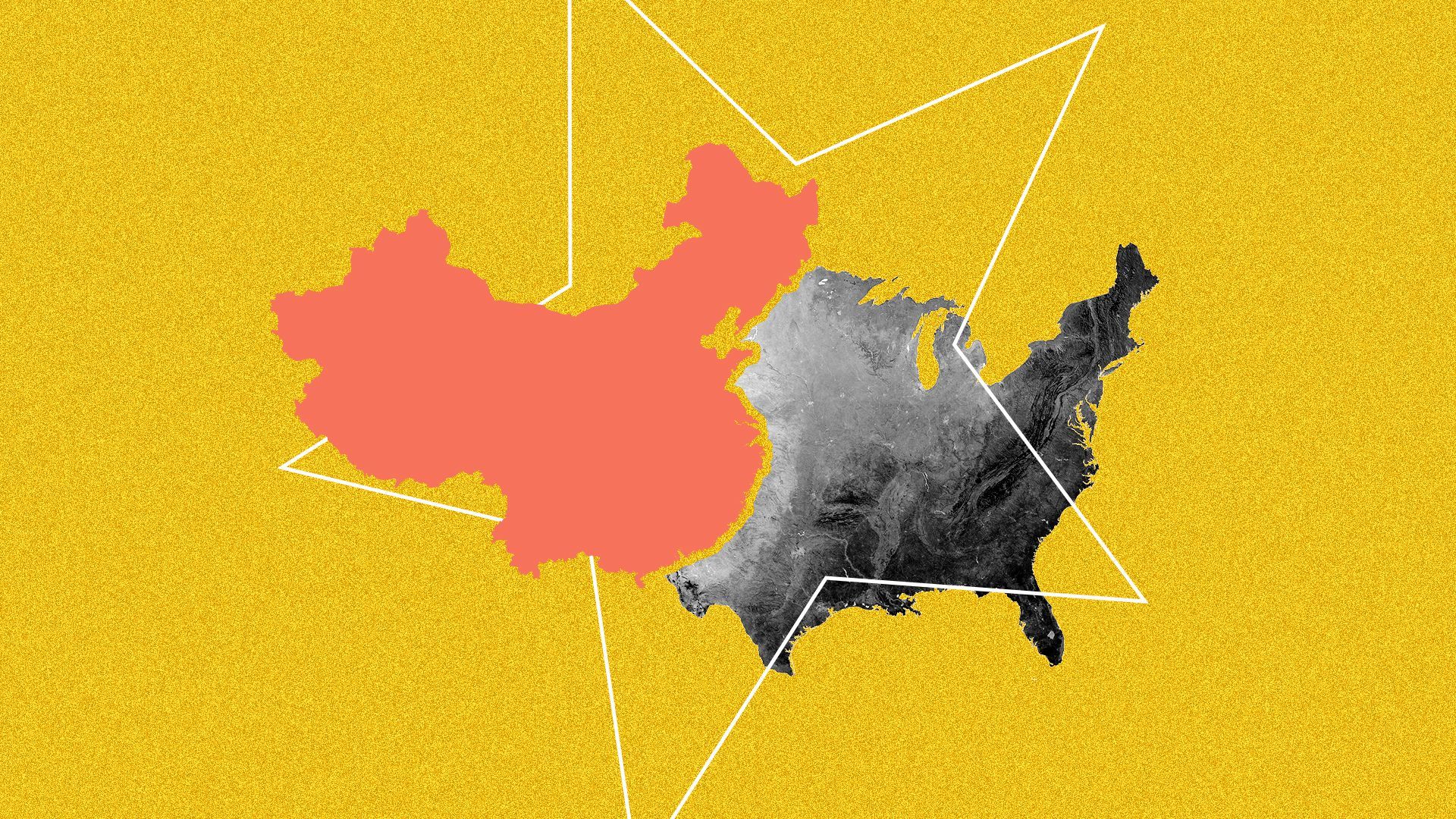 The last 72 hours highlighted hurdles and opportunities for U.S.-China cooperation on climate at a time of very deep divisions over human rights, cybersecurity and more.
Driving the news: Chinese state media, in a weekend readout of high-level U.S.-China talks in Alaska on Thursday and Friday, said one outcome of the multitopic meeting will be a "joint working group" on climate.
But yesterday a State Department spokesman told Axios' Fadel Allassan: "The two sides discussed the climate crisis but did not form a formal working group."
Why it matters: China is by far the world's largest carbon emitter and the U.S. is the second-largest.
The planet's fate doesn't rest on whether there's indeed a "formal" new working group. But the wider trajectory of U.S.-China cooperation — or division — is very important for reining in emissions.
The big picture: Right now, that relationship is very strained, as revealed by the tense talks in Alaska last week.
"We certainly know and knew going in that there are a number of areas where we are fundamentally at odds," Secretary of State Antony Blinken told reporters afterward, citing areas like China's abuses of Muslims in Xinjiang.
But he also cited areas where "interests intersect" — including climate. And more broadly, there are other modest signs of collaboration thus far. The U.S. and China are co-chairing a reconstituted G20 Sustainable Finance Study Group.
And John Kerry, President Biden's special climate envoy, has long known Xie Zhenhua, who is back for another stint as China's top climate diplomat.
What's next: A Wall Street Journal piece this morning looks at a multination meeting on climate tomorrow that China will lead and will include Kerry and Xie.
"Given the tensions, the Kerry-Xie interaction marks a test of the Biden administration's China strategy, which looks to carve out cooperation on issues like climate change and the Covid-19 pandemic while the two powers compete for global influence and the control of critical technologies," it reports.
A little further out, President Biden is hosting a high-level global climate summit on April 22. It will offer another moment to take the pulse of the U.S.-China rapport.
Li Shuo, a Greenpeace expert on China, said via Twitter that while climate was among the few areas of "convergence" in Alaska, the talks "certainly made an early breakthrough more difficult."
"Beijing needs to make tough decisions now on what to bring to the April 22nd climate summit," he said.
The intrigue: One question is when China will fill in policy blanks on its 2020 vow to become carbon neutral by 2060 — and whether it will pledge tougher near-term efforts beyond what's already been announced.
Alden Meyer, a senior associate with the climate think tank E3G, tells me he's watching to see what China does in the run-up to critical UN climate talks in Scotland late this year.
But Meyer said U.S. officials are "not really holding their breath" for any big announcements from China at Biden's summit next month.
Go deeper