CDC relaxes school guidance on social distancing during COVID-19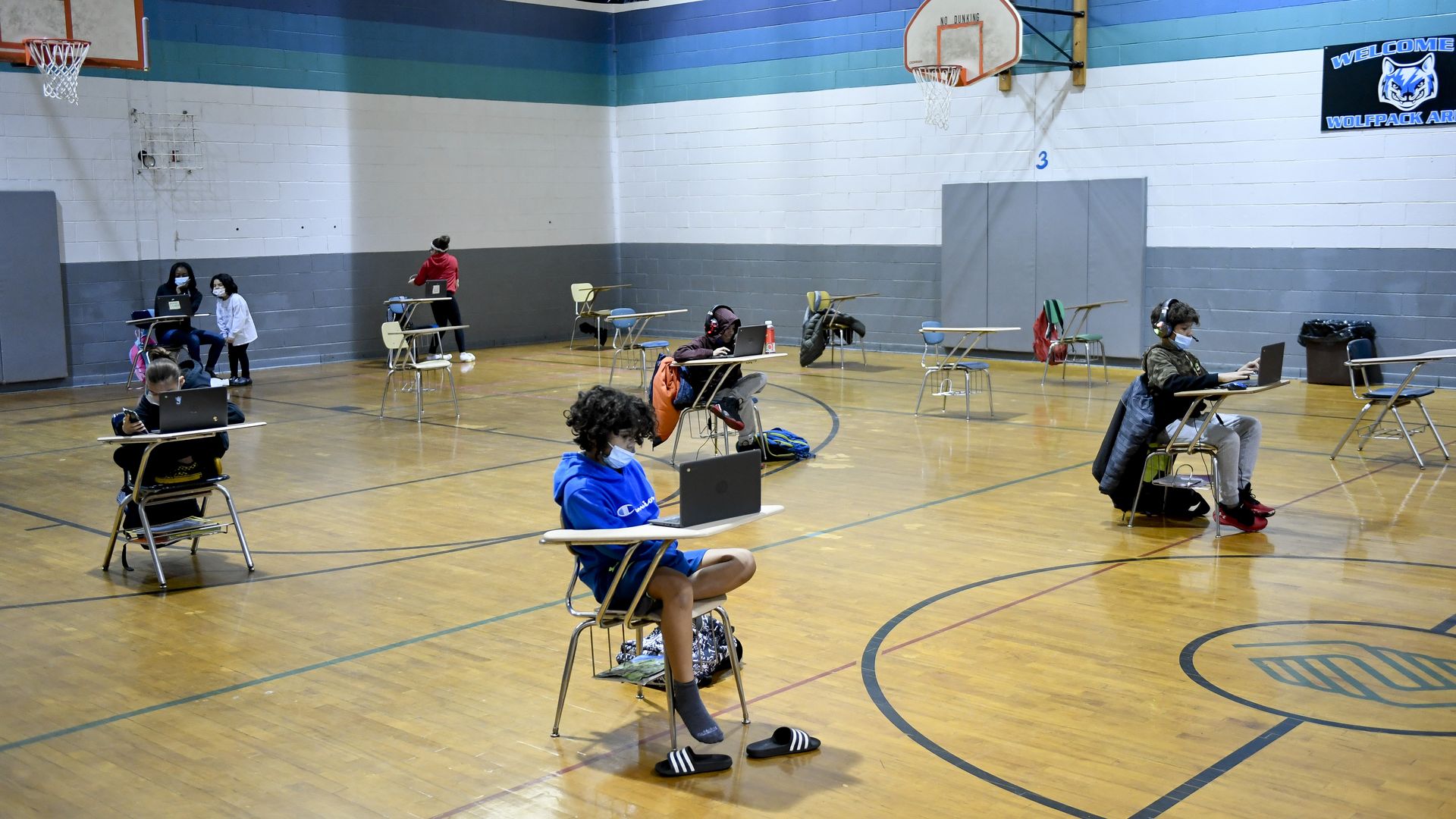 K-12 schools may reduce classroom desk distances from 6 feet down to 3 feet if community transmission is low-to-moderate, new guidance from the Centers for Disease Control and Prevention said on Friday.
Why it matters: This could be another incentive for closed schools to feel logistically ready to reopen, especially those with limited space or large class sizes.
The big picture: The basis for the 6-foot guidance recently came into question from experts on the social costs of students not being in the classroom full-time.
Schools that have opened at partial or hybrid capacity have been using the 6-foot guidance to teach in larger, open spaces like gymnasiums and cafeterias. But those big spaces can't accommodate every student.
Schools should still keep 6 feet distancing in common areas like lobbies and auditoriums or when masks can't be worn like eating, per the guidance.
The state of play: The revision was concluded from several new case studies out Friday on school districts that had low transmission rates with physical distancing of at least 3 feet between students with universal mask use and other mitigation measures.
A separate study published in the journal Clinical Infectious Diseases found that there was no significant difference in infection rates in Massachusetts schools between the two distances when students and staff were masked.
What they're saying: "Safe in-person instruction gives our kids access to critical social and mental health services that prepare them for the future, in addition to the education they need to succeed," CDC director Rochelle Walensky said in a statement.
"These updated recommendations provide the evidence-based roadmap to help schools reopen safely, and remain open, for in-person instruction," she said.
The other side: American Federation of Teachers president Randi Weingarten told the New York Times this week she would be advocating against the guidance, claiming the motion would be "a debate about convenience, not a debate about safety."
"All of a sudden, because we can't squeeze in every single kid if it's six feet that miraculously there's now studies that say three feet are fine. And what's going to happen is, people are just not going to trust it," she said.
Go deeper