Baseball scouts return after being sidelined by COVID-19 pandemic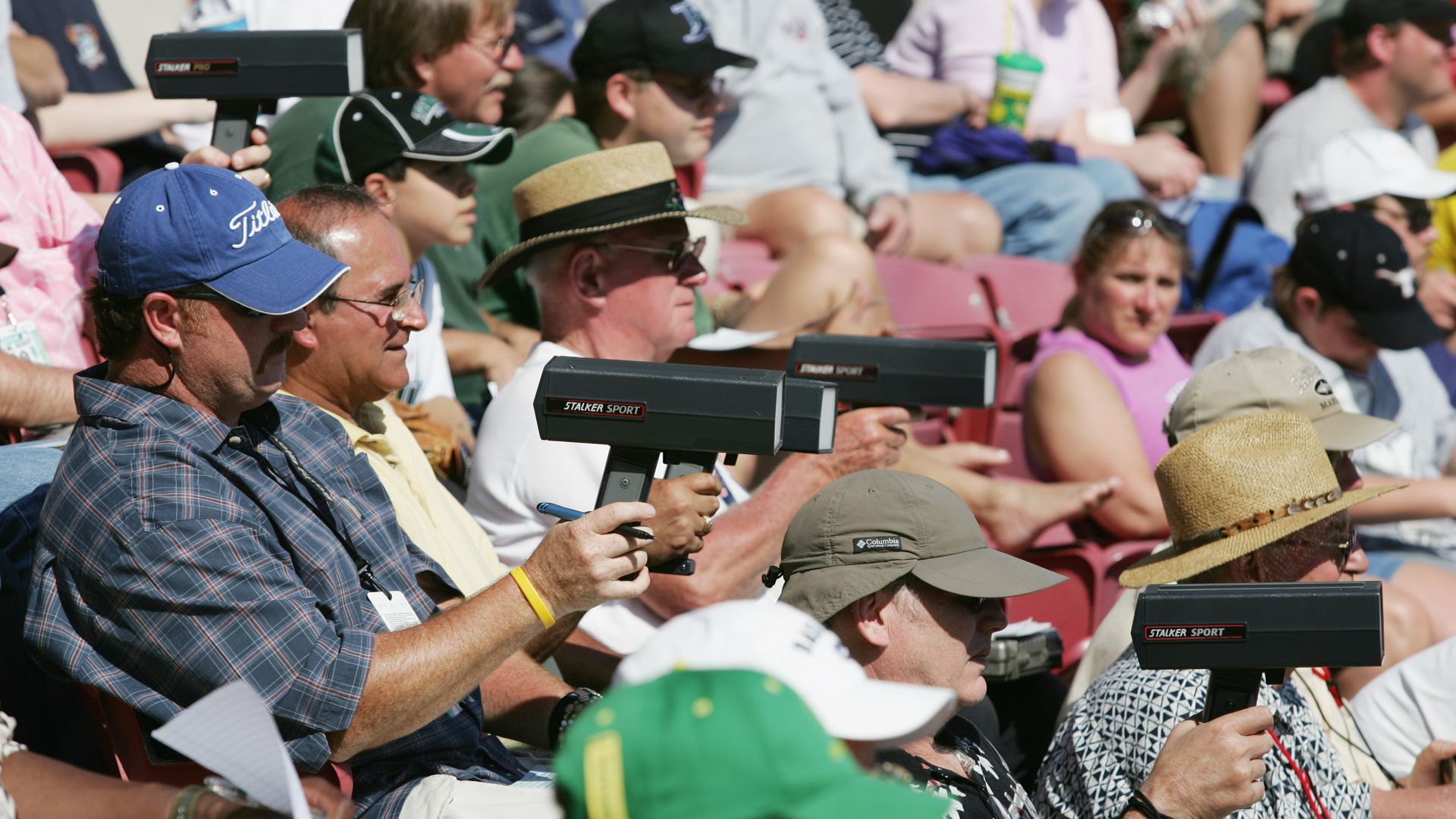 Baseball scouts are back at the ballpark after being sidelined for a year, but their ranks have thinned considerably since the last full season.
By the numbers: About 20% of scouts have been laid off since the start of the pandemic, per USA Today.
"It's been tough, very tough. There's not too many of us that know how to do anything else. This is our livelihood, and there's a fear there won't be many scouts out there anymore, so being back is very emotional."
—
Royals scout Jim Fregosi Jr.
The state of play: Old-school talent evaluators aren't obsolete just yet, but if rapid tech advancements are nudging them towards a cliff, the pandemic has been a strong gust of wind threatening to finish the job.
Scouts weren't the only casualties of MLB's pandemic-related budget cuts, but the rise of analytics made it easier for teams to move forward with fewer of them.
The backdrop: When Michael Lewis' book "Moneyball" was released in 2003, it kickstarted a data revolution across the big leagues. But scouts weren't pushed out overnight by these newfound "quant" departments.
On the contrary, teams hired even more of them in an effort to simply gather as much information as possible.
Scouting departments increased by an average of 10 scouts per team between 2009 and 2016 (from 41.5 to 51.3), and by another three from 2016 to 2019, per The Ringer's analysis of team media guides.
Yes, but: That growth has since halted, and the future of traditional scouts is becoming less certain every year.
It used to be that while numbers excelled at telling teams who a player is, scouts excelled at identifying what a player might become.
But over time, analytics' predictive capabilities have caught up. And newcomers to the field are now far more likely to open a spreadsheet than grab a pair of binoculars.
The bottom line: Getting these baseball lifers back in the ballpark where they belong is wonderful news after a brutal year. The end may be on the horizon, but it's not here yet.
Go deeper: How do scouts scout? (Forbes)
Go deeper