AAPI women more than twice as likely to report hate incidents as men, report finds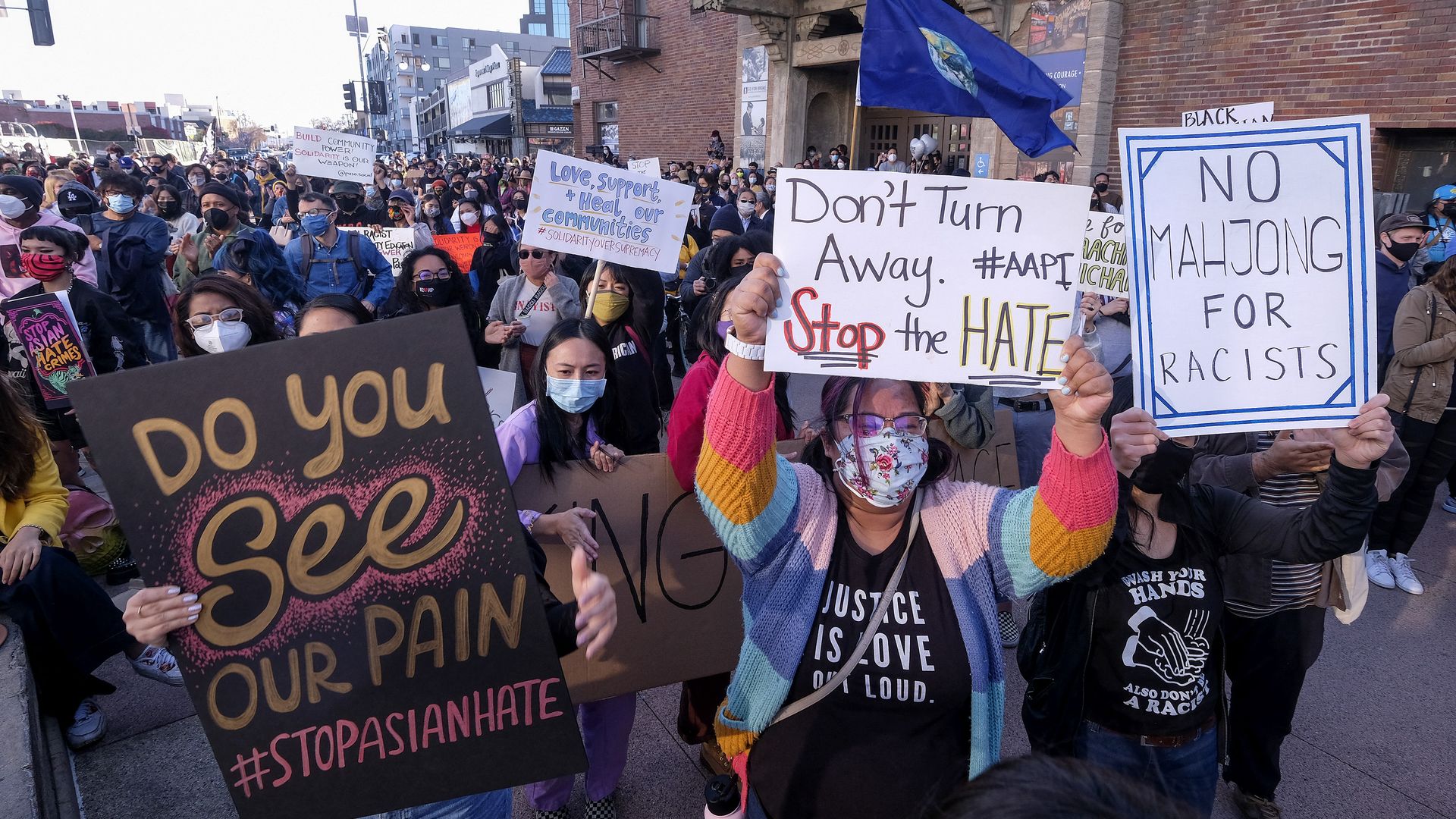 Racism-fueled violence against Asian Americans continues to spike, with women more than twice as likely to be targeted than men, according to a report from the reporting center Stop AAPI Hate published Tuesday.
Why it matters: Anti-Asian racism escalated after the pandemic began, with people blaming Asian Americans for COVID-19, which was first detected in China.
It follows a long history of anti-Asian sentiment in the U.S., made worse last year by former President Trump's "Chinese virus" rhetoric.
Driving the news: Stop AAPI Hate received nearly 3,800 self-reported incidents from March 19 last year to Feb. 28. The organization warned the number represents only a fraction of incidents due to tendencies to underreport.
By the numbers: Verbal harassment (68.1%) and shunning (20.5%), or the deliberate avoidance of Asian Americans, comprise the two largest proportions of total reported incidents.
Physical assault comes in third at 11.1%.
Chinese people are the largest ethnic group to report experiencing hate (42.2%), followed by Koreans (14.8%), the Vietnamese (8.5%) and Filipinos (7.9%).
Businesses are the "primary site" of discrimination (35.4%), while 25.3% of reported incidents took place in public streets.
Of note: Though not specified in the report, women also face hate-motivated sexual violence. One attack occurred in a train station last week.
The big picture: Anti-Asian hate has gained more attention in recent weeks, as a string of particularly violent attacks against Asian American elders spurred outrage.
About four in 10 Americans have said it's more common for people to express racist views about Asian people now than before the pandemic, per a July report from the Pew Research Center.
Last week, Rep. Grace Meng (D-N.Y.) and Sen. Mazie Hirono (D-Hawaii) announced plans to reintroduce the COVID-19 Hate Crimes Act, which would designate a Justice Department officer to oversee review of reported coronavirus-related hate crimes.
Go deeper