NewYork-Presbyterian Hospital CEO Steven Corwin recalls COVID "tsunami"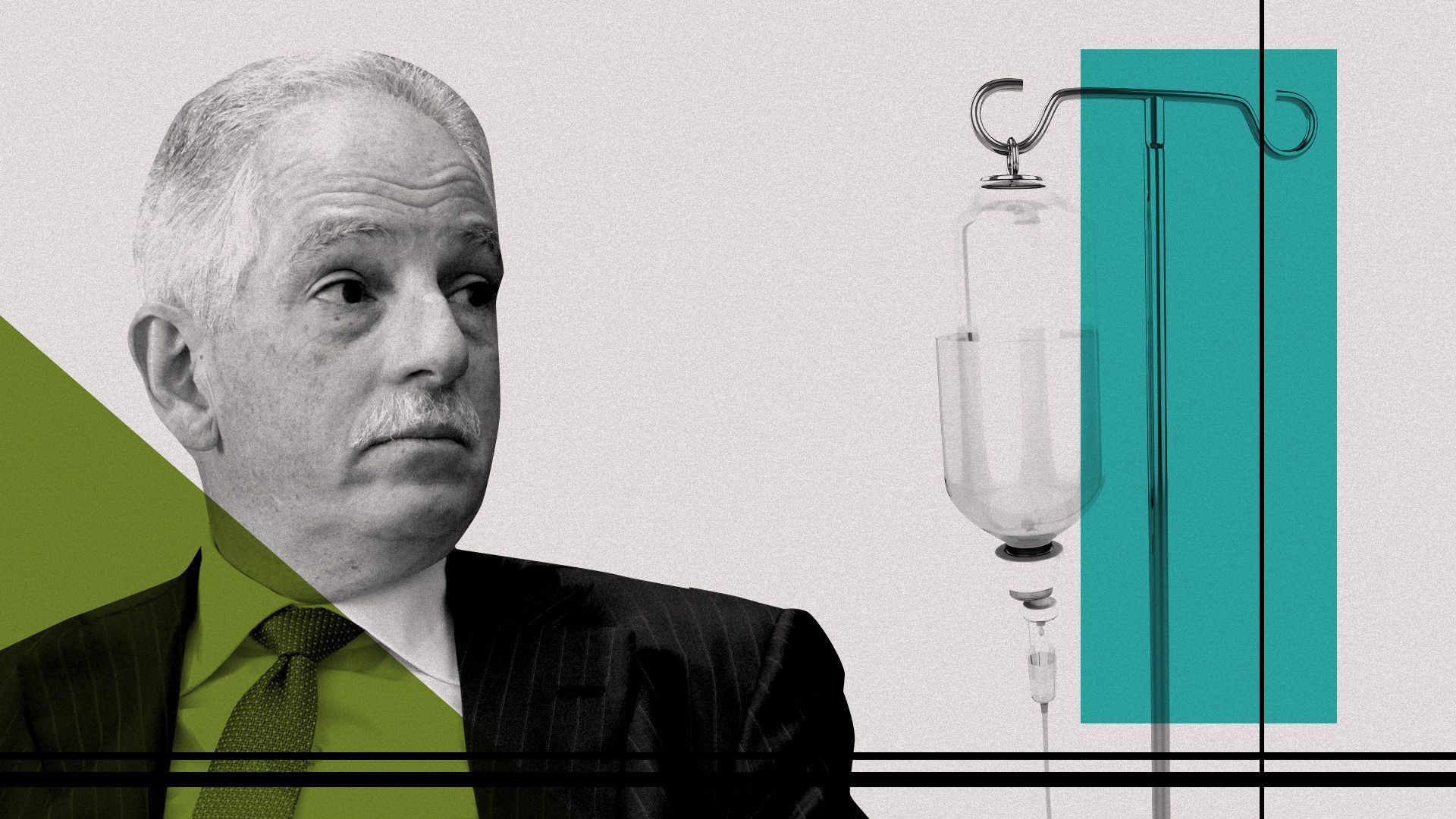 Steven Corwin, chief executive of NewYork-Presbyterian Hospital, said the medical center had four cases of COVID on March 8 of last year. By March 29 that number had jumped to 600.
Why it matters: In an interview on Thursday with Axios Re:Cap, Corwin described how the hospital managed the "tsunami" of cases in the early days of the pandemic while struggling to maintain a supply of protective and medical equipment during a global supply shortage.
What they're saying: "At the peak, we had 2,600 patients in the hospital with COVID, and 900 patients in our [intensive care unit]," Corwin said.
"Tragedies are tragedies. HIV was an absolute cataclysm, but this — this was something that we had not — this was a tsunami. That's the best way I could describe it. This was clearly going to be all hands on deck."
Corwin, who was a doctor during the AIDS crisis, said those at the hospital had the "horrifying" realization there was community spread when a "very sick" patient was admitted March 1 with signs of COVID but had no travel history. "Indeed, he had COVID and was transferred to our Columbia facility to be put in the ICU and put on a ventilator."
In that month, the hospital quickly decided to build more ICU capacity, stopped visitations and non-emergency surgeries and redeployed thousands of doctors and nurses.
"We had people from our finance department that volunteered to go to the morgue. I mean, imagine being somebody who has a finance degree or an accounting degree, and now you're spending time in the morgue because people are dying."
By the numbers: Corwin said the hospital had started stockpiling protective equipment in January 2020, anticipating that health workers would require four to five times the amount of protective equipment they normally use in a day to treat patients with the virus.
"We couldn't accumulate enough," Corwin said. "At the peak of the crisis, we were using a hundred thousand masks a day," or roughly 25 times the normal daily amount.
"I wouldn't say I was panicked, but the sober realization that this was going to be a rough haul was clearly there in early March," he added.
The big picture: Corwin said the decisions he and other hospital administrators made in March 2020 "impacted every employee."
"It impacted every life that we saved and impacted every life that we lost. It was, you know — it's a big burden."
More than a year into the coronavirus pandemic, Axios is looking back at the week of March 9, 2020 — the week high-profile leaders were forced to make consequential choices that upended our lives and society. Subscribe to Axios Re:Cap here.
Go deeper