Dow closes above 32,000 for first time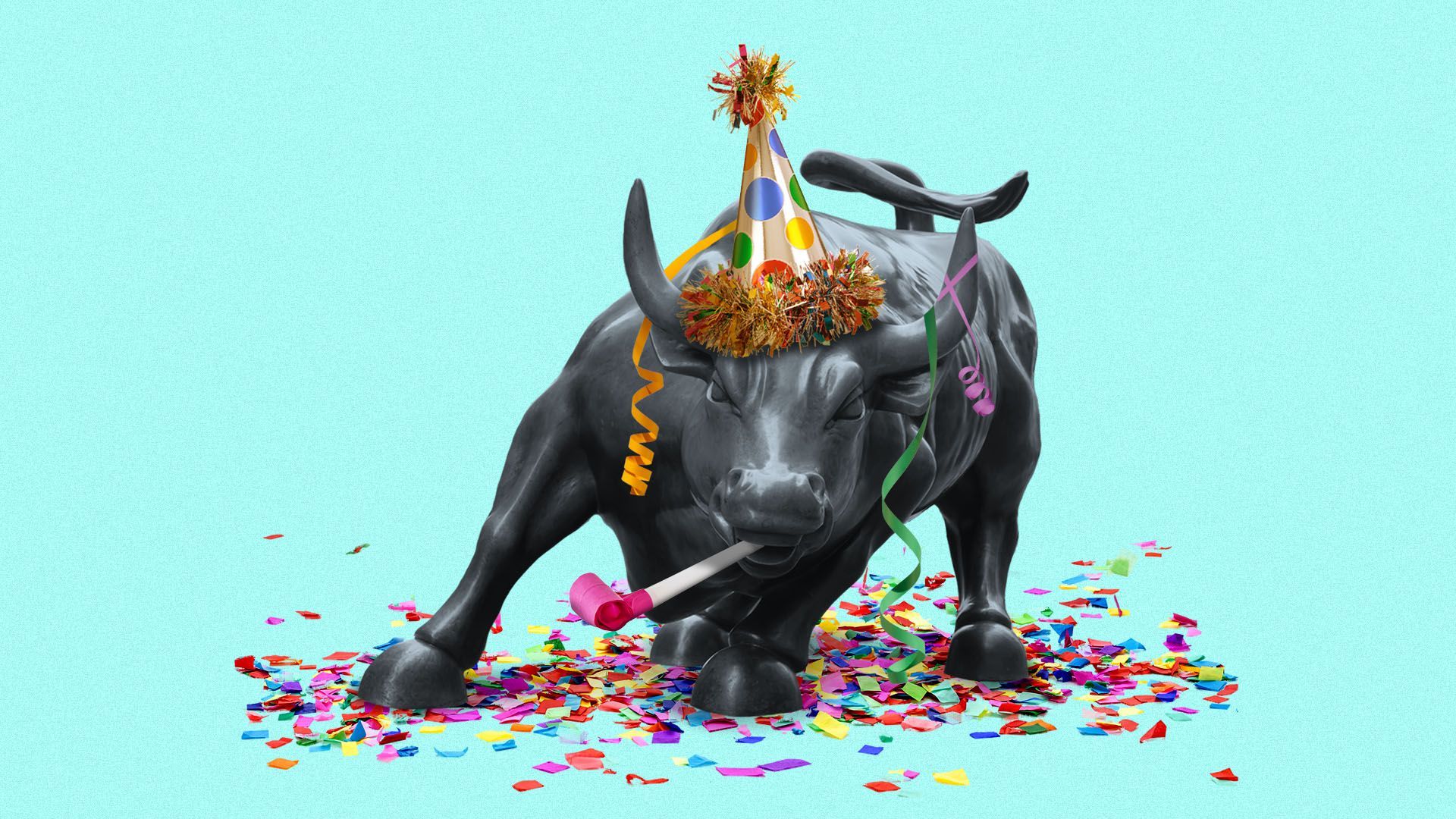 The Dow Jones Industrial Average rose to a record high on Wednesday, closing above 32,000 for the first time and seeming to cement a changing of the guard for U.S. equities.
What's happening: So far in 2021, the Dow's mix of financial, health care and retail companies has outperformed the tech heavy Nasdaq, thanks in large part to a rise in U.S. interest rates.
The increasing cost to borrow has investors writing down the value of not just Big Tech and social media companies, but also fintech and clean energy while betting big on oil, banks and airlines.
Be smart: The bounce in the Dow can also be seen as a catch-up rally for stocks that were unloved during the pandemic, as investors see a light at the end of the COVID-19 tunnel, with vaccine numbers rising and infection numbers dropping.
Earnings too have rebounded strongly with nearly 80% of S&P 500 companies reporting a positive EPS surprise in the fourth quarter of 2020, the third-highest percentage since FactSet started tracking the measure in 2008.
Analysts also are marking up their expectations for the first quarter of 2021. First quarter bottom-up EPS estimates have increased by 5%, the second-highest increase during the first two months of a quarter since FactSet began tracking the metric in 2002.
By the numbers: For the year, the Dow has outperformed the Nasdaq marginally, gaining 5.5% to the Nasdaq's 1.4%.
Much of that separation has been made in the past two months. Since Feb. 1, the Dow has risen 6.9% while the Nasdaq has fallen 2.5%.
Watch this space: Even the Nasdaq's feeble recovery in recent days seems to have been fueled by hedge funds that were forced to cut back on short bets against the Nasdaq to limit losses rather than genuine interest or dip buying, Bloomberg reports.
While hedge funds were net buyers of stocks for a fifth straight day, short covering outpaced long sales by a ratio of 4 to 1 on Tuesday, according to data from Goldman Sachs' prime brokerage unit.
Yes, but: The question remains whether this is a long-term change in leadership or simply a buying opportunity for smart investors.
Over the past 12 months, the Nasdaq has risen 56.6% compared to the Dow's 29.9% gain.
And over a five-year horizon, the Nasdaq is up 175.2% while the Dow has gained 87.6%.
Go deeper