Keystone pipeline firm hired Biden-linked lobbyists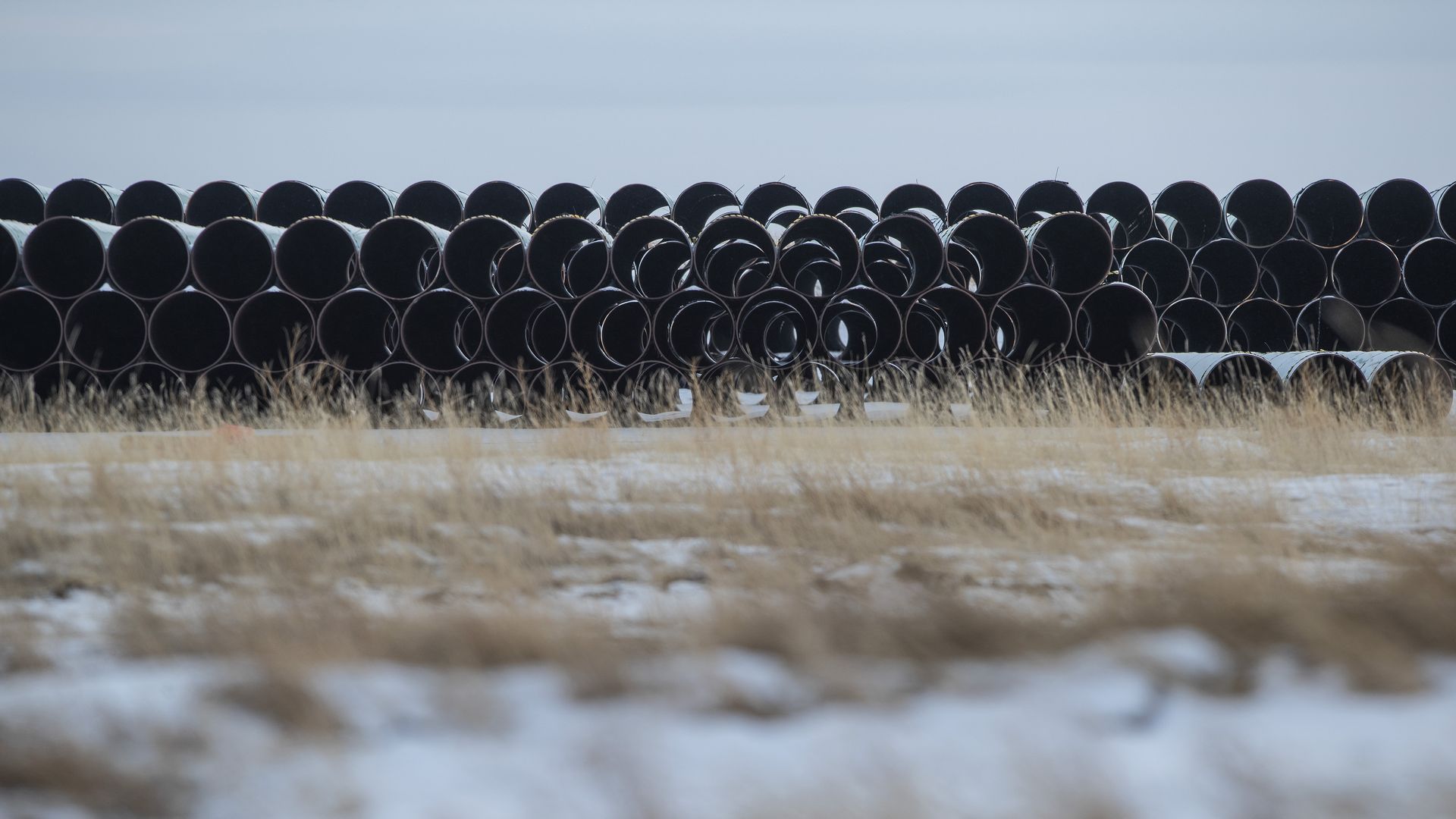 The company behind the Keystone XL pipeline broadened its advocacy team with Biden-linked lobbyists in January, public records show.
Why it matters: The K Street hires weren't enough to save the pipeline, which President Biden effectively canceled during his first days in office. But they could help ensure similar projects don't meet the same fate.
What's new: TransCanada Pipelines, TC Energy's principal operating subsidiary, retained a former senior Biden aide to lobby for the company in January.
The company hired Putala Strategies and its eponymous principal, Christopher Putala, a former senior aide when Biden was in the Senate.
Putala's lobbying registration filing, posted publicly on Thursday, said he will work on "matters concerning energy policy, including pipelines, storage facilities and power generation origination."
Putala was officially hired Jan. 20 — the day his former boss was inaugurated as president.
Five days earlier, TC Energy had hired another prominent lobbyist: the brother of Biden White House counselor Steve Ricchetti.
Jeff Ricchetti's firm said it would work on "legislative issues affecting energy infrastructure, the safe and efficient transportation of natural gas and liquids energy, renewable electricity policy and alternative fuel sources like renewable natural gas and hydrogen."
Ricchetti's hire was first reported this week by Bloomberg.
What they're saying: In a statement to Axios, TC Energy spokesperson Marc Palazzo described the new lobbying hires as an extension of both Ricchetti's and Putala's prior advisory work.
"Chris Putala and Jeff Ricchetti have advised our company for the better part of a year and are part of a diverse team of advisors that provide strategic advice and counsel on a wide range of issues," Palazzo said.
Between the lines: In spite of those early Biden-era hires, the president rolled back U.S. government approval for Keystone XL during his first days in office, a move hailed by environmental policy advocates who'd campaigned against it for years.
Keystone XL may be dead, but TC Energy has a history of developing cross-border pipelines, and said in January it has "a robust portfolio of other similarly high-quality opportunities under development."
Its Biden-connected lobbying team could help ensure it can at least make its case to the White House more effectively in the future.
No company — particularly in the energy space — wants to land at the center of a political firestorm. Lobbyists with the ear of the president and senior staff could allow a company to open channels of communication with top policymakers before the political or public relations campaigns take over.
Editor's note: This story has been updated to include comments from TC Energy.
Go deeper