The new grifters: outrage profiteers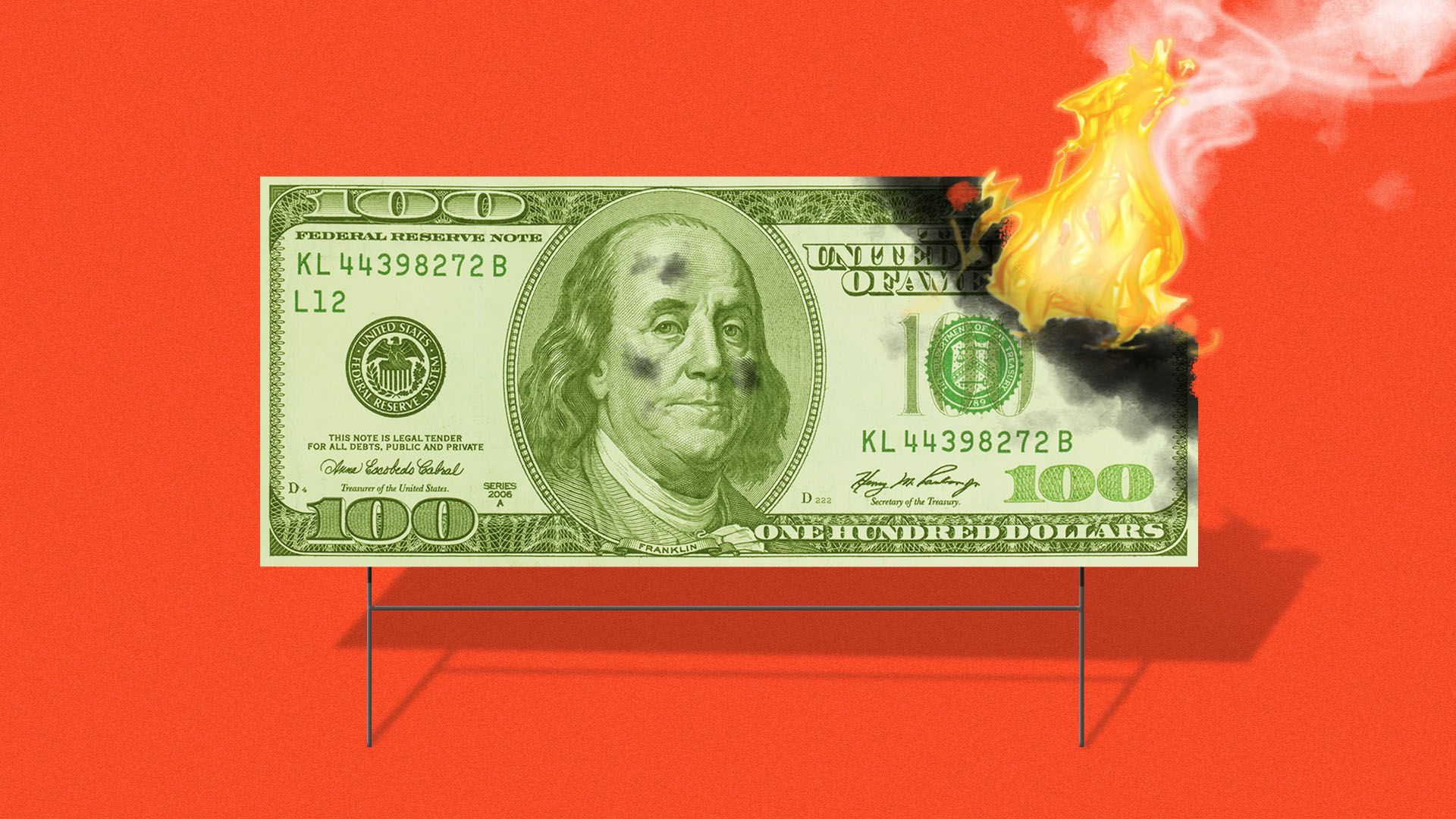 As Republicans lost the Senate and narrowly missed retaking the House, millions of dollars in grassroots donations were diverted to a handful of 2020 congressional campaigns challenging high-profile Democrats that, realistically, were never going to succeed.
Why it matters: Call it the outrage-industrial complex. Slick fundraising consultants market candidates contesting some of their party's most reviled opponents. Well-meaning donors pour money into dead-end campaigns instead of competitive contests. The only winner is the consultants.
The case was most vivid in Maryland, where one candidate raised $8 million challenging a popular Democratic incumbent — and her advisers took $3.7 million of it.
What's happening: Four Republican House candidates who each drew less than 30% of the vote in their respective races collectively raised over $42 million in the 2020 cycle.
The one in Maryland, Kim Klacik, built a powerful following among grassroots conservatives due in large measure to a viral ad campaign crafted by a GOP consulting firm. Nonetheless, she lost to Democratic Rep. Kweisi Mfume by nearly 50 points.
The other three futilely challenged high-profile Democrats: New York's John Cummings took on Rep. Alexandria Ocasio-Cortez, Minnesota's Lacy Johnson ran against Rep. Ilhan Omar, and California's Joe Collins challenged Rep. Maxine Waters.
All four candidates drew huge amounts of grassroots money by marketing themselves as warriors in national partisan battles.
None came close to prevailing, but they extracted huge sums from the GOP donor base as the party fell just five seats short of reclaiming its House majority and ended with a 50-50 Senate.
The big picture: Long-shot challenges to household-name legislators like AOC, Omar and Waters can mean big bucks for the challengers' campaigns and their consultants.
The phenomenon isn't confined to the right: the Lincoln Project raised tens of millions in 2020 — largely from small-dollar donors sharing the former Republicans' distaste for Donald Trump — despite the dubious effectiveness of its ads.
Much of that money ended up paid to firms run by the group's principals.
Be smart: The financial incentives to lob red meat at the party base and lap up millions in small-dollar donations make victories in such races almost a secondary concern.
Waters routinely draws long-shot challengers who raise seven to eight figures through fundraising appeals tailored to Republican distaste for the House Financial Services chairwoman.
Sure enough, Collins has already signaled he will challenge Waters again in 2022. His campaign has been running dozens of Google ads since January continuing to fundraise off efforts to oust her.
That means more grassroots donor money will be pumped into a virtually unwinnable race for Republicans next year — instead of going to races crucial to the GOP's effort to flip the House.
The bottom line: The donors lining the consultants' pockets are driven by intense political tribalism and are perfectly happy to give if asked to help unseat a particularly disfavored candidate from the opposite party.
Multiply that impulse by hundreds of thousands of potential donors, and the amounts of money to be made are massive.
Candidates like Klacik, Collins, Johnson and Cummings won't do much to shift the political balance of power. But they are making a few people a lot of money.
Go deeper