Miami mayor acknowledges Big Tech plans could hurt the city's poor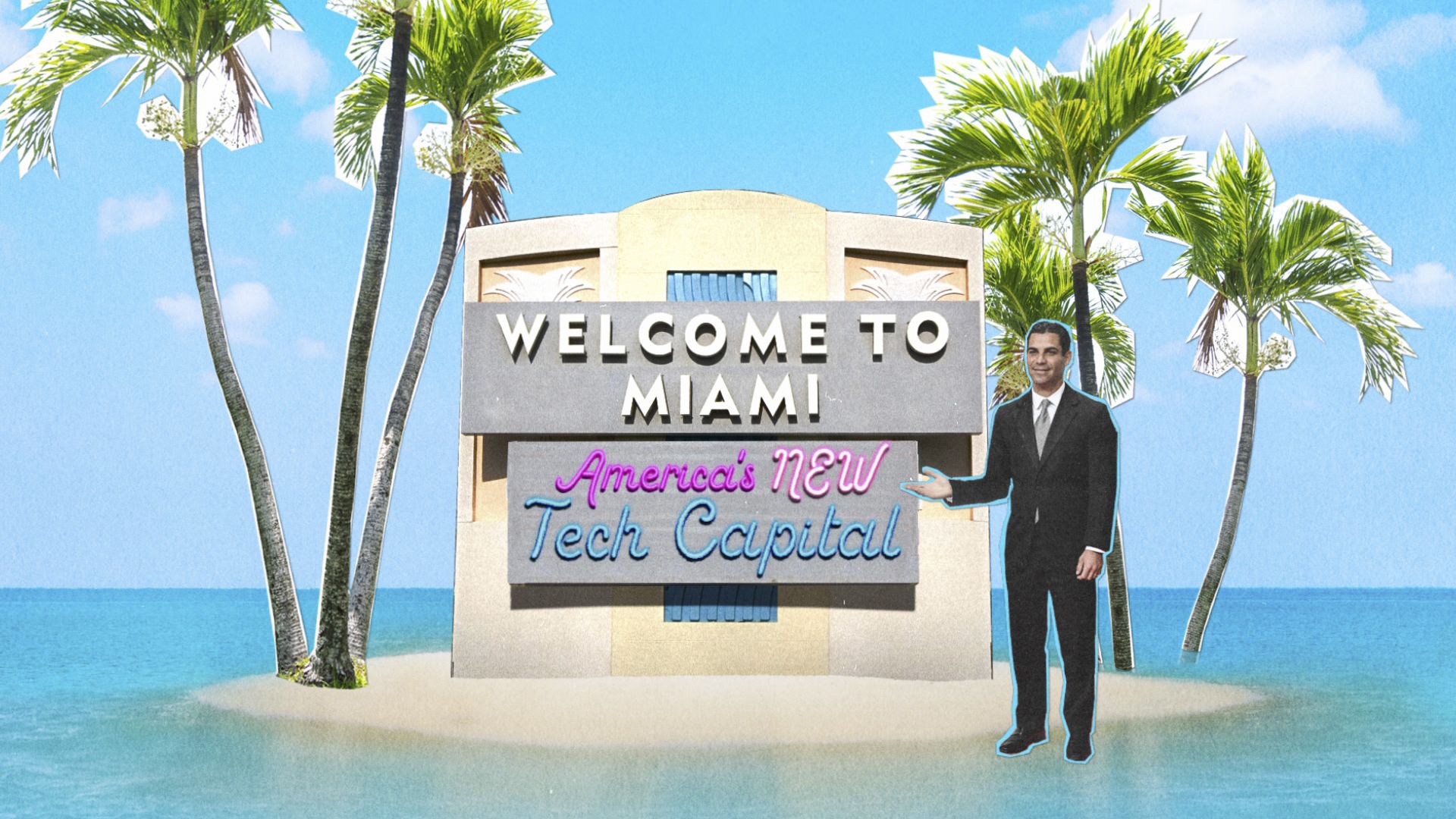 Miami Mayor Francis Suarez's ambitions to attract Big Tech has generated a lot of headlines — but it will likely come with some negative impacts for current residents, for which the mayor admits there may not be solutions.
What he's saying: "Gentrification is real," Suarez told "Axios on HBO." But even with his efforts to promote affordable housing, he argues that "government has a limited amount of resources and a limited amount of ability to stop things that are market driven."
What's happening: Since a tweet that went viral on Dec. 4, Suarez has been chatting it up with tech billionaires like Elon Musk on Twitter about building car tunnels under the city, while others — like PayPal co-founder Peter Thiel and Shutterstock founder Jon Oringer — have moved to the city.
Blackstone signed a long-term lease in downtown Miami in January, and Suarez says Goldman Sachs and JPMorgan also are moving to the city.
The founders of smart mattress company Eight Sleep are offering discounts to businesses that make the move.
Between the lines: Businesses aren't just coming for the sun and sand, though. Miami already offers tax credits of up to $50,000 a year for companies that relocate to its downtown, and Suarez tells "Axios on HBO" he's looking to "triple" the size of the program.
He also wants to provide further incentives through the Venture Miami office and possibly even more through Miami-Dade County.
"What we don't want to do is we don't want to lose companies because we're not competitive," Suarez said during an interview.
"You know, my, my philosophy has always been: 'If we're even, [companies are] leaving."
Yes, but: Experts warn that Miami already has a massive economic inequality problem that would only be exacerbated by an influx of tech companies and their wealthy heads.
"[T]he powers attempting to help the region cope with global warming are barely focused on these inequalities, and that lack of vision could seriously complicate efforts to save South Florida," Mario Alejandro Ariza wrote for Yale's School of the Environment in September.
By the numbers: Miami was home to 35 billionaires — about 5% of the U.S. total — as of September, and has likely added significantly to that number in recent months. Meanwhile, 40% of the households in Miami-Dade County are working poor and nearly one-fifth live below the poverty line, Ariza notes.
Miami's coastal location also make it seriously vulnerable to the effects of climate change, which Ariza argues are likely to be borne overwhelmingly by the city's poorer Black and brown residents.
What to watch: "The plan is to continue to build more affordable housing. The plan is to also give people high-paying jobs," Suarez says.
Go deeper