Clash of the central bankers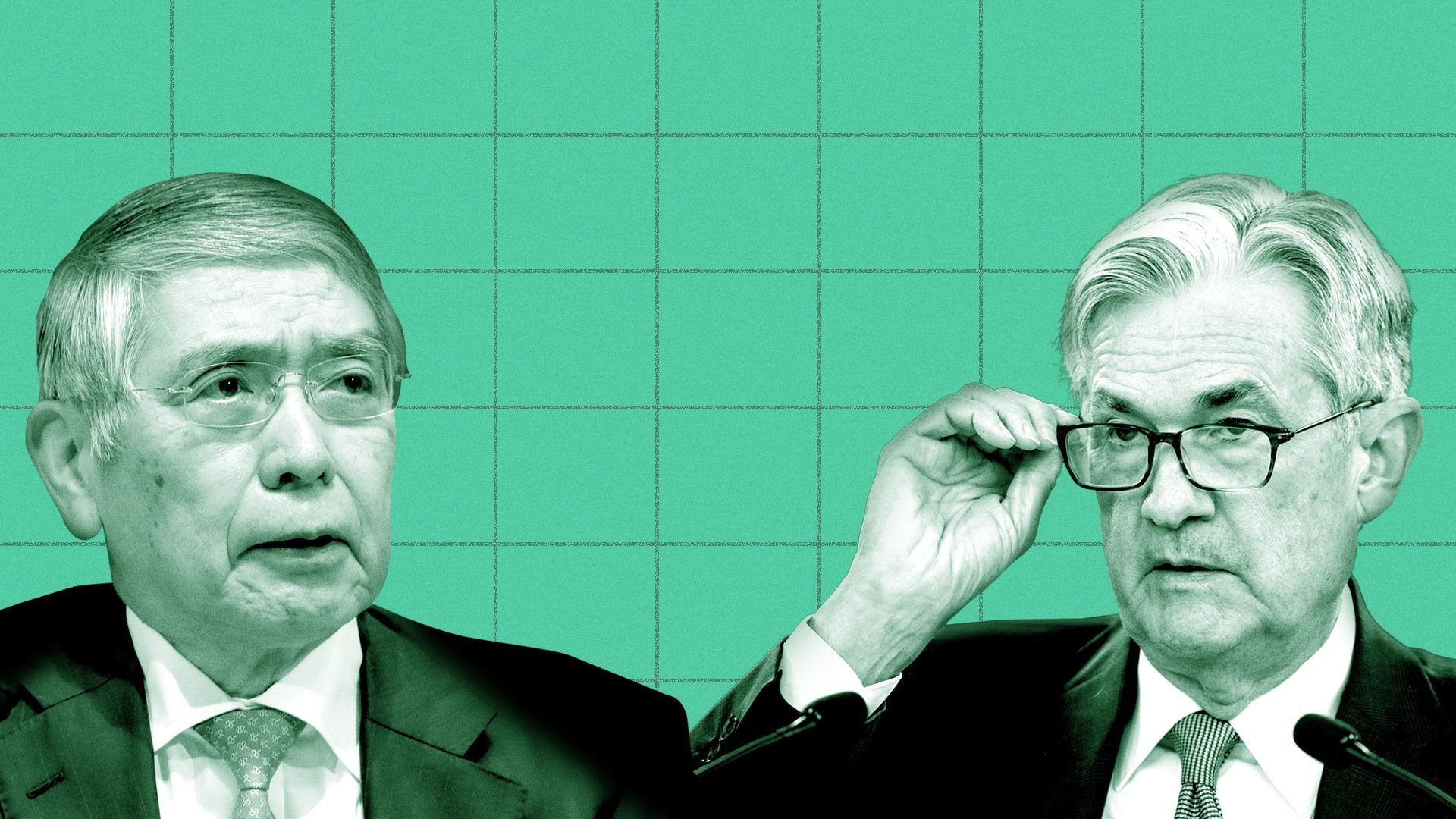 While Fed chair Jerome Powell is brushing off the seismic rise in government bond yields and a corresponding decline in stock prices, a group of central bankers in the Pacific are starting to take action.
Driving the news: Bank of Japan governor Haruhiko Kuroda told parliament on Friday the BOJ would not allow yields on government debt to continue rising further above the BOJ's 0% target.
"It's important now to keep the entire yield curve stably low as the economy suffers the damage from COVID-19," Kuroda said, adding that the central bank plans to adjust its yield curve control program.
What it means: Kuroda is intimating that the BOJ is ready to step in and buy more bonds to push up prices and bring down yields after 10-year government debt rates rose to the highest since January 2016.
Why it matters: In addition to the repricing in equities, especially tech stocks, rising inflation expectations mean rising prices for consumers in the form of costlier loans, higher gas prices and increasing costs for goods.
The rise in bond yields means a fall in bond prices, which is a capital loss for investors, and bonds have been far more popular than stocks over the last few years.
Be smart: Kuroda, who heads the central bank where inflation has been the tamest for the longest, is the most important leader to begin the process of intervening to bring down bond yields but is hardly the first.
The Reserve Bank of Australia (RBA) bought $4 billion of government bonds Thursday in order to stem falling prices, matching the record high from March 2020 when it began its quantitative easing (QE) program.
The Bank of Korea (BOK) promised as much as $6.3 billion in new bond-buying before the end of June.
Between the lines: The central bank heads taking action — Kuroda, RBA's Philip Lowe and BOK's Lee Ju-yeol — are all classically trained macroeconomists who have been at their respective central banks for decades.
Powell, who is downplaying rising bond yields and encouraging inflation, is a trained lawyer with less than a decade of central bank experience.
What's next: The European Central Bank will publish its latest bond-buying figures at 9:45am ET and investors will get to see whether the bank significantly raised its purchases, signaling top policymakers are backing recent assurances that they won't tolerate higher yields with action.
Investors also will hear from Powell and a wide swath of Fed policymakers this week.
Charted: Rates rise around the world
Go deeper