Cuomo asks for "independent" investigator into sexual harassment claims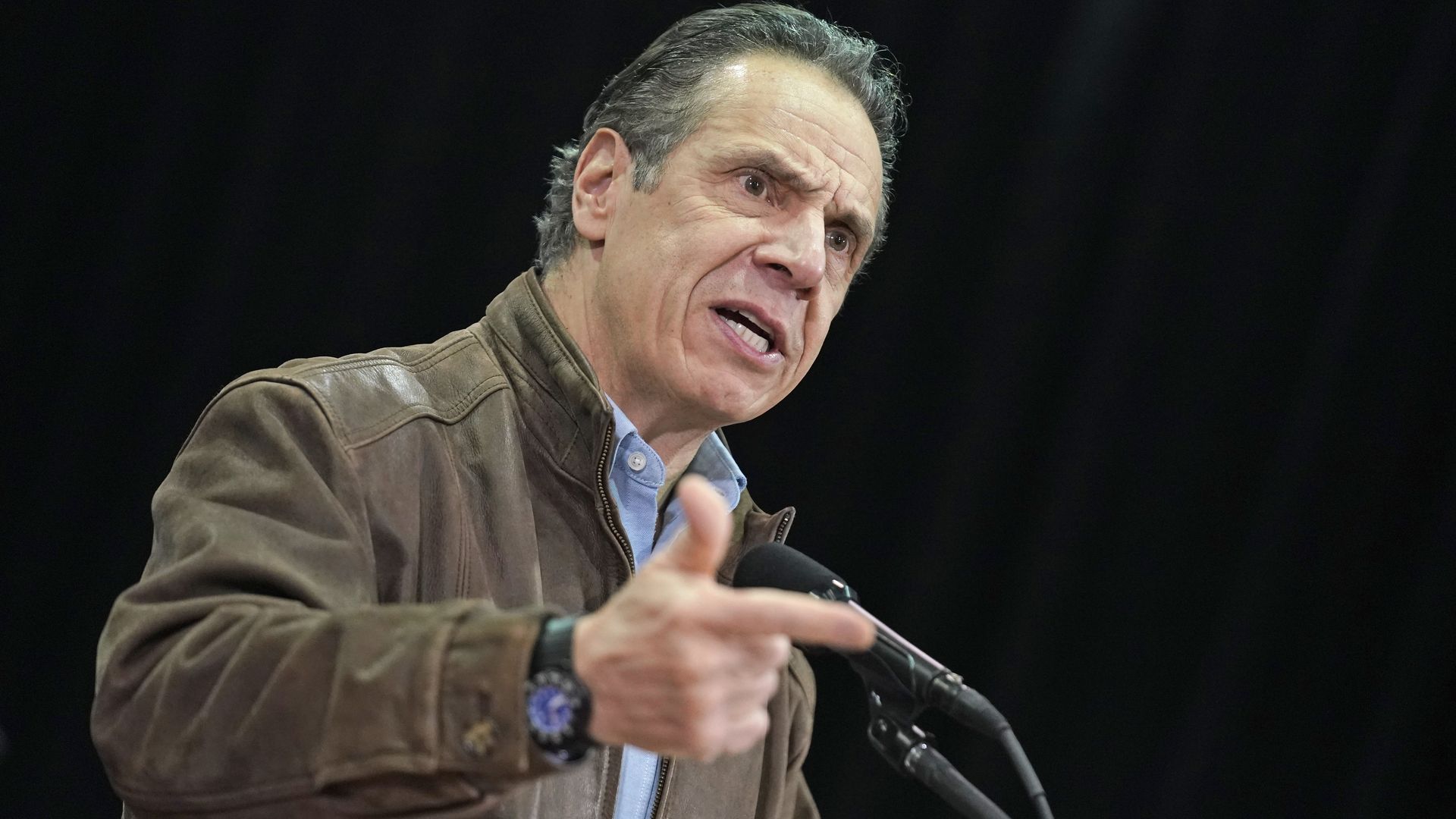 A top aide to Gov. Andrew Cuomo said that he would authorize and "voluntarily cooperate" with an independent investigation run by New York's attorney general into claims he sexually harassed several women.
The state of play: The statement comes after a day of competing statements from Cuomo and AG Letitcia James over who would oversee an independent investigation into the governor.
What's new: Beth Garvey, special counselor to Cuomo, said the governor would ask James "to select a qualified private lawyer to do an independent review of allegations of sexual harassment."
"The independent lawyer will be legally designated as a Special Independent Deputy Attorney General and granted all powers provided under Section 63(8) of the Executive Law," she said. "As necessary, other lawyers from the appointed lawyer's firm shall be similarly designated to assist in the review. The lawyer shall report publicly their findings.   The Governor's office will voluntarily cooperate fully."
Details: Earlier Sunday, Garvey said the governor's office has asked James' office and the chief judge of the Court of Appeals "to jointly select an independent and qualified lawyer in private practice without political affiliation to conduct a thorough review of the matter and issue a public report."
In a separate statement, James endorsed an "independent investigation to thoroughly review these troubling allegations against the governor" and said that she stands "ready to oversee that investigation and make any appointments necessary."
"Given state law, this can only be accomplished through an official referral from the governor's office and must include subpoena power. I urge the governor to make this referral immediately," James said.
Later James made clear she would reject Cuomo's proposal: "To clarify, I do not accept the governor's proposal. The state's Executive Law clearly gives my office the authority to investigate this matter once the governor provides a referral."
"The governor must provide this referral so an independent investigation with subpoena power can be conducted."
Driving the news: The announcements come after President Biden, Rep. Alexandria Ocasio-Cortez (D-N.Y.) and other leading Democrats called for an independent review into the sexual harassment accusations from two of his former aides.
Cuomo had initially said a retired judge close to a top aide of his would run an investigation.
House Speaker Pelosi called the allegations credible: "The women who have come forward with serious and credible charges against Governor Cuomo deserve to be heard and to be treated with dignity. The independent investigation must have due process and respect for everyone involved."
Catch up quick: Charlotte Bennett, a former health policy adviser and executive assistant to Cuomo prior to her departure in November, alleges that Cuomo asked her questions about romantic relationships that "she interpreted as clear overtures to a sexual relationship," the New York Times reports.
This post has been updated with new details throughout.
Go deeper