Updated Jan 24, 2021 -

World
Over 3,000 detained in protests across Russia demanding Navalny's release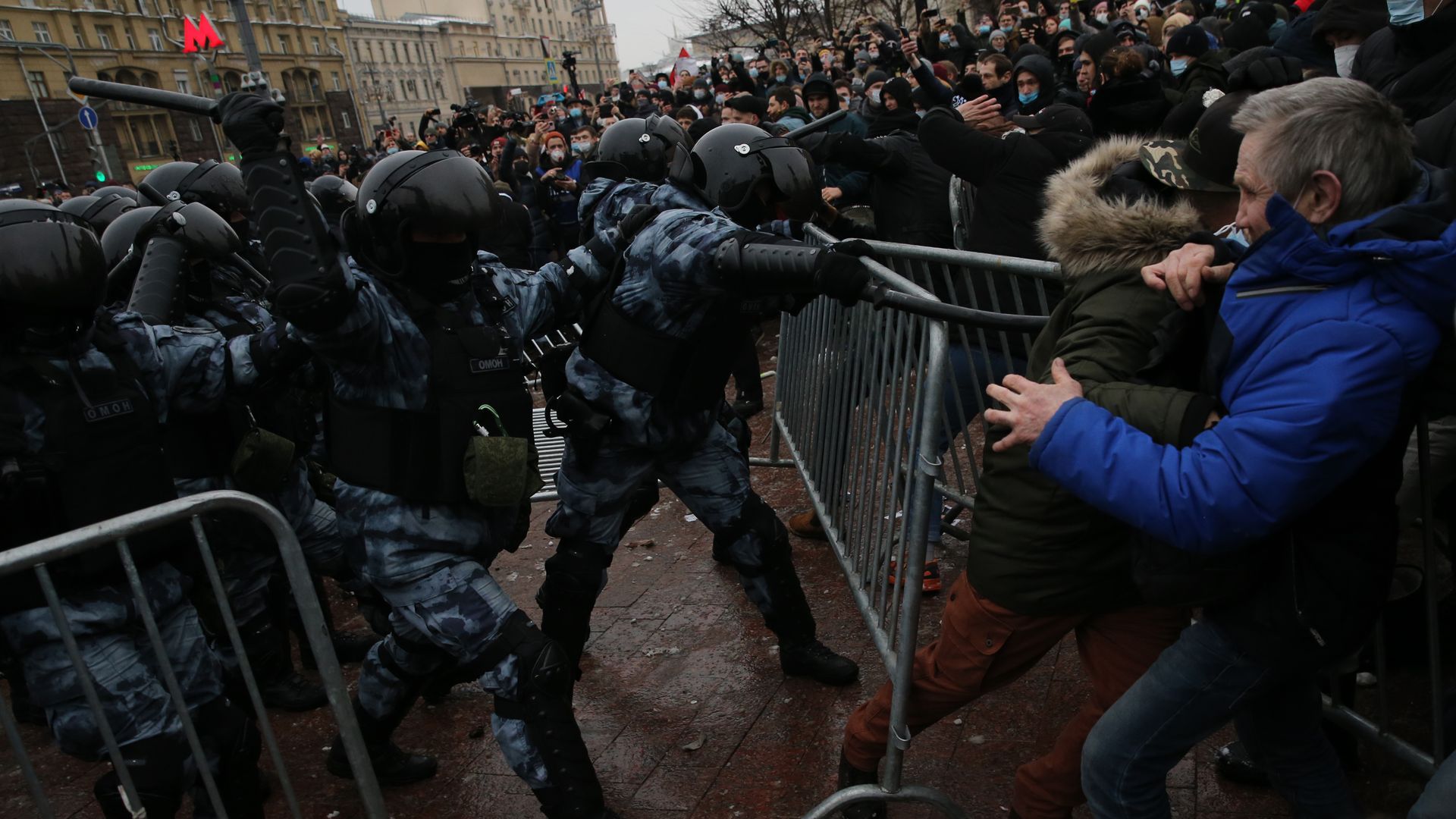 Police in Russia on Saturday arrested more than 3,300 people as protesters nationwide demanded that opposition leader Alexey Navalny be released from jail.
Details: Demonstrations began in the eastern regions of Russia and spread west to more than 60 cities.
At least 3,324 of people were detained and tens of thousands of others protested into the night despite the presence of law enforcement and extremely low temperatures, per a statement Sunday from the OVD-Info group, which monitors political arrests.
Yulia Navalnaya, Navalny's wife, was among those arrested, according to multiple reports citing her Instagram account.
The big picture: Navalny called on his supporters to protest after he was arrested, per Al Jazeera.
Thousands of people gathered in Moscow to march to the Kremlin, The New York Times writes. Meanwhile, protesters in Novosibirsk, Russia's third-largest city, were chanting "Putin is a thief."
Navalny called his supporters to protest after he was arrested, per Al Jazeera.
What they're saying: U.S. State Department spokesperson Ned Price said in a statement on Saturday that it strongly condemned "the use of harsh tactics against protesters and journalists this weekend in cities throughout Russia."
"Continued efforts to suppress Russians' rights to peaceful assembly and freedom of expression, the arrest of opposition figure Aleksey Navalny, and the crackdown on protests that followed are troubling indications of further restrictions on civil society and fundamental freedoms," the State Department continued, calling on Russian authorities to release all protesters, as well as Navalny, without conditions.
"We urge Russia to fully cooperate with the international community's investigation into the poisoning of Aleksey Navalny and credibly explain the use of a chemical weapon on its soil," it added.
Context: The Russian opposition leader was arrested upon his return to Moscow from Germany on Jan. 17, which came five month after a near-fatal poisoning with the nerve agent Novichok. He blamed the Kremlin for the poisoning, though the Kremlin has denied responsibility.
Background: Navalny made his name as a video blogger and anti-corruption activist. He has organized some of the largest protests against President Vladimir Putin, who refuses to refer to him by name.
Editor's note: This article was updated to reflect the latest number of arrests.
Go deeper