Biden unveils "wartime" COVID strategy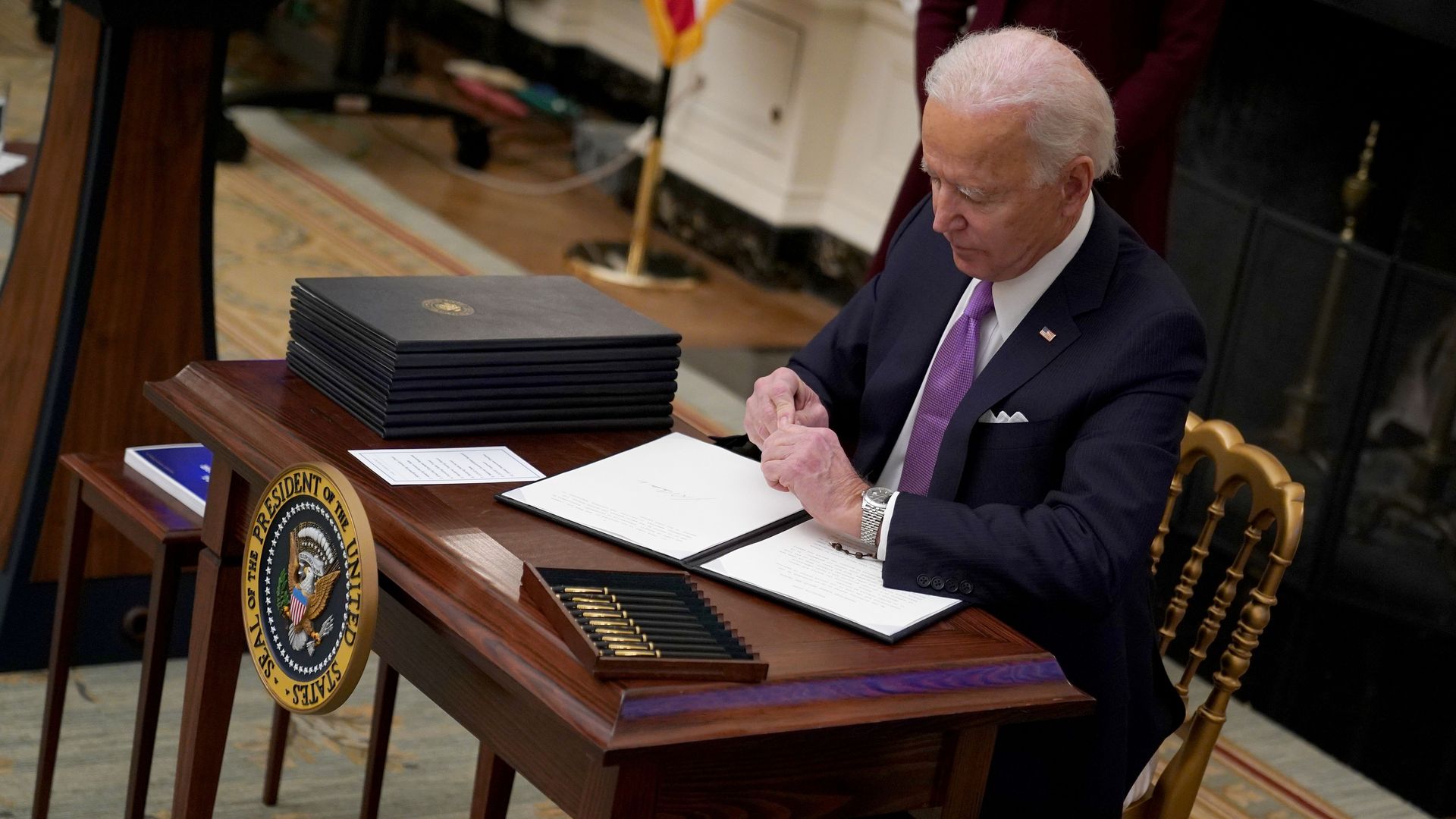 "It's gonna get worse before it gets better": President Biden expects 100,000 Americans to die from COVID-19 during his first six weeks in office.
The big picture: Biden said he's putting America on a wartime footing against the virus, signing 10 executive orders today alone.
The plan includes:
More supplies: Orders new supplies of PPE, testing materials and vaccines through the Defense Production Act.
More funding: Increases federal reimbursement for National Guard personnel and emergency supplies.
More masks: Requires on federal property and for people who are in airports and using many forms of transportation.
More data: Massive efforts for "real-time" federal data collection for schools, a public dashboard on cases, testing and vaccination, and hospital admissions.
More guidance: Mandates masks on planes and requires COVID tests before flying. Requires negative test for international travelers before departing for the U.S.
More help for schools: Orders the Department of Education and HHS to provide schools and local communities with resources to safely reopen schools.
The state of play: Biden's executive orders are providing a more uniformed approach in controlling the pandemic across state lines, unlike during the Trump administration where governors and public health departments were left to coordinate most of the logistics.
Between the lines: Biden's mask rules "come as close to a national mask mandate as his federal powers allow, because only states and municipalities can require residents to wear masks at a local level," the Washington Post reports.
The bottom line: "You're going to be hearing a lot from Dr. Fauci again," Biden promised, saying that public health officials would be "free from political interference."
"We will level with you when we make a mistake," he said, adding: "We're still in a dark winter of this pandemic. It's gonna get worse before it gets better. It's gonna take many months before we're where we need to be."
"Despite the best intentions, we're going to have setbacks, which I will always explain to you."
Go deeper