The neediest holiday season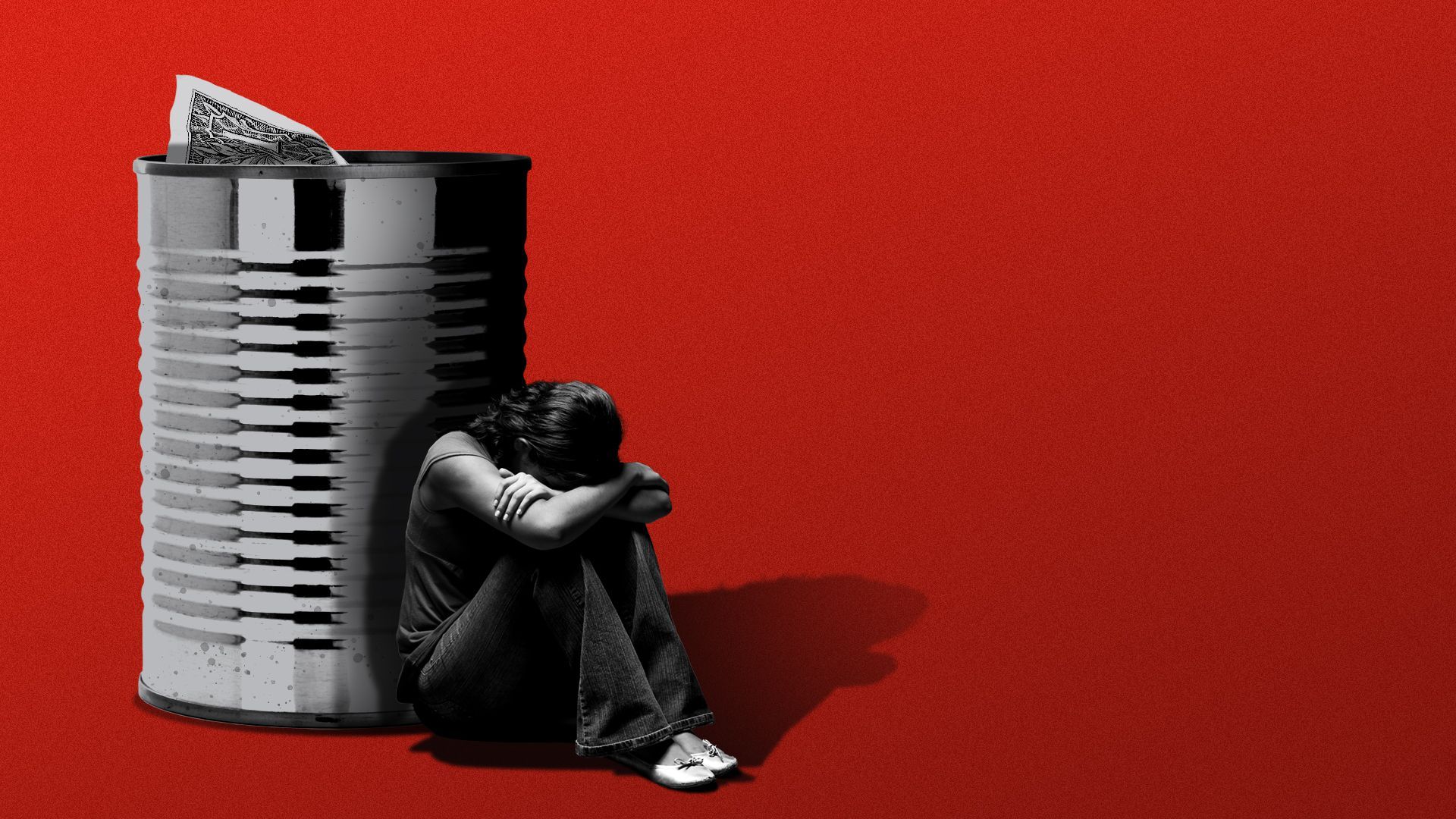 Nine months of the coronavirus pandemic have left millions of Americans and small businesses struggling to survive. On this Christmas Day, they all deserve to be in our thoughts.
The big picture: Millions of Americans have lost their jobs. People who once volunteered at food banks are turning to them to feed their families. And millions of others could face homelessness when the CDC's moratorium on evictions expires on Dec. 31.
By the numbers: In a survey this fall, around 13% of all adults in the country — 27 million — said their households didn't have enough food during the last week, according to the Center on Budget and Policy Priorities.
That's nearly four times the number of adults who said they didn't have enough to eat at some point in all of 2019.
Latinas and Black women are especially vulnerable. Another survey found that one in six Latinas and one in five Black, non-Hispanic women said they didn't have enough to eat during the last week, per the National Women's Law Center.
The U.S. poverty rate jumped 2.4 percentage points to 11.7%, throwing nearly 8 million people into poverty, researchers found in a study last week. That's the biggest one-year increase in the 60 years that the government has been tracking poverty, according to the Washington Post.
Renters are in trouble. By next year, roughly 12 million will owe an average of $5,850 in back rent and utilities, per WaPo.
Between 2.4 million and 5 million U.S. households are at risk of eviction in January alone, per the investment bank and financial-advisory firm Stout Risius Ross.
And at a time when so many Americans are turning to food banks for help, many are short of holiday volunteers because of safety concerns, Reuters reports.
The good news is, Americans rich and not-so-much have stepped up to make the holidays a little less bleak for those in need.
Large sums of money are not the only way to help needy communities:
What you can do: If you're able, give to those who really need your help. Scott's list of the 384 charities she donated to is a great place to start.
Restaurant Workers' Community Foundation, which has set up an emergency relief fund for restaurant workers, and Children of Restaurant Employees are among the groups accepting cash donations to help small businesses.
Other nonprofits are also accepting non-financial donations, such as Toys for Tots, which collects toys and distributes them to children in need, and The Conscious Kid, which accepts anti-racist children's books and now has a rent relief fund that has raised over $500,000 since April.
Helping Hands serves seniors and those who are immunocompromised or have preexisting conditions with grocery and other essential supply deliveries, all done contact-free.
Go deeper