Axios roundtable on education and economic opportunity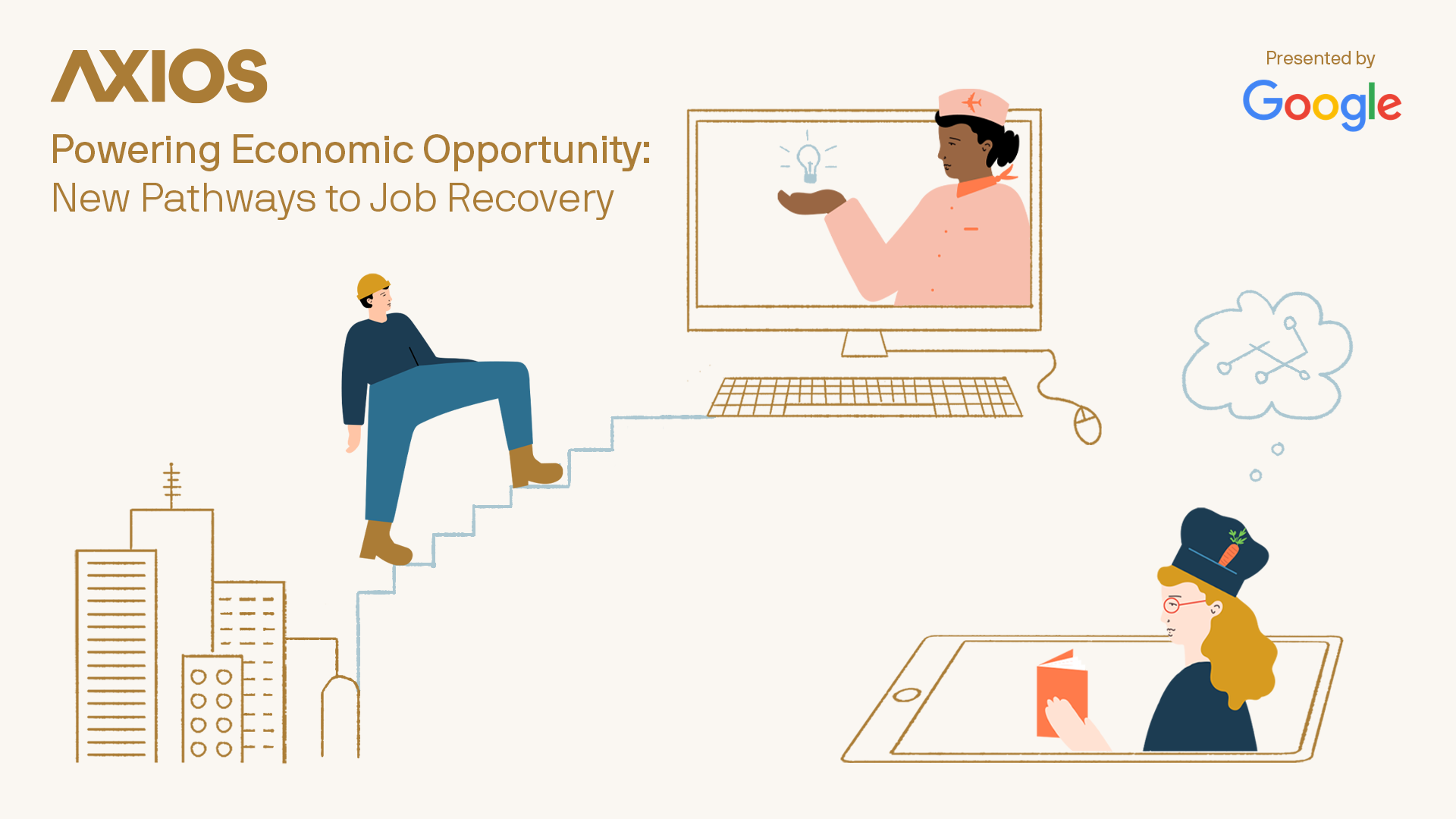 On Tuesday December 8 Axios' Ina Fried and Sara Fischer hosted the third in a series of virtual roundtables, featuring policymakers and leaders across multiple industries to discuss education, skills-based training, and its impact on workforce development and economic recovery.
JFF president and CEO Maria Flynn kicked off the conversation discussing how companies like Google are partnering with community colleges across the country to help prepare low income adults for the digital economy.
"We all know this has upended our economy and that it's even more important to focus on this type of work...We believe that there's really no going back to normal or the status quo. We believe we should really seize this moment in time to fix the systems that were broken long before the pandemic hit."
Maureen Conway, Vice President at the Aspen Institute discussed one of the critical barriers to adult education and skills training.
"One of the key barriers [to training] that we find is...the time to participate. [Students] often can't afford to not work. I think we really need to think about—particularly if we're thinking about lifelong learning systems and engaging adults—what does it really mean to support people at all stages of their lives, to be able to really participate in earnings and to create equitable access to that?"
Christine Cruzvergara, Vice President of Higher Education and Student Success at Handshake discussed how the pandemic has changed the job market for recent graduates and how virtual accessibility is making a positive impact.
"We're seeing a lot of virtual and digital recruiting come into play and actually allow for more underrepresented students to get messages from employers, to be able to connect with employer ambassadors, to be able to find internships and jobs in ways that they weren't before, because we are seeing employers actually use technology to diversify their candidate pool...That's been a positive shift that we've started to see."
Congressman Joseph Morelle (D-NY) on shifting how people think about two key conceptual frameworks around education and job training:
"The first [framework] is that there's people who are college ready and then people who are not. The second framework is that when you're done with college, you're done with learning...Both frameworks I think are faulty, particularly in the 21st century, we need to start getting everyone thinking about lifelong learning...People are desperate for information, whether it's for their career or advancement, or it's just being a better citizen."
Congressman Lloyd Smucker (R-Pa.) closed the conversation by stressing the importance of bipartisan efforts to solve workforce challenges and job preparation for the future.
"There's going to be a reconfiguring of the workforce. We've talked about automation, which has already been happening, but the pandemic is going to bring that out faster than we ever expected...We have to think about how we can ensure that the workers up today are prepared for the jobs of tomorrow."
Read the recap of our first roundtable event here and our second roundtable event here.
Thank you Google for sponsoring this event.
Go deeper